2010 Kentucky Derby Pace Scenario
by Trevor Whenham - 4/28/2010


Get our 2021 Preakness Stakes coverage including, Picks and Odds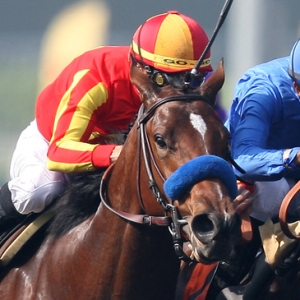 Some people have nightmares about monsters, death, or falling. Mine are about the 2001 Kentucky Derby. That year I was absolutely and totally in love with Point Given, the massive Bob Baffert-trained son of Thunder Gulch. He won the Preakness and the Belmont that year with ease, and was the best horse we have seen in the Triple Crown races during the painful 32 year Triple Crown drought (a bold claim, but I stand behind it).
The only that that stood between him and immortality was the Derby. Point Given was heavily favored in that race - he was 9/5, and Dollar Bill was the next closest at 7/1. There are few things in this world I want more than a Triple Crown, and I was sure I was going to get one this time. Then disaster struck.

The early pace in the race was set by a bunch of almost-no-hope speedsters. Songandaprayer took the lead, and Balto Star, Millennium Wind, and 95/1 Keats pushed him. They set absolutely blistering early splits, and gave themselves no chance of holding on to the finish - Millennium Wind was the top finisher of the group, and he was 11th out of 16 finishers. It was totally suicidal.
Point Given liked to settle in just off the pace, stalk the leaders, then unleash a scary move in the stretch. He stayed too close to the pace that day, though, and when it came time to make his move he had nothing left, and he never got to fire his shot. He was fifth, and I was crushed.
The winner of that mess of a race was Monarchos, a horse who had done a few notable things before the Derby, but did absolutely nothing of note after the win - he retired after a dismal third in a low-level allowance race as a four year old.
He was no champion, but he sat way, way off the pace for most of the race - he was 13th after a half mile - and was able to pick up the pieces as horses collapsed ahead of him. Just writing about it almost makes me want to cry.

Point Given's plight isn't a unique one. Giacomo, at 50/1 in 2005, was a far less deserving champion than Monarchos. In that race Spanish Chestnut set the second fastest early fractions in history, and stalkers like Bellamy Road, the George Steinbrenner-owned favorite, were the victims, leaving Giacomo to move from 18th after three-quarters of a mile, to first at the wire.

The reason I am revisiting these nightmare abominations of the greatest sporting event on the planet is because this year is setting up to bring us another version of this nightmare. There is an incredible amount of speed in this race. When you get several horses looking to set the early pace in any race then there are going to be fireworks.
In the Derby, though, adrenaline from the field size, the crowd, and the nervousness of the connections make it even harder for the young horses to settle down, and make a speed duel even more likely. Sidney's Candy, Line of David, Conveyance, Super Saver, American Lion, and Discreetly Mine would all, in a perfect situation, likely prefer to be at or near the lead early on. None of them are likely to try to run away with the race like Spanish Chestnut did in 2005, but they will all be pressing, and that's likely to set faster than normal - and comfortable - splits.

Those six horses are likely to be in trouble in this one unless they can do something they haven't done before - settle off the pace and let others do the work. Of the six I give the best chance of that to Sidney's Candy. He's the classiest horse, and his connections have been working hard on teaching him to rate. There are concerns about him making his dirt debut here, but that's a whole other story.

Horses that sit close to that lead - most notably Jackson Bend and Paddy O'Prado here - could also be in trouble if the pace is scorching. Of course, in the case of Jackson Bend I think he's in trouble no matter what the pace is because he's just not good enough.

This race probably sets up best for two types of runners. Horses who like to settle in mid-pack before moving late should be in decent shape. That, coincidentally, is where the best horses in this race in my eyes sit.
Favorite Lookin at Lucky, Awesome Act, and Dublin will all look to be somewhere around 10th or 12th for the first six furlongs of so. The other good place to be in a race like this is where Giacomo and Monarchos both were - at the back. Horses can relax back there and conserve their energy for the end when they'll need it. The two most obvious deep closers in this field are Stately Victor and Ice Box. Stately Victor has only performed well on synthetic tracks, so I am likely ruling him out - though he has trained well on off tracks like what we could have for the Derby. Ice Box won the Florida Derby (like Monarchos), but I still don't believe in his talent.

It's hard to know how this race is going to play out or who is going to come out on top. One thing that I am certain of, though - when we look back on his race to figure out what happened and why the pace scenario is going to be right at the heart of that story.
Check out Doc's Sports homepage for the most updated Kentucky Derby Odds, post positions and field lineup, along with daily exclusive content, each day leading up to the Run for the Roses on Saturday, May 1. We also offer our expert Kentucky Derby Picks for just $20! Call us toll-free at 1-866-238-6696 for more information.