Military Bowl Predictions: Maryland vs. East Carolina Odds and Betting Picks
by Nicholas Tolomeo - 12/27/2010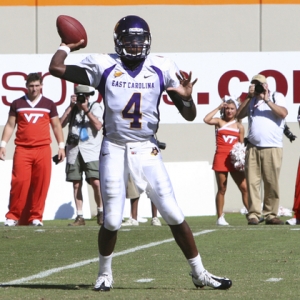 Maryland was 2-10 last season; they likely did not expect to be preparing to play in a bowl game right now. East Carolina was 5-2 earlier this season; they likely did not expect to be in a low-tier bowl game in a cold-climate location.
But both teams have experienced different kind of turnarounds that helped land them in the nation's capital on Dec. 29 to face off in the Military Bowl.
The Military Bowl, formerly known as the EagleBank Bowl, is in its third year of existence. The game will take place 2:30 p.m. EST at RFK Stadium in downtown Washington D.C. The bowl game gets the eighth selection from the ACC and sixth selection of Conference USA teams, but the Terrapins and Pirates are far from the eighth and sixth best teams from their respective conferences.
Maryland finished 5-3 in the ACC. They were one game away from qualifying for the ACC title game. Maryland scored an impressive 38-31 win over North Carolina State in the regular-season finale. It was a win Maryland felt was enough to qualify it for the Champs Sports Bowl in Florida, but bowl organizers thought otherwise. Therefore, Maryland fell to the fledgling Military Bowl. A disappointment like that brings worries about player motivation for the game. However, you can also expect the Terrapins to play with a chip on their shoulder and to be playing in front of a hometown crowd.
East Carolina had to have hoped for better too in coach Ruffin McNeil's first year. The Pirates started the season with a thrilling 51-49 home win over Tulsa on a Hail Mary. Through seven games they were 5-2, but after that the ECU season took a turn for the worse. The team would lose four of five to close out the season, including ugly blowouts to Navy, 76-35, and Rice, 62-38. You know you have major defensive issues when you are scoring 30-plus points and still being blown out.
Another shootout could be in store at RFK Stadium. Both teams can light things up offensively.
Maryland redshirt freshman quarterback Danny O'Brien has rejuvenated the program with a stellar breakout season. He has thrown for 2,257 yards this season. Those seem like a lot of yards until you look at what ECU quarterback Dominique Davis has done. The Boston College transfer has thrown for 3,699 yards.
Both quarterbacks have dangerous weapons lining up at wide receiver. Maryland's playmaker is Torrey Smith (65 receptions, 1,045 yards, 12 TDs). The Terrapins will have to keep tabs on East Carolina's Dwayne Harris (93 receptions, 1,055 yards, 10 TDs). East Carolina has the nation's 12th best scoring offense (38.2 points per game). Its defense is another story. You could tell McNeil comes from Texas Tech.
The Pirates defense ranks dead last in the country in total yards allowed (480 per game) and third to last in the country in points allowed per game (118). Expect big plays and a lot of points.
Maryland vs. East Carolina Odds and Line Movement
The Terrapins opened as nine-point favorites, according to college football odds, but that line has fallen all the way down to Maryland –7.5. The total is one of the higher ones of bowl season, it's 68.
Military Bowl Predictions and Betting Picks
ACC competition is nothing new to East Carolina. It played three ACC opponents this season, going 1-2 with a win over North Carolina State.
Playing high-profile programs is nothing new to the Pirates either. In their last three bowl games East Carolina has scored a massive upset win over Boise State and played competitively against Kentucky and Arkansas, including an overtime loss to Arkansas in the Liberty Bowl last season.
But this is the worst defense ECU has had in a long time and the worst defense Maryland will see this year. The Terrapins offense has been on fire as of late and going against the ECU defense is like adding fuel to that fire. Maryland should win and cover the seven points easily.
Indian Cowboy has never lost money during bowl season for his football picks and he is expecting another big bowl season with his college football handicapping. Check his page on Doc's Sports for more information on upcoming bowl picks and prices on packages.