NBA Betting Trends: Hot and Cold Teams Against the Point Spread
by Aaron Smith - 11/15/2010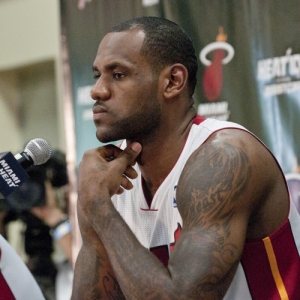 Successful NBA handicapping always starts with catching onto current relevant NBA betting trends. Streaks and slumps occur on a constant basis in the NBA, and they should not be ignored. The point of this article will be to let you see which teams are streaking and which are slumping over the span of the last two weeks.
This will be a regular feature here at Doc's Sports, so you'll want to make sure you keep an eye on our homepage. Let's take a closer look at the hot teams and the cold teams against the NBA point spreads over the last couple weeks. Please note that all of the statistics used are from Oct. 31 through Nov. 14. Teams two-week ATS runs are listed in parentheses.
Top Five "Hot" ATS NBA Teams
New Orleans Hornets (5-0 ATS) - The Hornets are now 8-0 overall on the season, and they are also 8-0 ATS. They are certainly the biggest surprise in the NBA so far this year. A productive Emeka Okafor has helped this team immensely this season. Back-to-back games against Dallas this week will test the Hornets in a big way. I expect the books to start inflating their lines soon. However, they are not a big public team yet so the value may continue to be present with this team, as is evident by their underdog status tonight.
Detroit Pistons (5-2 ATS) - The Detroit Pistons aren't very good, but they are better than the books have been giving them credit for as of late. The Pistons still have solid contributors and I wouldn't be surprised to see them continue to outperform extremely low expectations.
Boston Celtics (5-2 ATS) - The Celtics appear to be playing with an edge so far this year. Rondo is sharing the ball extremely well, and Allen and Pierce both look ready for a big season. I wouldn't be surprised if the Celtics hit a rough patch during the middle of the year, but they are probably safe to back for the time being.
Utah Jazz (5-2-1 ATS) - Jerry Sloan's Utah Jazz looked terrible to start the season, but huge wins over Miami and Orlando have put them right back on the map. I believe this team can continue to surprise in the coming weeks, so keep them on your radar.
San Antonio Spurs (4-2-1 ATS) - San Antonio is a bit of a forgotten team this year. The Western Conference is loaded with great young teams, but bettors would be wise to not forget the Spurs are a solid veteran team.
Bottom Five "Cold" ATS NBA Teams
Sacramento Kings (0-6 ATS) - The Kings were expected to be an improved team this year, but they aren't playing well at all right now. They have typically been great at home, but they are 0-5 ATS this season at home. I expect them to get back on track at home against the Knicks and the Nets this week.
Orlando Magic (1-6 ATS) - The Magic are actually 0-6 ATS in their last six games overall. Stan Van Gundy's team just isn't performing up to expectations, especially on the offensive end. If the books get too low on this team, don't be afraid to start playing them. I expect the Magic to improve over the next few weeks.
Oklahoma City Thunder (1-6 ATS) - The Thunder are probably the most disappointing team in the NBA so far this year. They have a winning record, but they aren't coming close to expectations. The team is ranked 26th in the NBA in total defense, which is really hurting them right now.
Miami Heat (2-5 ATS) - Most people are probably surprised to see the Heat in this position. Miami just hasn't been consistent at all this year, and the oddsmakers have seen setting the lines very high. The Heat are 0-5 ATS in their last five games.
Atlanta Hawks (3-5 ATS) - The Hawks are first in the NBA in field goal percentage, but their defense has been mediocre. Atlanta is now 0-6 ATS at home this year, so keep your eyes open for a chance to go against them at home in the next couple weeks.