NBA Playoff Scenarios
by Matt Severance - 4/14/2010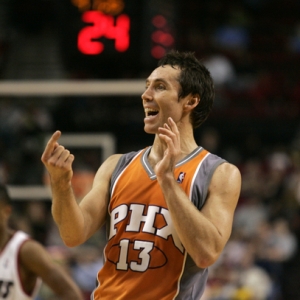 Give major kudos to Charlotte Bobcats coach Larry Brown – unless you are a Chicago Bulls fan that is.
Because the NBA's final open playoff spot will be decided Wednesday night depending on what Chicago does at Charlotte and Toronto does at home against New York, Brown said that he would be playing his guys to beat the Bulls despite the fact the Bobcats are locked in as the East's seventh seed. He rested his guys Monday against the Nets.
"It will be a meaningful game for Chicago, so we're going to have to go out and try to win. It wouldn't be right just to go out and play," Brown told reporters.
It's possible the Bobcats' best player, Gerald Wallace, might sit out again, however, because he actually has a minor shoulder injury. If Chicago wins in Charlotte (Bulls are –1 1/2), it is the East's No. 8 no matter what Toronto does. The Raptors need a Bulls loss and to beat New York.
Wednesday should truly be an amazing day in the Association with so much still up for grabs, mainly in the West. The only two playoff series that are locked into place right now are the Bobcats-Magic in the East and the Thunder-Lakers in the West.
Here's what we know, starting with the East:
*-The Hawks have clinched the No. 3 spot in the conference. So there's little need for them to play the starters much tonight against visiting Cleveland. The Cavs won't play LeBron James but will play Mo Williams, Antawn Jamison and Shaquille O'Neal for a while at least. The Hawks are listed as five-point favorites.
*-Boston is locked in at No. 4 in the East, and coach Doc Rivers is expected to rest his starters tonight at home against Milwaukee: "We are an older team. I think rest is important," Rivers said. "We have to be as fresh as possible." The Celtics played everyone in trying to beat the Bulls on Tuesday night.
*-If the Bucks beat the Celtics tonight and Miami loses at home to the Nets, Milwaukee would clinch the No. 5 seed and face Boston in the first round, while Atlanta and Miami would face off in the 3-6 matchup. But it seems unlikely that Miami would lose at home to New Jersey. ``You want to get the best possible seed as you can,'' Heat coach Erik Spoelstra said. ``Mentally, that is a bonus." In a way, Boston probably wants to face Milwaukee in the playoffs because the Bucks are without star center Andrew Bogut (thus another reason for Boston to mail it in tonight?). If Miami wins, or if the Bucks lose, the Heat would clinch the No. 5 seed and face Boston. With the way Celtics are struggling and looking old, Miami probably would prefer Boston to Atlanta (despite being 0-3 vs. the Celtics and 3-1 vs. the Hawks this season) – so expect a focused Heat team tonight. Miami center Jermaine O'Neal is questionable, however.
Now here's a quick look at the West, where there are three games that "matter" tonight:
*-Spurs at Mavericks: Dallas can simply clinch the No. 2 seed with a win and would open the playoffs against the Spurs in a rematch of last year's first round. If San Antonio beats Dallas and the Portland Trail Blazers lose at home to Golden State, the Spurs become the No. 6 seed. The only way Dallas can drop to a No. 3 is to lose and have Utah beat Phoenix.
*-Warriors at Blazers: Portland certainly should beat Golden State even without Brandon Roy (Blazers are -9.5), and if so would then clinch the No. 6 seed and would face Dallas, Utah or Phoenix in the first round depending on what happens in those teams' games.
*-Suns at Jazz: This one was made more complicated by Phoenix's impressive win over Denver on Tuesday. Utah needs a win and a Mavericks loss to clinch the No. 2 seed. The Jazz fall no lower than No. 3 with a win, because that gets them the division title over Denver. But Utah drops to No. 5 with a loss. Phoenix guaranteed itself home-court advantage in the first round with last night's victory. It will be the West's No. 3 with a win and No. 4 with a loss. And Phoenix might get a huge break tonight in that Jazz All-Star forward Carlos Boozer seems likely to sit with a muscle strain in his rib cage – he left Tuesday's game in the second half and didn't return. Obviously that injury could have huge playoff ramifications if it's serious; Boozer is having an MRI on Wednesday. Utah will be desperate to not drop to No. 5 because it needs that extra home game in the first round: The Jazz have won 10 straight in Salt Lake City and are a league-best 20-2 at home since Jan. 6.