2010-11 New Jersey Nets NBA Picks: Futures Odds and Betting Preview
by Christopher G. Shepard - 10/8/2010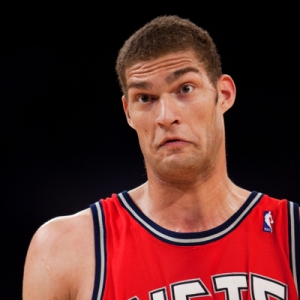 The New Jersey Nets have put last year's awful season behind them and will begin their 2010-11 campaign with a new owner, a new head coach, and at some point a new arena in Brooklyn. If there is cause for optimism for the Nets it can be directly attributed to the swagger and deep pockets that Mikhail Prophorov has brought with his ownership team.

The Nets hit the NBA nadir by winning a total of 12 games last year, including only four on the road, out of 82 games. This was good for the second worst NBA record in history. Clearly the Nets are in rebuilding mode, so playoffs hopes are still a few years off. Seven-foot center Brook Lopez is the keystone of the rebuilding project and the Nets have surrounded him with forward Troy Murphy as well as the unproven NBA talent of rookie Derrick Favors, who will start the season as a backup but should start before the end of the year. Meanwhile, efforts to deal point guard Devin Harris to somehow bring Carmelo Anthony to the Nets have failed. Second-year swingman shooting guard Terrence Williams has the opportunity to log significant game time this year.

Certainly this is a team loaded with a lot of upside potential and young talent. For this to happen Head Coach Avery Johnson needs for Lopez to be a legitimate leader for the Nets. Lopez is poised to have a breakout season, especially with so many questions about Harris' commitment to the Nets. Last season Harris' scoring was down almost six points per game and he shot for career lows from beyond the arc, 26.7 percent and from the field, 40.3 percent. Harris also decided to stop playing the kind of defense he was known for earlier in his career in Dallas.

The New Jersey Nets schedule starts with four consecutive home games and a home opener against Detroit on Oct. 27. Miami's scary 'Big Three' come to town on Halloween. Miami returns against the Nets on Apr. 3, 2011.

New Jersey Nets Betting Preview: Offseason Moves
With a new Head Coach Johnson in tow the Nets made a few key additions to their lineup with Derrick Favors, Troy Murphy, Anthony Morrow, and Jordan Farmar, while they will work on developing rookies Derrick Favors, Damion James, Ben Uzoh and Brian Zoubek. The Nets cut ties with Courtney Lee, Chris Douglas-Roberts and sent Yi Jianlian to Washington to open up more playing time for third-round NBA Draft pick Derrick Favors.

New Jersey Nets Predictions: Outlook
Recently the Nets erected an enormous billboard in Times Square saying, "Three-point shot from Madison Square". This was obviously referring to the Nets' new arena located in Brooklyn that new owner Prokhorov is building. The Nets were the joke of the NBA last year and have turned to a so-called "Blueprint for Greatness." The Nets only retained four players from last year's disastrous season and the Nets' efforts to trade for Carmelo Anthony have been heretofore unsuccessful. Even without Melo the Nets should be better than they were last year (which isn't saying much), but a playoff run for the Nets this year is out of the question.

New Jersey Nets Futures Odds
The New Jersey Nets odds to win the Atlantic Division are +2500 while the odds to win the NBA Championship are +8000, but even that price won't interest many punters. The oddsmakers set the New Jersey Nets 'over/under' at 31.5 total wins; 20 more games than last season, or almost twice as many total wins as all of last year. The New Jersey Nets won 12 games in 2009-10 and finished in the Atlantic Division cellar. NBA odds are courtesy of BetUS.

NBA Picks for New Jersey Nets
The expectations include cautious optimism for the Nets this year, which is probably why they might surprise casual NBA fans. This will be a very different Nets team than the one that took the court last year. Sports investors should hop on the Nets early this season before the lines are adjusted to reflect the Nets actual ability rather than on last year's results. At first glance the total number of wins seems very high for the Nets, but there is a new sheriff in town and the underachieving Nets are in position to surprise a few NBA teams and fans. Don't be surprised to see the Nets get almost triple the wins they did last year, which makes investing in the 'over' 31.5 wins a profitable proposition.

Doc's Sports is very excited about another profitable NBA picks season. Picks will be available starting Tuesday, Oct. 26. Doc's Sports has become known as one of the best NBA handicapper in the nation with three of four winning seasons - $100 bettors are up $18K in the last four years! Early Bird specials will be posted soon, so check our homepage regularly. Also, check our home page daily updated NBA odds, NBA betting articles and daily matchup reports. Call us toll-free at 1-866-238-6696 to find out about a free week of Doc's Sports NBA picks, or a free week from any of the fine NBA handicappers at Doc's Sports.