NFL Survivor Pool Picks and Advice: Week 1
by Matt Severance - 9/8/2010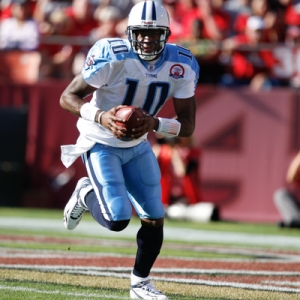 Welcome back to the weekly Survivor Pool advice column, where hopefully we can have the success of 2009 (knocked out in Week 15) instead of 2008 (Week 6). You won't usually see this column quite so early in the week (the more time to find out about injuries), but with the Vikings and Saints opening the season on Thursday night in an NFC Championship Game rematch, here we are.
Really I'll just try and give you three games to either "steer clear" or "have no fear" – don't you just love clichés? Normally injuries could play a big role, but that's not usually a problem in Week 1. And certainly you should never bother even looking at a game that involves two contending teams this early in the season because you have so many options. Also don't try and "save" a team for future – like say the Chargers for Week 6 at St. Louis – because injuries can change everything and those can't be predicted (although I am saying Brett Favre finally misses at least a game this season). Finally, try to avoid those games where it looks so lopsided that everyone else in your league is bound to pick it – if that upset happens, you could be the only one left standing.
Again, I am not taking the line into account at all on these picks. And if you are new to Survivor Pools, you get to pick one team a week but once you use that team you can't again the rest of the season.
So let's get started. It's an interesting Week 1 because there don't appear to be that many locks. In fact, I don't see a single one – no teams, as of this writing, even favored by seven points. Thus I'm only comfortable giving you two "have no fear" options. Pretty sure I'll be replaced on this beat if knocked out in the first week. My top choice in each category has my strongest opinion for or against.
Have No Fear
Tennessee (vs. Oakland) – Week 1 is so full of even matchups that I'm actually picking a game that scares me a bit as my top recommendation. I'd feel much better if Oakland QB Jason Campbell wasn't going to play, but apparently he's a go after getting injured in the preseason. RB Michael Bush and WER Chaz Schilens are probably out though (Schilens for sure). The Raiders are terrible against the run and have to deal with Chris Johnson. I wouldn't touch the line on this one but the Titans should win at home.
New England (vs. Cincinnati) – Again, these teams are close enough that I wouldn't normally want this game. But with Wes Welker healthy and the Pats at home, where they were unbeaten in the regular season last year, I can't see them losing. That is unless Randy Moss does something to prove how unhappy he is without a new deal.
Steer Clear
San Diego (at Kansas City) – The Chargers have dominated this series and outscored the Chiefs a combined 80-21 last season. But the Bolts won't have starting WR Vincent Jackson or left tackle Marcus McNeill. And I happen to think the Chiefs will be better this year – plus this is the grand opening of the "new" Arrowhead Stadium. The combo of Thomas Jones and Jamaal Charles could help lead an upset if Matt Cassel can simply be average.
Chicago (vs. Detroit) – Yes, the Lions have lost 20 road games in a row, although their last win came in Chicago in the 2007 season. And, yes, the Bears put up a combined 85 points in sweeping the Lions for the fourth time in five seasons last year. But did you see that Chicago offensive line in the preseason? Jay Cutler was sacked 10 times and the first-team offense was lousy. Plus, star Bears linebackers Brian Urlacher and Lance Briggs were both banged up in the preseason but apparently will play. An upset would not shock me here.
Arizona (at St. Louis) – Do you really have faith in Derek Anderson? The Cardinals looked like a four-win team in the preseason. And really, wouldn't you take the Rams' Sam Bradford and Steven Jackson over any Cardinals offensive players other than Larry Fitzgerald? Rams will finally win a home game this year and maybe this week.
So, to recap, we're going with the Titans in Week 1. Don't disappoint me Vince Young!
Allen Eastman is back with his 99 System for NFL predictions in 2010 and before he even came across this system he was considered one of the best NFL handicappers making picks against NFL point spreads in the nation – now he is even better with this wining NFL betting system. Last season the 99 System was 27-13 ATS and this system not only helped his clients make a ton of money, but also helped Eastman to third place in the prestigious Las Vegas Hilton NFL Contest. Call Doc's Sports toll-free at 1-866-238-6696 to get a free week of Eastman's picks or any of the other fine NFL handicappers at Doc's Sports (new customers only).