Handicapping the NHL Playoff Race
by Trevor Whenham - 3/25/2010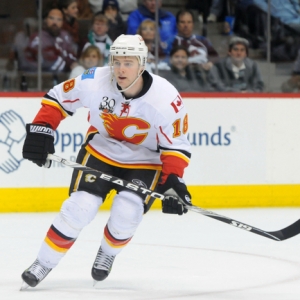 We are right in the middle of the homestretch of the NHL season - no team has more than 10 games remaining from their 82-game season. There are some pretty decent playoff races remaining in both conferences. Neither involves as many teams as are a factor some years at this time, but in both conferences there is inevitably going to be a pretty good team or two left on the outside looking in. Here's a look both at how those playoff races shape up, and how to deal with handicapping playoff races in general:

Western Conference

There are as many as five teams involved here, but only the Flames are currently not in a playoff spot, and they will have to prove themselves down the stretch in a way many don't believe is possible if they don't want to start golfing just yet (and golf courses aren't open in Calgary yet, so that's not even a good option). Calgary sits in ninth, four points behind the Red Wings. Nashville and Colorado are two points ahead of Detroit, and the Kings are a point ahead of those two. Nashville has played one more game that most of those teams, and the Kings, with 72 under their belts, have played one fewer.
I live in Calgary and have my whole life, so I know how hard it is to be optimistic about Calgary's chances right now. They aren't playing particularly good hockey - three wins in their last six - and they aren't getting the consistently great goaltending that is essential to a late-season push like they need. They also don't really have the ideal schedule for success. They play just one team that they are chasing - a road game at Colorado - and seven of their last nine games are against likely playoff squads, including the top four teams in the West, and Washington, the best overall team in the league.
To get a spot they would have to win most of those tough games - six of which are on the road - and they would need a team in front of them to falter. Detroit isn't likely to help them out even though they are closest in the standings - they are the second hottest team in the league over their last 10 games, and have piles of veteran talent that knows what a playoff race is all about. Colorado and L.A. aren't playing nearly as well and are the most likely to fall, but Calgary is six and seven points behind them, respectively, with 10 games left. That's a lot of ground to make up. If the Flames do find their way into the playoff then they'll certainly be a team to watch in the first round because they will clearly have been in exceptional form to get there. Not likely.

Eastern Conference

This race also realistically involves five teams. On the inside we have Montreal - 80 points in 74 games, Philadelphia - 79 points in 73 games, and Boston - 78 points in 72 games. Coveting their spots are Atlanta - 75 points in 73 games and the Rangers - 73 points in 73 games.
Unlike the race in the West, this pursuit is remarkable - in a bad way - because the teams are all struggling. Montreal is the best of the group in their last 10, but at 6-2-2 they are far from the best in the league. Boston has been just above .500 at 5-4-1, and the other three have lost more than they have won.
If Atlanta wants to make it then they absolutely have to win their next four - two each against struggling teams from Carolina and Toronto. If they don't do that then the hole will likely be too deep when they enter the very tough final stretch - two each against Washington and Pittsburgh, and one against New Jersey. New York has a somewhat better schedule - five of their remaining nine are against non-playoff teams - but they aren't playing like an explosive, focused team that has the kind of run they would need in them.
It would be a mild upset if one of the three teams currently in the playoffs wound up on the outside, but it is far more likely to happen here than it is in the West.

Handicapping Playoff Races

Confidence matters - At this time of year you'll often see teams on the fringe of the playoffs get on red hot streaks. They are playing with great confidence, but given the pressure they are facing, and the fact that if they were a really good team they wouldn't be in this situation in the first place, that confidence is very fragile. It's far from rare to see a team fall hard when that streak ends - follow several wins with several losses. Streaks are always a factor in the NHL, but you need to be even more aware of them in March and early April.

Schedule is crucial - Teams needing to win a lot of games are going to be very dependent on their schedule. That doesn't necessarily mean that the team with the schedule packed with better opponents will lose. What's important is not who the teams are playing, but how the schedule fits the team's strengths. Where are the games being played? How has the team fared against these teams in the past? Is the likely style of play one that suits the team?

Don't worry too much about health - You obviously want to pay attention if key players are out of the lineup. Beyond that, though, reports of players who are banged up or playing hurt are virtually worthless at this time of year. After more than 70 games no player is totally healthy, so a report that a player limps when he walks or is spending extra time with the trainers is just an inevitable reality. For every situation you hear about you can be sure that there are four more on each team that you don't.

Experience is an asset - Teams in a playoff race are essentially already in the playoffs. They need to win or they will be going home. Players who have been through the stress and strains of a playoff situation in the past are going to be much better equipped to handle that. Studying the rosters of the teams to see how many veteran leaders they have can help, and can looking at how the team has done in the playoffs in the recent past, and the track record of the coach.