NHL: Phoenix Coyotes vs. Detroit Red Wings Series Odds and Predictions
by Nicholas Tolomeo - 4/13/2010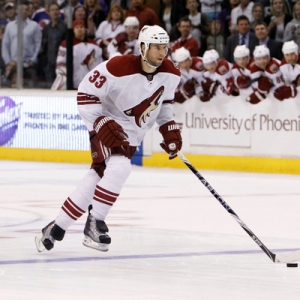 Phoenix Coyotes vs. Detroit Red Wings Series Odds
Detroit -225
Phoenix +175
What is the bigger surprise here, that Phoenix has the fourth best record in the entire NHL and the No. 4 seed in the Western Conference or that the Detroit Red Wings limp into this series as the No. 5 seed?
On top of that, Detroit, without home-ice advantage in the first round for the first time in more than 15 years, is actually favored to win this series. They spent the better part of the winter just fighting to get into the postseason while Phoenix spent the season proving the naysayers wrong.
This could very well be the most intriguing first round matchup. Detroit has the offensive firepower: they are second in shots in the league and have top-10 power play and penalty kill units. Phoenix does it with defense. They are third in the league with an average of 2.4 goals against and they also have a top-10 penalty kill.
Since a stunning first-round upset as a No. 1 seed in 2006, the Red Wings have reached the Western Conference Finals three years in a row with two trips to the Stanley Cup Finals, including one Stanley Cup Championship in 2008.
What it takes to defeat these Red Wings, and this has been true with this veteran squad in the playoffs over the past four years, is good goaltending. Marc-Andre Fleury did it last year in the Stanley Cup Finals by holding Detroit to two goals total in games five through seven.
Phoenix has a goalie that is playing above what Fleury was able to do last season. Ilya Bryzgalov gives Phoenix a legitimate Vezina Trophy candidate and a legitimate chance to unseat the Red Wings. Bryzgalov is 42-26 in with a 2.29 goals against average and eight shutouts.
Phoenix has been incredibly strong at home and completed the regular season with a 29-10-2 home record. If they are able to jump out to a lead in the series over Detroit it will put the Red Wings in an unusual scenario. Just starting the series in Phoenix and not at Joe Louis Arena will mark the first time since 2000 when Detroit will start ANY playoff series on the road. They have had home-ice advantage for 20 consecutive playoff series.
Phoenix is in the midst of a magical and unexpected run and they carry all the momentum into this series. It might be just too much for the aging Red Wings to handle.
Phoenix Coyotes vs. Detroit Red Wings Series Predictions
Phoenix in seven games.
Doc's Sports NHL customers ($100 players) won $2,500 during the regular season and the playoffs look prime for even more profits. Click Here for NHL picks prices.