Ranking the College Bowl Games
by Nicholas Tolomeo - 12/16/2010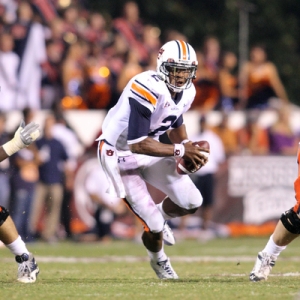 Throw out the implications. Negate the BCS or non-BCS factor. When it comes right down to it, what are the most intriguing, watchable, entertaining games on the bowl game schedule for this Holiday season? Here is how I see them breaking down with by 2010-11 bowl game rankings from the best to the worst of what to watch for the next month.
35. New Orleans Bowl
Ohio vs. Troy
The bowl game may be approaching some kind of unofficial record of having the longest streak of having the worst bowl game matchup. And why does the game that draws some of the worst bowl-eligible teams of all time get to be played in the Big Easy? They should move the New Orleans bowl to Boise, Idaho. Click here for New Orleans Bowl predictions.
34. New Mexico Bowl
BYU vs. UTEP
This game gets bonus points for kicking off our bowl season, just not enough bonus points to be ranked higher than 34th. I understand letting 6-6 teams compete in bowl games, but why against each other and why in New Mexico? Click here for New Mexico Bowl predictions.
33. Little Caesars Pizza Bowl
Florida International vs. Toledo
Part of the player's gift bundle for this game is a commemorative football. Because if you are from Florida International why would you not want to commemorate being forced to spend Christmas in Detroit, Michigan, playing in the Little Caesars Pizza Bowl against Toledo?
32. Military Bowl
East Carolina vs. Maryland
Points are immediately lost for somehow not landing a single service academy in a bowl called the Military Bowl. This game is played at RFK Stadium, so at the very least the game serves as a reminder that the stadium is still standing, even though no one else uses it.
31. Armed Forces Bowl
Army vs. SMU
The Armed Forces Bowl got it right. If you are going to call your bowl game such, you better have an inside track on Army, Navy or Air Force. And after watching the ESPN documentary "Pony Excess" can you imagine a better matchup of a program as sleazy as SMU and as un-sleazy as Army?
30. BBVA Compass Bowl
Pittsburgh vs. Kentucky
What exactly is a BBVA Compass? I am pretty sure the Pitt offense couldn't even find the endzone using one. If you really need a reason to watch this debacle, it will be your last chance to gaze at Pitt Coach Dave Wannstedt's mustache.
29. Beef 'O' Brady's Bowl
Southern Mississippi vs. Louisville
Beef 'O' Brady's is a restaurant franchise originally found in Brandon, Florida, in 1985. It currently boasts 240 locations in 23 states, mostly in the Southern and Midwestern United States. Now you know more about Beef 'O' Brady's than you do about either team playing in its bowl.
28. Go Daddy.com Bowl
Middle Tennessee vs. Miami (Ohio)
Turn this dud of a game on to see if former Miami (Ohio) coach Michael Haywood is or isn't on the sideline (he was just hired by Pitt) and to see what Danica Patrick is or isn't wearing.
27. Humanitarian Bowl
Northern Illinois vs. Fresno State
The definition of 'Humanitarian,' according to Merriam-Webster, is "promoting human welfare." If anybody had any care about human welfare, specifically the humans who play football for Northern Illinois and Fresno State, they would not send them to Boise, Idaho, to play football on blue turf in the dead of winter. Click here for Humanitarian Bowl predictions.
26. Independence Bowl
Air Force vs. Georgia Tech
This game is more of a personal preference. It could be ranked as high as five or as low as 35, depending on your preference of offense. This game is a match made in Woody Hayes heaven. Both teams run the triple-option. And by 'run' I mean run the ball every single play.
25. Insight Bowl
Missouri vs. Iowa
How is Missouri ranked 12th? How is Iowa 7-5? How is Iowa favored? How is anyone going to watch this?
24. Music City Bowl
North Carolina vs. Tennessee
North Carolina is not the only scandal-ridden program in the NCAA. They are just the only one that does not win. Their prize for going 7-5 with half of their roster suspended at some point in the season is a trip to Nashville, Tennessee, to play, who else, Tennessee.
23. Pinstripe Bowl
Kansas State vs. Syracuse
Play this game anywhere but Yankee Stadium and the 13 people who would watch this game probably wouldn't.
22. Meineke Car Care Bowl
South Florida vs. Clemson
The bowl game changes names more than Puff Daddy. After a few years as the Queen City Bowl and then the Continental Tire Bowl and then Meineke Car Care Bowl, Charlotte's newest bowl game will be dubbed the Belk Bowl starting next season. So crack your muffler jokes now and get one last chance to see George Foreman hand out a trophy.
21. Liberty Bowl
Georgia vs. Central Florida
Turn this game on in time for the final whistle when Georgia wide receiver A.J. Green is finally free to declare for the NFL Draft and sell whatever used paraphernalia he wants to.
20. Ticket City Bowl
Northwestern vs. Texas Tech
Ticket City is a secondary ticket market that specializes in selling hard-to-find tickets for big-time games. Needless to say, this matchup of 7-5 teams is neither a hard-to-find ticket nor a big-time game.
19. Poinsettia Bowl
Navy vs. San Diego State
This game has traditionally had some great matchups, including Boise State vs. TCU in 2008 and Utah and California in 2009. This is not one of them.
18. Kraft Fight Hunger Bowl
Nevada vs. Boston College
Somebody said it best when writing to a newspaper columnist asking the simple question, "With the Little Caesars Pizza Bowl, the Outback Bowl and the Chick-Fil-A Bowl, why do we need a Fight Hunger Bowl?" Reasons to watch: it is played in a baseball field (AT&T Park), it's the day before the National Championship game so if you're lucky they'll talk about Oregon vs. Auburn, and, most importantly, it starts at 9 p.m. EST, which means the only people watching it on the East Coast will be gamblers, insomniacs and gambling insomniacs (are there any other kinds?).
17. Champs Sports Bowl
North Carolina State vs. West Virginia
If not for a 52-yard Connecticut field goal it would be West Virginia in the BCS saving the Big East from embarrassment. Instead the Mountaineers are here and with a unique, to say the least, coaching situation. Bill Stewart is the fired-coach in waiting while former Oklahoma State offensive coordinator Dana Holgorsen is the head-coach in waiting once he takes over as offensive coordinator starting Jan. 1. Got it? Good. The Mountaineers have the weapons to put on a show and North Carolina State has quarterback Russell Wilson, a homeless man's Cam Newton.
16. Texas Bowl
Baylor vs. Illinois
Looks like a good-old fashioned shootout. The 'over/under' is 63 and both teams boast dynamic playmakers. Baylor has Robert Griffin III at quarterback and, with a name that sounds like a Texas Marshall, Illinois has tailback Mikel Leshoure.
15. Alamo Bowl
Oklahoma State vs. Arizona
Oklahoma State just lost their offensive coordinator, but with Kendall Hunter running the ball and Justin Blackmon catching the ball, who needs one? The Cowboys are 10-2 and No. 14 in the country. They probably deserve better than a 7-5 Arizona team, but that's what you get for not playing defense.
14. Holiday Bowl
Washington vs. Nebraska
The game is being hyped as Jake "Hurt" Locker, Washington's top-NFL prospect at quarterback, vs. the Nebraska black shirt defense. Considering that is an 11-on-1 mismatch, maybe that explains why Nebraska is favored by two touchdowns.
13. Sun Bowl
Notre Dame vs. Miami
Turn the clocks back 20 years and this game is tops on the list. In 2010 - not so much. The firing of Randy Shannon gives the watchability a boost, plus there's always the fun factor of watching just how few South Beach residents decide to spend their New Years in El Paso, Texas.
12. Chick-Fil-A Bowl
South Carolina vs. Florida State
The game is on New Year's Eve and kicks off at 7:30 p.m. EST so it gives you something to do if your NYE plans suck. Other than that, South Carolina fans cannot be happy with this trip back to Atlanta. Last time they were here, four weeks ago, Auburn rolled over them 56-17.
11. Gator Bowl
Mississippi State vs. Michigan
Remember when the Gator Bowl used to be a major bowl game? Now it is laced with an awful Michigan team and a Mississippi State team from which you cannot name a single player. It could possibly be Rich Rodriguez's last game as Michigan's coach, so there's that to watch for.
10. Capital One Bowl
Alabama vs. Michigan State
Michigan State is ranked No. 9. Alabama is ranked No. 16. Michigan State is 11-1 and Big Ten co-champions. Alabama is 9-3 and did not even get to play for an SEC title. But Alabama is favored by 10. The game will be fun to watch just to see how much more oddsmakers know than everyone else.
9. Cotton Bowl
LSU vs. Texas A&M
The best thing about the Cotton Bowl is that it's only one of two bowl games not on the ESPN mafia family of networks. FOX will air this showdown scheduled in a new time, Friday night, Jan. 7, in Cowboys Stadium. This bowl game is probably the best chance to see January football at Cowboys Stadium.
8. MAACO Las Vegas Bowl
Utah vs. Boise State
The game is in Las Vegas, it features the biggest favorite of bowl season (Boise State –17), two teams who are a combined 21-3, two prolific offenses and one incredibly ticked football squad. The Broncos thought they would be playing in early January. Instead, because of a missed chip shot field goal, they'll be playing Dec. 22. Poor Utah.
7. Hawaii Bowl
Hawaii vs. Tulsa
They should rename this "The perfect television event to hold you over from Christmas Eve dinner until Midnight Mass." The annual Christmas Eve tradition, the Hawaii Bowl, kicks off at 8 p.m. EST, Dec. 24. Of the 119 teams who play Division I football, 118 would love to be in this game. Hawaii is not one of them.
6. Outback Bowl
Penn State vs. Florida
Maybe I am overreacting for a matchup of 7-5 teams, but consider the following: the game is on New Year's Day. Florida has a hot-shot new coach, Will Muschamp, who may or may not be there. The Gators are unveiling new Nike uniforms for the game. And most importantly, Urban Meyer is 46 years old. Joe Paterno has been coaching 45 years. Meyer is the one retiring after this game.
5. Fiesta Bowl
Connecticut vs. Oklahoma
There is always that one David vs. Goliath game in the BCS and Oklahoma usually gets stuck playing as Goliath. However, in this case calling UConn David is an insult to David. The point spread is 17 and ESPN is not even treating it like a BCS game. They are dispatching Sean McDonough and Matt Millen to call this blood bath, although it is one of a few bowl games to be broadcast in 3D. If I were a Connecticut fan I would stick to watching the beat down in 2D or, maybe just listen on the radio, or maybe just pick up a newspaper Jan. 2, or maybe just watch Connecticut basketball. Women's that is.
4. Sugar Bowl
Ohio State vs. Arkansas
Ohio State in a BCS bowl game is getting to be like listening to a broken record. However, they get to face some new BCS blood with Arkansas. The game also features big-time quarterbacks with Terrelle Pryor and Ryan Mallett.
3. Orange Bowl
Stanford vs. Virginia Tech
In the past a matchup between teams like this would be called the Catholics vs. the Convicts. Since Stanford is not a catholic school, we'll just settle with the Cardinal vs. the Convicts. All morale issues out of the way, this should be wildly entertaining.
2. Rose Bowl
TCU vs. Wisconsin
Stanford vs. Wisconsin would be a heck of a game here and it's likely what the old guard of the Rose Bowl wants, but tradition be darned the undefeated Horned Frogs are a lot of fun to watch and everybody wants to know how they would hang with a perennial Big Ten power. On New Year's Day we finally find out.
1. BCS National Championship Game
Oregon vs. Auburn
Any argument for a college football playoff gets hurt when the best game of the bowl season is the National Championship Game. Does anybody really need a round of 16 or a plus-one or some other hokey playoff idea to figure out that Auburn and Oregon need to play and need to play now? The 'over/under' is 74.5, first to 40 points is your next National Champion.