Saturday College Basketball Preview: Vanderbilt at Kentucky
by Matt Severance - 1/29/2010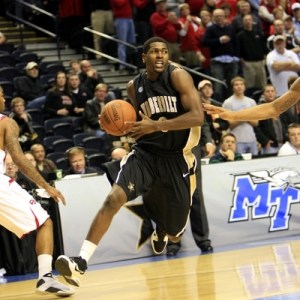 Apologies to Duke-Georgetown and Kansas-Kansas State, but the game of the day on Saturday is No. 23 Vanderbilt and No. 1 Kentucky because it features one of the hottest teams in the country … Vandy.
Yes, the Commodores (16-3) are the team on the roll entering Saturday's game, having won 10 straight (7-2-1 ATS) with Kentucky coming in off its lone loss of the season. And take a gander atop the SEC standings and you will find Vandy as the lone unbeaten team in SEC play. So not only will Kentucky (19-1) not be No. 1 in the new polls Monday, the Wildcats might not even be the team to beat in their own conference should Vanderbilt pull the upset.
Perhaps I am hyping Vandy a bit much, as it just played its first ranked team (at the time) on Wednesday, and that was a win at suddenly struggling Tennessee. In addition, Vanderbilt lost against unranked Cincinnati, Illinois and Western Kentucky earlier this year – all at neutral sites. But the Commodores are No. 18 in RPI (as of this writing) and have non-conference quality wins at Saint Mary's (Calif.) and vs. Arizona and Missouri – not to mention the 5-0 start in the SEC for their best start in the league since 1966. That includes a 10-point win at South Carolina, the same team that shocked Kentucky on Tuesday.
Vanderbilt has won three road games in a row (3-0 ATS) – the last time it won its first three conference games away from home in the league was the 1964-65 season -- and has shot better than 50 percent from the field in 11 of its 19 games.
But Kentucky will be by far the best team Vandy has played thus far, and the Wildcats figure to be a little angry. The problem on Tuesday was that UK was basically a two-man freshman team of DeMarcus Cousins and John Wall. Those two combined for 46 of Kentucky's 62 points as well as 33 of the team's 57 shots. All-American forward Patrick Patterson had four shots and five points (his fewest since his first-ever game in a UK uniform) in 35 minutes and was held scoreless in the second half. Whether that was more a matter of Patterson not exerting leadership or the two freshmen ball-hogging is something for John Calipari to figure out.
Cousins, by the way, reportedly struck a fan when the South Carolina faithful rushed the court at the buzzer on Tuesday. There has been no talk of a suspension or anything, however. He and Patterson have dominated most teams this year, but South Carolina outrebounded UK.
Vanderbilt has four big guys who can bang down low in centers A.J. Ogilvy (the Commodores' best player) and Festus Ezeli and forwards Andre Walker and Steve Tchiengang. Those four racked up 14 fouls and had 21 rebounds against Tennessee. VU has a rebounding margin of plus-6.6 in the five SEC games but has trailed in four of the five at the half (that likely won't cut it Saturday).
The Commodores would make history with a win on Saturday, just like South Carolina did against Kentucky. The Commodores are 0-7 in road games against No. 1 teams all-time. They are 0-5 against top-ranked Kentucky teams in Lexington. Vandy is 2-8 under coach Kevin Stallings at Kentucky. And the fact that the Commodores just beat Tennessee doesn't bode well for them beating Kentucky -- the last time Vanderbilt defeated both schools in the same year was the 1973-74 season.
Look for Calipari to have his guys quite focused on Saturday – no calls from President Obama this time to distract them. The Cats, who are 13-0 at home (but just 5-6 ATS) will cover fairly easily. In addition, UK hasn't failed to cover in back-to-back games since the beginning of December.
---
Most Recent College Basketball Handicapping