Top 10 College Football Conference Games
by Robert Ferringo - 7/24/2010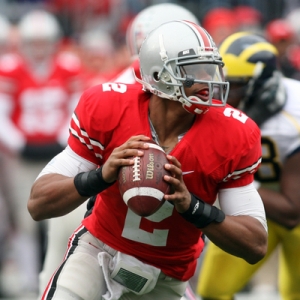 Below is a look at the Top 10 conference college football games of 2010. These may not be the 10 most important college football games or the 10 best matchups of the college football season. But at the end of the year when we look back on the season the games on this list should be pretty well represented when we talk about 10 most influential games of the 2010 college football season.
I have selected one game from each conference – it's more democratic that way – in an effort to pinpoint the tipping point of each of the leagues. Some will have significant national ramifications while others will be more local in scope. But regardless, they should all be hard-fought blood feuds and the type of winner-take-all games that no other amateur sport features.
Here is a look at the Top 10 conference football games of 2010:
Honorable Mention (No. 11): Ohio at Temple (Tuesday, Nov. 16)
We get our list started in the MAC, and this is not only the best game on the conference slate but it's also probably any honorable mention for any Revenge Game of the Year list. Last season the Bobcats stunned visiting Temple, 35-17, in the last regular season game of the season. That win by Ohio knocked Temple out of the MAC title game (Ohio lost to Central Michigan, 20-10) and put a huge damper on a season that started 7-0. Now the Owls will have a shot at redemption, but nothing will come easy in this one.
10. Troy at Middle Tennessee State (Tuesday, Oct. 5)
The fact that this Sun Belt game is on a Tuesday – which means that it will be on ESPN – tells you that it's a Big One. Troy is 20-2 in conference play over the last three years and has been running roughshod over this fledgling conference. But most bobbleheads actually have MTSU listed as the preseason favorite, thanks to dynamic quarterback Dwight Dasher. This game is in Murfreesboro, where the Blue Raiders are 9-2 the last two seasons and 34-17 in the last 10, and it should be a rowdy one. Troy has won four straight in this series and they humiliated MTSU on national TV last year, 31-7. And now that this league has a tie-in with the GMAC Bowl there is even more on the line for the conference winner.
9. Houston at SMU (Saturday, Oct. 23)
All of the BCS buster talk this season is about Boise State and TCU. But watch out for Houston. Trigger-happy quarterback Case Keenum directs one of the most explosive offenses in the country and Houston is a massive favorite to win Conference USA. Now, their game at home against Central Florida on Nov. 5 should be a "better" game. But regardless of who wins there the two schools should meet again in the conference championship game. So that makes this game here, on the road against upstart SMU, the key battle in this league. Houston was upset at UTEP last year and June Jones looks like he's ahead of schedule in steering SMU to the level of success he had at Hawaii. This one will be a classic shootout.
8. Boise State at Nevada (Saturday, Nov. 26)
I'm already planning on taking the points. Boise State's disgustingly easy schedule only has three tests on it. The first two are nonconference games against Virginia Tech and Oregon State. But if they win those that means that the only thing standing between the Broncos and a potential national title shot (and at the very least a significant BCS berth) will be this trip to Reno. Boise is a ridiculous 62-2 in the last eight years of WAC play. But Nevada has played in stride with the Broncos, losing by just 11, seven and two in the last three meetings. Nevada has a very experienced group and their 16 starters are tied for second behind Boise for the most veteran team in the league. This one should be high-flying and could turn out to be a stunner.
7. Washington at Oregon (Saturday, Nov. 6)
This is one of the bigger rivalries on the West Coast and Oregon has absolutely dominated it over the last few years, winning six straight by at least 20 points. But with Jake Locker under center the Huskies are entertaining thoughts of resurgence in the Pac-10, especially with USC on the ropes and no clear-cut favorite in league. I could definitely make a case that the Arizona-Oregon game is "bigger". But the Ducks are at home and have an extra week to prep for that one, so I think it could be a blowout. Instead, in a wide-open conference, I'll look to the rivalry game (which is also a letdown spot after a trip to USC for the Ducks) as one of the best in what promises to be a weird year for the Pac-10.
6. West Virginia at Pittsburgh (Saturday, Nov. 26)
Here we have another rivalry game. But unlike the Washington-Oregon contest, there is pretty much no doubt that this game will determine who wins the conference title. This will be the 103rd meeting and the last three Backyard Brawls have been determined by four points or less. The last two have come down to the final minute. Pitt will be relying on Dion Lewis, a Heisman hopeful, while West Virginia banks on experience and a rough-and-rugged defense. WVU should be a little bit better this year, but Pitt will have revenge and the home field edge. Last year the Panthers lost while looking ahead to a decisive game against Cincinnati. They won't have anything to make them look past this one this year.
5. Virginia Tech at North Carolina (Saturday, Nov. 13)
You could basically throw in Georgia Tech and Miami and, along with V-Tech and UNC, pick a game out of a hat between that foursome and have the ACC Game of the Year. But I'll go with the Hokies' trip to Chapel Hill as this year's top draw. Virginia Tech has dominated the Coastal for the better part of a decade and if anyone is going to keep them out of the ACC title game it should be UNC. The Tar Heels have one of the best defenses in the country. But Tyrod Taylor, for all his inconsistencies, can be tough to hem in because of his mobility. The road team has won four straight in this series, including outright dog upsets the last two years, so home field may not be a big factor.
4. TCU at Utah (Saturday, Nov. 6)
Much like the Boise State-Nevada game, this Mountain West clash could potentially have an impact on the BCS National Championship Game. Or at the very least this game could determine whether TCU plays in another BCS bowl. TCU spent a majority of last year in the Top 10 and the last month in the Top 5. They are legit and they have 16 starters back from that crew. Utah is the only team with the size or experience to give the Horned Frogs a true test. And the fact that this one is in Salt Lake City gives them a puncher's chance. Three of the last five meetings have been decided by a touchdown or less.
3. Florida at Alabama (Saturday, Oct. 2)
I know that the SEC is the nation's dominant conference and that these have been the two best programs in the country over the last several years. But this game doesn't have the overall impact that some of the others do because the loser could still get a shot at a rematch in the SEC Championship Game (they have met there the last two years). That said, this is still a clash of titans and despite heavy losses to graduation this game will still be a do-not-miss. Alabama dominated their meeting in the Georgia Dome last year, which gives the Gators a rare revenge angle.
2. Ohio State at Wisconsin (Saturday, Oct. 16)
Unlike the Florida-Alabama tilt in the SEC, this game has a load of significance in determining the Big Ten championship. These are clearly the top two teams and, because this one is being played at Camp Randall, it would have to be considered a toss-up. Ohio State has owned this conference for a decade – if not longer. If the Badgers are going to make a move and finally get over the hump in the Bret Bielema Era this is a must-win game. The Badgers have a load of experience, including 10 players back on an offense fueled by big John Clay. Wisconsin held Ohio State under 200 total yards last year but still lost by 18. That's tough to do. OSU has won three straight overall in this series and are 4-1 in their last five trips to Madison.
1. Texas vs. Oklahoma (Saturday, Oct. 2)
This is the only neutral site game on the list, and it's my choice as the best conference college football game of the year. The Red River Shootout (I know that's not what They call it, but I don't care) will pit the last two BCS Title Game runners-up against one another and I think that the winner will have the inside track back to a BCS bowl. This series has run in waves, with Oklahoma winning five straight early in the decade while Texas has taken four of five recently. But now OU may have the upper hand, with Colt McCoy having finally moved on to the NFL. Last year's game was a slugfest, a 16-13 grinder after 2008's surprising 45-35 shootout, and I'm expecting another physical effort on the first Saturday in October.
Robert Ferringo is a writer and a professional sports handicapper for Doc's Sports. Last year he brought home +62.5 Units for his clients for NFL picks and he is regarded as one of the top totals players in the sport. He guarantees a winning football season this year or he will work for free until you turn a profit. You can sign up for his college football and NFL picks and get more information here. Also, find more information about football picks prices for this top-notch NFL handicapper on Doc's Sports homepage.