2010-11 Toronto Maple Leafs NHL Predictions with Futures Odds and Betting Picks
by Nicholas Tolomeo - 9/24/2010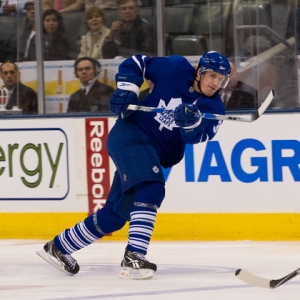 The enigma that is the Toronto Maple Leafs is set to begin its sixth season since its last playoff appearance and 44th season since its last Stanley Cup.
Yet the Maple Leafs remain the most valuable team in the NHL, with an estimated value of $470 million and a ticket to see the perennial losers play remains one of the hottest ticket in any sport. They drawn an immense amount of interest north of the border and, once again, there is reason to believe that Toronto could make a postseason push for the first time since 2004. There is also reason to believe that the Leafs could fall flat on their face and finish last in nearly every statistical category once again.
This season has the possibility to be determined by a single individual, defensemen and captain Dion Phaneuf. What Phaneuf means to this team will not be measured in goals and assists, but so much more. Phaneuf was brought to the team in January and, unlike most of the Toronto players, he is not accustomed to sitting out of the playoffs. Last season was the first year the former Flame missed the NHL playoffs.
After playing in only 26 games for Toronto last season, Phaneuf was not shy about voicing his displeasures with the makeup of the team. He wanted bigger forwards and General Manager Brian Burke listened, as did coach Ron Wilson, who named Phaneuf captain -- it's the first time Toronto has had a captain since Mats Sundin in 2007-08.
Wilson is in on the proverbial hot seat. In two seasons under Wilson the Leafs have finished last twice in the Northeast. In San Jose Wilson took the Sharks to at least the second round of the playoffs four consecutive years.
The hopes of Maple Leaf fans are hitched to the wagon of 22-year old Phil Kessel. Toronto mortgaged its future to trade for Kessel with Boston before the start of last season. He missed the first 12 games of last year while recovering from shoulder surgery, but he still managed to score 30 goals for the second consecutive season. Warranted or unwarranted, there are tremendous expectations on the shoulders of Kessel to get this franchise turned around.
Center Mikhail Grabovski has the opportunity and the ability to help shoulder some of the burden on offense. He had a breakout rookie season (20 goals and 28 assists) in 2008-09 and followed it up with a 10-goal, 25-assist season before a broken wrist cut short his season in March.
The goalie's job is Jean-Sebastien Giguere's to lose. He finished last season with a 2.49 goals-against average.
The Toronto Maple Leafs schedule starts with a familiar acquaintance in bitter rival Montreal on Thursday, Oct. 7, in Toronto. The Maple Leafs host their other rival Ottawa two nights later before heading to Pittsburgh to play their first road game of the season. A major test for Toronto comes Oct. 28 when they travel to Boston to take on the division favorites. The Bruins won five of six games last season against Toronto.
Offseason Moves
Recently signed Colby Armstrong could quickly become a fan favorite in Toronto. The 6-foot-2 right winger spent his last five seasons in Pittsburgh and Atlanta. Defenseman Brett Lebda was signed as a free agent after five seasons in Detroit and Toronto pulled off a trade with the Stanley Cup champion Blackhawks for right winger Kris Versteeg. Prospects Philippe Paradis, Chris DiDomenico and Viktor Stalberg were traded away to bring in Versteeg.

Toronto Maple Leafs Predictions: Outlook
As it is every September, the outlook in Toronto is a positive one. However, for the first time in four seasons, there is plenty of reason to believe it could remain positive throughout the season. The new-look Maple Leafs, after numerous midseason transactions, actually finished with the seventh-best record in the Eastern Conference. An improvement from a 30-38-14 season has to be expected.
Toronto Maple Leafs Futures Odds
After a last-place finish in the Eastern Conference a year ago, Toronto is a long shot to do just about anything including win the Northeast Division (+1400), win the Eastern Conference (+2500) and win the Stanley Cup (+6000). Their 'over/under' for total points is 84.5 and for winsit's 34.5
NHL Predictions and Betting Picks for Toronto Maple Leafs
Toronto has the right mix of skill and good-character guys to get things turned around this season. Expect the Maple Leafs to easily surpass 34.5 wins and 84.5 points.
Doc's Sports is geared up for another profitable NHL picks season. Picks will be available starting Oct. 7. We have an NHL handicapper based out of Canada and he knows the sport inside and out and has been betting the sport for years. Early Bird specials will be posted soon, so check our homepage regularly.. Also, check our home page daily updated NHL odds, hockey betting articles and daily matchup reports.