College Basketball Handicapping: How to Deal With USC Death Sentence
by Robert Ferringo - 1/6/2010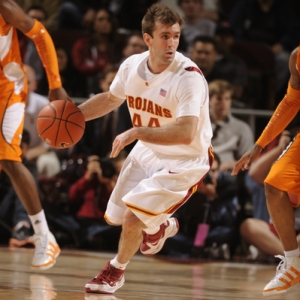 Existential nihilism is the belief that life has no meaning or value. Its mantra is that all is pointless and insignificant and that any struggle against the cold, inevitable Truth of it is futile.
If you've never seen a men's college basketball team forced to adopt nihilism as an ethos, check out the USC Trojans at 10 p.m. tonight in Maple Pavilion.
On Sunday, USC's administration announced that they were going to self-impose sanctions on the basketball program. The deathblow: no postseason appearances for the Trojans this year. USC will not play in the Pac-10 Tournament and they will not accept an invitation to any postseason tournament.
Win or lose, USC's season will end on March 6 when they travel to Arizona to take on the Wildcats. The news was a death sentence on the season and on the careers of the USC seniors, Mike Gerrity, Dwight Lewis, and Marcus Johnson.
The self-imposed sanctions were the result of some issues involving notorious scumbags O.J. Mayo and Tim Floyd. Now, you can definitely make the case that USC got what it deserved by getting in bed with such losers. But both Mayo and Floyd have moved on. They are now both getting paid obscene amounts and working jobs that they love despite their complete lack of integrity or character.
That means that the actual punishment will be served by the current players – a group of guys that really had nothing to do with any of the indiscretions.
This whole incident has created one of the most unique situations in college basketball. Before news of this broke, USC had been one of the hottest teams in college basketball. Since Gerrity had become eligible and stabilized the point guard position the team had gone on a savage eight-game winning streak that included a thrashing of Tennessee, a win over St. Mary's, and a Pac-10 sweep of the Arizona schools last weekend. USC hadn't vaulted itself into the Top 25 yet but had garnered votes in both the AP and ESPN polls.
But the issue now is how does news of their sentence impact the Trojans, how does it affect their play on the court, and how do we play the Trojans at the window moving forward. Their value actually diminishes with each successive win and with each higher rung on the ratings ladder. And on top of that you now have to question the psyche of a team that was red hot before taking a razor-sharp elbow right to the face with news of the sanctions.
There are generally three plausible outcomes for this team:
First, they could mail it in. Now, the team isn't going to stop trying and stop playing. There is a certain level of pride that every athlete has ingrained in them. And just being on the court, playing against Pac-10 and regional rivals, will bring out their top games. But knowing that their season really has no chance of accomplishing something will take away that edge, that special intangible something that all really good teams have, and USC will simply plod through another season of semi-inspiring wins and ho-hum losses.
Right now USC is the No. 1 defensive team in the country in terms of points per game allowed. They are No. 9 in field goal defense and they have embraced new coach Kevin O'Neill's hard-nosed, gritty, slug-it-out style. The thing with playing that type of basketball is that it requires a tremendous amount of effort and heart. It also usually means that a team is going to play in a lot of close, lower-scoring games that are determined in the final minutes. And, again, if the underlying feeling at the core of this team is that, "It doesn't mean anything," then where are they going to find that fire, that gumption, and that mental toughness to win those games, to stage wild comebacks, and to endure heartbreaking losses and losing streaks?
The second option is that they could really use this whole situation as a rallying cry. They could stage their own Battle of Thermopylae, knowing that their efforts will result in nothing more than the death of their season but also understanding that there is meaning in their struggle. The Trojans could embrace a Pac-10 championship as their new goal and focus absolutely every ounce of energy into attaining it. They could start to play like a desperate team that is trying to take advantage of every precious second that remains of their terminal season. And that can make them very dangerous.
Tonight's game at Stanford is a litmus test but it is by no means the final say in what this team has in store for it. This was a letdown spot for this team anyway. And having to deal with the sudden shock of their season's prognosis isn't going to help their motivation heading into this one. But whether they try to make a statement with a 20-point win or look sluggish through a 20-point loss I don't think that this evening's affair is going to be a good representation of what's ahead.
There are 16 games left on the USC basketball schedule this season. The only "Sweet 16" that the Trojans will be a part of this year. Through the next two months we as fans and sporting men get to voyeuristically watch as the Trojans go through their own Kubler-Ross model. It's a sad story. Not tragic. Not in this place and time in history. Tragic was the Trojans finding out on Tuesday that the man who had been broadcasting their games over the last 12 years, Rory Markas, died at 54 years old of an apparent heart attack. So it goes. And perhaps that will add some levity to USC's self-defeating situation.
Oh, and I almost forgot the third option of how this recently development could impact their season: maybe the whole issue is pointless and maybe it won't mean anything.
Robert Ferringo is a professional handicapper and he has gained around +160 Units and $12,000 for his $100 bettors since mid-February in college basketball. You can purchase his college basketball picks here.
---
Most Recent College Basketball Handicapping