College Basketball Handicapping: Villanova at Syracuse Preview
by Robert Ferringo - 2/26/2010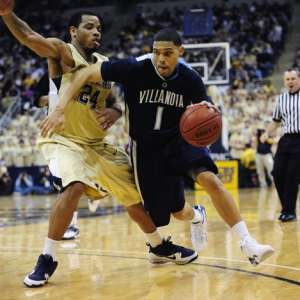 This isn't the Game of the Year in the Big East, it's the Game of the Year in College Basketball.
No. 8 Villanova will trek to Upstate New York to take on No. 4 Syracuse at 9 p.m. Saturday. This game will determine the Big East regular season title and should go a long way to establishing which one of these two upper echelon teams will be granted a No. 1 seed in the NCAA Tournament. These are the two best teams in the nation's deepest and most talented conference, and one or both of these teams will be penciled into the Final Four on about 95 percent of the March Madness brackets in the country in about two weeks.
Also, in front of a record crowd of 34,616 people (The Dome's "capacity"), there won't be any atmosphere anywhere in the country that compares to it this season.
The Orange will have the fury of those 35,000 drunken sadists as well as the swell of emotion that I'm sure the city has been building up to all week. Syracuse is THE team in Upstate New York and, I promise you, as great and elite of a program as Syracuse has been there hasn't been this much build up or excitement for a regular season game in decades. The Orange haven't won a regular season title since 1999-2000 and have never secured a No. 1 seed in the NCAA Tournament. A win in this game could lock up both.
The bond between the Orange and the city of Syracuse is strong, as strong as the bond between any college team and its city anywhere in the country. And I assure you that they will be ready to unleash their full force in what is one of the most important games in the program's history.
The trouble is, Villanova doesn't give a damn.
Villanova actually went into The Loud House and won, 89-86, last season in a game that they controlled from start to finish. They have actually owned the Orange over the course of the past several years, winning seven of nine outright since 2006 and going 6-3 against the spread in those instances.
The dominating characteristic of Villanova basketball is toughness, both physically and mentally, along with that innate Philadelphia attitude of wanting to come to your party uninvited, drink all of your booze, hit on your girlfriends, pick a fight over something nonsensical, steal something ridiculous from your place, piss in your front yard, and then take off. That's why they are 6-2 ATS in their last eight games as an underdog (8-4 ATS in their last 12) and how they have managed to earn wins at West Virginia and Louisville this season.
This Syracuse squad is not the same team that Villanova beat in The Dome last year. They have proven that time and time again this season. This Orange team is more mature, more balanced, and less reckless and has a higher overall talent level. But there is still something in this matchup that makes me think that for all of the advantages that they have on the periphery of this contest they are at a matchup disadvantage on the court.
Syracuse's 2-3 zone is legendary. It is basic but it's also confounded opponents for decades. But it has a clear and discernable weakness: if teams can shoot they can beat the zone. And there is almost nothing that the Orange can do about it. There are several instances where this occurred this season. Pittsburgh shot 10-for-24 from three-point land in Syracuse's loss to them back in January. Georgetown did it twice, going bonkers in a 15-2 run to start their first meeting back in January and closing the game with a 32-10 run that came up short in the rematch in February. Also, teams like Connecticut and Marquette also got suddenly hot from the outside during furious rallies at The Dome this year.
Other, more obscure examples, came in games against three-point heavy teams Cornell and Columbia. In those games the opponents shot a combined 15-for-25 from three-point land in the first half and they were each able to hang within nine points of the Orange. And, having watched both of those games, I can tell you that some of the threes that the Ivy Leaguers were hitting were from DEEP.
It's not as if Syracuse had a mental lapse or just started sloughing off on defense in those games. The reality is that if teams with good guards move the ball well against the zone they are going to get open jump shots. And if a team is hitting those jump shots, well, then there's almost nothing that Syracuse can do. One they start bringing the wings at the bottom of the zone out further to cut off a three-point barrage it opens up the paint and either A) the opponents get easy baskets of layups and put backs or B) the Syracuse big men get in foul trouble and the team's whole rhythm gets thrown off.
Well, Villanova runs a four-guard offense and they are No. 45 in the country in three-point shooting at nearly 38 percent per game. No player in the Wildcat rotation shoots less than 34 percent from deep with its two leading scorers, Scottie Reynolds and Corey Fisher, each banking 40 percent of their three-point attempts.
That's a problem. And in my opinion we can discuss matchups, star players, coaching schemes and all manner of motivational or situational angles here. But in the end I think that this game will come down to one simple thing: either Villanova makes 40 percent of their three-pointers or more and wins this one or they shoot below 35 percent of their three-pointers and the Orange roll.
Villanova seems to have the answer to the enigma that is the Orange's 2-3. But Syracuse is not at a loss in this one. The Orange are bringing to this game a sledgehammer to demolish Nova's world.
Syracuse holds a major edge on the interior against a Villanova team that generally only plays with one true, undersized post player and then Taylor King as a soft power forward. Rick Jackson and Arinze Onuaku are both brutish post players that can dominate the paint at both ends. Again, that's as long as they stay out of foul trouble. Mix in active and athletic forwards Wes Johnson and Kris Joseph and the Orange have four guys 6-7 or taller that attack the basket at all times.
The Wildcats are used to playing small. Coach Jay Wright has employed this four-guard attack for the better part of this past decade and counters size with speed, and relies on the inherent toughness and grittiness of his troops to hold their own on the interior. Will that be enough against the Orange? Probably not, as I expect Syracuse to hold an edge on the glass and in points in the paint.
But if Syracuse has to trade two-point buckets for three-pointers most of the game then they have problems. And if Villanova comes out hot shooting from deep then they can effectively neutralize the largest crowd in college basketball history, similar to how Louisville was able to just two weeks ago.
Another subplot that will get some play heading into the lead-up, but that I don't suspect will have much impact on the game, involves Villanova guard Corey Stokes. Stokes was issued a police citation for – what else – pissing in public. People are speculating over whether or not he'll be available on Saturday. But let me tell you: the easiest bet that you could make is that Stokes will 100 percent suit up in this game. He may not start, but I guarantee this incident won't impact his playing time.
Syracuse has opened as a sic-point favorite and no total was available as of press time.
Saturday will be quite the spectacle. The atmosphere should be lively and the level of play should be significant. I actually think that the pressure is on the Orange in this game. I have been a diehard Syracuse fan for 25 years and I can say that this is the best team that I can recall. However, Villanova's mentality, its strengths and its run of recent success against the Orange put them in a prime position to score the upset. This is one where I think my heart and drunken cheering will be with my alma mater, but my reason and my money on the other side.
---
Most Recent College Basketball Handicapping