2011 Arizona Wildcats Football Predictions and Pac-12 Futures Odds
by Nicholas Tolomeo - 7/15/2011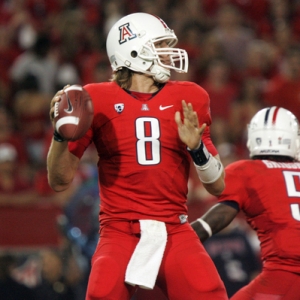 The Arizona Wildcats have the unenviable task of opening their 2011 season by trying to snap a five-game losing skid. But that is exactly the challenge that has saddled Arizona ever since it's November and December meltdown last season when it lost its final four regular season games plus its bowl game.
Poised to finally break into the top-tier of college football teams last season, the Wildcats instead came tumbling down to earth. Where they go from here is anybody's guess.
The pieces are there: five returning starters on offense, including 3,000-yard passer Nike Foles, and seven returning starters on defense. But so are the questions. How will Arizona rebuild its offensive and defensive lines? What in the world is wrong with star player Juron Criner? How will Arizona get past a brutal September schedule? Can Mike Stoops learn how to coach a team in the second half of the season?
Perhaps the questions outweigh the pieces in place, but there is still tons of potential with this group, especially in a Pac-12 South division that features no dominant team.
Last year the Arizona season began with all kinds of promise after a 4-0 start, including a 34-27 statement win over Iowa. Even after a tough 29-27 home loss to Oregon State to fall to 4-1, the Wildcats righted the ship to win their next three and sit at 7-1 as it prepared to travel to Stanford. That seventh win would be Arizona's last as the wheels slowly fell off in losses to Stanford, USC, Oregon and Arizona State, and with a 36-10 blowout loss to Oklahoma State in the Alamo Bowl.
Coach
Believe it or not, but Mike Stoops is one of the most tenured coaches in not only the conference, but the country. He is entering his eighth season at Arizona after coming over from Oklahoma, where he was the defensive coordinator for his big brother, Bob Stoops.
The first seven years of the Mike Stoops era has been a mixed bag. He was on the hot seat after starting off with back-to-back 3-8 seasons in Tucson. But he eventually led Arizona to a bowl game in 2008, his fifth season. In 2009 the Wildcats finished in a tie for second place in the Pac-10. But then came the meltdown last season with a second-half collapse, a staple of Mike Stoops teams.
Through seven seasons the 49-year old Stoops is 40-45 overall and 27-34 in the conference
Offense
The passing game was supposed to be one constant this year for the Wildcats. Foles returns after throwing for 3,191 yards and 20 touchdowns from last season as a junior. But 1,244 yards and 11 of those touchdowns went to Criner, whose status is shrouded in secrecy. No one is quite sure if it is a serious illness he is dealing with or something else. Whatever it is, it's extremely personal and extremely tough to find out anything about. Either way, it really put a damper over the excitement of the passing offense that ranked ninth in the country last season.
While Arizona racked up 308 yards per game through the air, it only scored 28 points per game, a show of just how much they struggled to establish a rushing attack that ranked 88th in the country.
Foles is a superstar (his odds to win the Heisman are +4500) but there are issues at running back and questions swirling around Criner's status, and, oh, by the way, they have to rebuild the entire offensive line from basically scratch.
Defense
The Arizona defense was far more balanced than the offense. For Pac-10 standards last season the Wildcats D was plenty adequate, ranking in the Top 50 in every significant team category.
The defensive line needs to be rebuilt, but most importantly the Wildcats have three returning starters back in the secondary (cornerbacks Trevin Wade, Robert Golden and free safety Adam Hall). They will need all the help they can get back there as the Pac-12 is loaded with talented quarterbacks (Matt Barkley, Andrew Luck and Darron Thomas, to name a few).
2011 Arizona Wildcats Football Schedule
A tune-up against Northern Arizona in the season opener on Sept. 3 is the only thing that stands between Arizona and a gauntlet of teams who it went a combined 0-5 against last season. In Week 2 Arizona renews acquaintances with Oklahoma State, who it lost to by 26 points in the Alamo Bowl on a neutral field. This time the game is in Stillwater, Oklahoma, on Thursday under the lights -- yikes.
Then a downright nasty Pac-12 schedule begins with home dates against Stanford and Oregon and road games at USC and Oregon State. Arizona lost to all those teams last season.
If the Wildcats are still standing, the second half of the season will be a welcome respite. They play UCLA and Utah at home and travel to conference foes Washington, Colorado and Arizona State. Then for some strange reason they close the season against Louisiana-Lafayette at home.
2011 Arizona Wildcats BCS and Pac-12 Futures Odds
The oddsmakers consider Arizona in the running to contend for the first ever Pac-12 title. Arizona's odds to win the conference are +800 on WagerWeb. Those are the fifth best odds behind Oregon (+120), Stanford (+225), Utah (+450) and Arizona State (+500). To win the Pac-12 South, Arizona is listed at +225 behind Utah (+165) and Arizona State (+185). USC is not included in either bet because they are on probation and unable to win the conference. Arizona's College Football National Championship odds are 150/1 on Bodog.
2011 Arizona Wildcats Football Predictions
The uncertainty around Criner, a certain all-american contender, translates to uncertainty around the team. With the makeup of the Pac-12 conference and the Arizona defense, the Wildcats know they will be in their fair share of shootouts, but without the Foles-Criner connection, Arizona lacks the firepower needed. The absolutely brutal September schedule makes Arizona a longshot to win the Pac-12, even if they are one of the better teams. Considering the uncertainty, look for a reverse of last season, a slow start but a strong finish, that could result in an 8-4 season and another trip to a December bowl game.
Doc's Sports is set to embark on our 40th year of handicapping college football. Doc is coming off a profitable season with his college football picks, including winning his Big Ten and College Football Games of the Year. Doc spends the hours during the week studying the college football odds and releases 6-8 college football plays per week including top plays (6-8 unit selections). Doc is ready to start the first week of September and our Magnificent 7 Packages gives you every college football selection that we make through the BCS Championship Game in January of 2012. Jump on board now with one of the best college football handicappers in the business.