BCS Championship Game Odds: LSU vs. Alabama Point Spread and Line Movement
by Trevor Whenham - 12/5/2011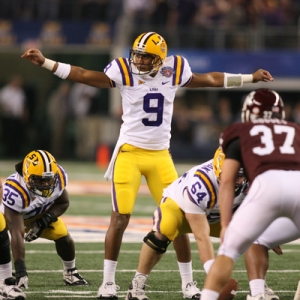 The odds have been set for the BCS Championship Game — the divisional rematch between the LSU Tigers and the Alabama Crimson Tide — and oddsmakers see this one as close. In fact, they couldn't find it closer — 5Dimes is one of many books that has posted the game at or near 'pick'em' in early action. The early totals line is listed at 39.5.
LSU has a slight edge at that book, though — they are set at a price of -120 while Alabama is even money.
We have more than a month to look at the game from every angle and see how the LSU vs. Alabama point spread and totals lines move, but here are three first glance reactions to this showdown:
1. Early line movement is very interesting - A slight majority of bets have been placed on the Tigers — they have drawn about 55 percent of the action. Despite that, though, we have seen some line movement making LSU more attractive. Alabama opened as high as +1.5, and now can be found as low as -1. That's line movement contrary to the distribution of bets, so it is a pretty good indicator that there has been some string early action on Alabama.
2. I still don't want this rematch - I had become resigned to this game happening over the last couple of weeks, but now that it's real I just can't get too excited about it. The last game was a defensive masterpiece, but it was just plain boring. LSU won that game on the road, and Alabama hasn't really done anything since in my mind to prove to me that they deserve another shot on neutral ground. I'm not opposed to rematches on principal, but this one just doesn't sit right for me. A win by Alabama here would leave us with a totally unsatisfying conclusion to the season, while an LSU win just reaffirms what we already have seen.
3. Is it really a neutral site game? - The Superdome has played like a home field for the Tigers. They have won two National Championships since 2003, and both have come in New Orleans. The stadium is a very short drive from their home in Baton Rouge. There will be plenty of Alabama support at the game, but given the circumstances I am going to be very tempted to handicap this one like a Tigers' home game.