Belmont Stakes Field: Nehro Profile
by Trevor Whenham - 6/2/2011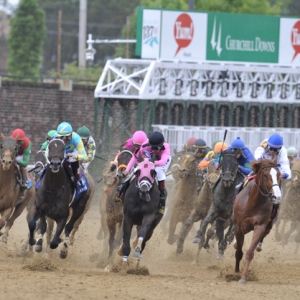 Last race: He was a solid second in the Kentucky Derby, though he was never a threat to the winner. A lot of people are very high on this horse after the Derby, and he will likely be bet down as a member of the Belmont Stakes field. My enthusiasm, however, is more tempered. There is one moment in the Derby that really turned me off this horse. At the top of the stretch Nehro was chasing the leader Shackleford, and was able to catch him and even nose in front for a couple of strides. Shackleford took the challenge and surged again to take over the lead. Instead of fighting, Nehro let Shackleford lead. That kind of move -- almost submissiveness -- is a concern for me.
I'm not saying that he is a bad horse or that he can't win the Belmont. He certainly can. I just am really concerned that he gave up on a race that easily when he could conceivably have opened ground and won if he had won that duel. It's not even like Shackleford was a particularly fresh horse at the time -- he faded to fourth down the stretch.
Career highlight: Further adding to my concerns about this horse is that he has made a career of finishing second in stakes races -- besides Kentucky he was second in the Louisiana and Arkansas Derbies. He ran nice races and lost to decent horses both times, but both times came up a neck short. Again, he had other horses in his sights and didn't seem to want it quite badly enough. His only career win in six starts was in his third try at breaking his maiden in February at Oaklawn.
Jockey: Corey Nakatani. Nakatani is a tough rider to assess. On one hand he is a very capable guy -- he has won seven Breeders' Cup races. He has gone through some tough times, though. From 2006 to 2010 he was in a bad place, and while he won some big races last year he hasn't been as strong this year. He's 40, and not at the top of his game right now. He also has had a lot more success in California than out east. That being said, he has ridden this horse twice now, and he seems like a reasonably good fit with him. Having Nakatani on board doesn't necessarily lift Nehro up, but it's not an impediment to his success, either.
Trainer: Steve Asmussen. Asmussen is a machine. He has won the Eclipse Award for top trainer twice, and has led the nation in wins five times. He has won the Preakness twice, and was a close second in the Belmont with Curlin - his best-known horse along with Rachel Alexandra. He trains a pile of horses and is very competent. He's also extremely driven, and it has to drive him crazy that he has won the Preakness twice but not won either of the other two Triple Crown events.
Pedigree: His sire, Mineshaft, was Horse of the Year in 2003. Mineshaft's sire, A.P. Indy, is an all-time legend that was named Horse of the Year in 1992 after winning the Belmont. A.P. Indy's daughter, Rags To Riches, won the Belmont in 2007. In short, there are no concerns at all about the distance.
Running style: Like Animal Kingdom, he is a closer that doesn't want to be out of touch with the field. In a perfect world he would probably cruise along about eighth or ninth for the first mile or so before kicking it into gear. He can be closer than that if he needs to be, though. He just doesn't seem to be a horse that wants to press the pace, so don't look for him in the first group.
Belmont field prognosis: As you can probably tell I am not as high on this horse as some people are. I will have him in my exotics, but I won't put a win bet on him, and I think that there will be no value at all in him at the price he is likely to be bet down to. I think he is definitely a factor to finish second. He just has to prove to me that he can do more than that.
Doc's Sports will release our expert Belmont Stakes picks for the third leg of the Triple Crown on Saturday, June 11. You can purchase our full Belmont package for just $20. You will get Doc's win-place-show bets plus a variety of exotics for one low price, and if we don't show you a profit then our next batch of horse racing picks come free of charge. Doc is an expert against the Belmont odds and he has been putting in lots of extra time on this race and thinks there will be some big profits on Saturday.