2011 Belmont Stakes Jockeys
by Trevor Whenham - 6/2/2011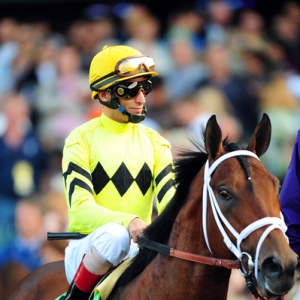 The little guys in the saddle are important in every horse race, but they are especially significant in the Belmont Stakes. The race is much longer than the horses have ever run before, and the track is unique thanks to the very long stretch and the wide turns. If a jockey doesn't have a good day then he can cost his horse the race.
The most obvious recent example of what can go wrong is Calvin Borel's ride aboard Mine That Bird in the 2009 Belmont. Borel was red hot — he had won the Derby and the Preakness that year — but he had very little experience with the Belmont track. Despite that he chose not to ride in any other races during the weekend of the Belmont, so he didn't have a feel for the track. His horse had an explosive move, but Borel used that move far too early and ran out of gas well before the finish line. He wound up third in a race he could easily have won if well managed.
Here's a look at some of the more interesting stories surrounding the jockeys in this year's Belmont:
John Velazquez — Velazquez lucked into riding the best horse of the class when he landed on Animal Kingdom in a controversial move the day before the Derby. While he was lucky to get the job, he has fared very well in the role. His Derby ride was masterful. You could argue that it was a tactical error in the Preakness to rely so much on having Shackleford fade at the end, but it was a decision that a lot of other jockeys would have made as well given the opening pace, so you can't knock him too much.
Now Velazquez will be on the likely favorite as tries to win his second Triple Crown race of the year and his second Belmont following his incredible win with Rags to Riches in 2007. He'll be up against some tough history here, though — Thunder Gulch in 1995 was the last horse to win the Derby and the Belmont in the same year.
Jesus Castanon — Castanon won his first Triple Crown race at the Preakness on Shackleford after more than 2000 victories in other races over the course of his career. Though he is far from the biggest name in the sport, and he lacks the success in big races at Belmont that makes a jockey easier to trust in this race, you can't count him out entirely here.
In the Florida Derby and the Preakness he did an incredible job of getting on or near the lead early on, pushing a solid pace yet somehow still keeping enough gas in the tank to still be moving forward at the finish line. Winning will be much, much tougher for his horse here, so if he pulls off another win he'll really have cemented his reputation.
Ramon Dominguez — Dominguez represents a significant and much-needed upgrade for Mucho Macho Man. Rajiv Maragh is a decent rider, but in both the Derby and the Preakness he didn't get as much out of this horse as the horse had to give. Sometimes the jockey and rider aren't a good fit, so hopefully this will work better.
Dominguez has neither a Triple Crown nor Breeders' Cup win to his credit, but he has led the nation in wins twice, leads again this year, and was the Eclipse Award winner for top jockey last year. He also knows this Belmont track very well. A change in the saddle should help this horse run his best.
Corey Nakatani — Nakatani used to be a very a good jockey — he won seven Breeders' Cup races between 1996 and 2006. He has fallen on some harder times lately, though, and at 40 years old he's not getting any younger. A Triple Crown win would be a huge boost for his career.
He's on a horse that can do it as well — Nehro will likely be well bet and well respected just like he was in the Derby. The horse ran a solid race at Churchill, but in this race he'll be a hunted horse because all the other riders know that he can easily win it.
It remains to be seen how Nakatani deals with all of that pressure. I'd feel a whole lot better about him if this race was in California instead of New York. Most of his success has come on the left coast.
Shaun Bridgmohan — Here's an interesting jockey to consider. Bridgmohan has yet to break through in a Triple Crown or Breeders' Cup race, but he has had plenty of experience in both.
He's scheduled to ride Santiva here. That's a very live horse that is better than he looked in the Derby, and well suited to the challenge of the Belmont.
The biggest thing Bridgmohan has going for him is track knowledge — he has spent many seasons as a regular at Belmont, so he knows the track well. Both he and his horse are ones to watch.
Doc's Sports will release our expert Belmont Stakes picks for the third leg of the Triple Crown on Saturday, June 11. You can purchase our full Belmont package for just $20. You will get Doc's win-place-show bets plus a variety of exotics for one low price, and if we don't show you a profit then our next batch of horse racing picks come free of charge. Doc is an expert against the Belmont odds and he has been putting in lots of extra time on this race and thinks there will be some big profits on Saturday.