Best Early Games on NBA Schedule
by Trevor Whenham - 12/13/2011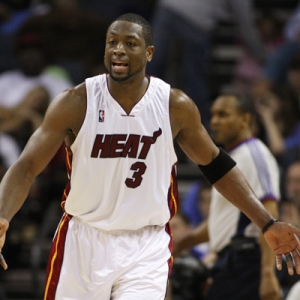 It took much longer than it was supposed to, and it is surrounded by ridiculous amounts of chaos, but the start of the NBA season is just around the corner.
I don't know about you, but I'm excited for teams to get back on the court so we can focus on basketball again and forget about all the other garbage.
With the compacted schedule this year there is going to be a whole lot of interesting action to keep us happy on most days.
As I look forward to the first week of the season here are the ten games that really have me excited about the season getting started:
Dec. 25
Boston Celtics at New York Knicks
The Celtics have made some changes in an attempt to remain relevant for a little longer, but will it work? This will be a good chance to find out as they face a New York team that has had a while to get used to each other now, and which should be able to be a solid team this year.
This will be a good measuring stick for both squads.
Miami Heat at Dallas Mavericks
The team that was supposed to win it all last year against the team that actually did. That's a dream matchup to start the year.
Dallas has made some key changes this year, so we'll get to see how the new-look team can follow up last year. Can they start strong? Can the Heat live up to the hype right out of the gate?
Chicago Bulls at Los Angeles Lakers
Kobe Bryant is the best player in the world, though he can't be happy about a team that has a new coach, and which has had a horrific couple of weeks during which they have gotten much worse in their pursuit of getting better.
The front office needs to pull off a miracle here. The first game of the year puts them up against the best point guard in the league and a squad that will be very hungry to win it all this year.
Will this be the passing of the torch, or are the Lakers still going to be relevant?
Orlando Magic at Oklahoma City Thunder
At this point I don't know whether the Magic are going to have Dwight Howard to start the season or not. How they can deal with all that uncertainty is a huge question for this team.
While the offseason has been tumultuous for the Magic, the Thunder have quietly gone about their business, and are poised to take another big step forward. That will be fun to watch.
Dec. 26
New Orleans Hornets at Phoenix Suns
At this point I have no idea whether Chris Paul will be with the Hornets or not. What a mess.
Whether he is or not, this is a team with holes everywhere, and countless distractions.
Phoenix has issues of their own — there are definitely younger cores out there.
This one could be a train wreck, but it's one of those ones you can't turn away from.
Philadelphia 76ers at Portland Trail Blazers
Last year was a disaster for the Sixers, but they aren't totally hopeless and could recapture some magic this year.
The Blazers now have to face the reality of life without Brandon Roy, and despite all the injuries he will be badly missed.
Both of these teams come into the season with some upside but lots of uncertainty. This game will be a first step towards getting a grasp of what either team is capable of.
Toronto Raptors at Cleveland Cavaliers
The Raptors could be a team flying under the radar this year. They have some nice young talent on board, and they made a very nice coaching change this year.
For Cleveland this game will be the first chance to show off their two prizes from the last draft — first overall pick Kyrie Irving and Tristan Thompson.
The future should be brighter for both organizations. This game will give us a sense of how long we'll have to wait for that future to arrive.
Dec. 27
Atlanta Hawks at New Jersey Nets
Atlanta needs to start strong to recapture the momentum lost during a poor finish to the season last year. They aren't an elite team, but they can still be dangerous if they start things off properly.
The Nets have been trying to make a big splash, but haven't quite yet got it done. They can still be relevant, but they need to be focused right out of the gate, and this game will be a good test of whether they will be.
Minnesota Timberwolves at Milwaukee Bucks
No team loves collecting point guards like Minnesota, and they have two new ones to show off this year. The highly-touted Ricky Rubio has finally joined the league, and J.J. Barea was signed as a free agent. Those two combine with the impressive Kevin Love and the very promising rookie Derrick Williams to form a team that could be fun to watch if they can find a way to play together.
They will make a lot of mistakes, but they will make some highlight reels as well.
For the Bucks the most interesting thing to watch will be whether Brandon Jennings can take another step forward and prove that he is a top-level player. This is his third year, and it could be the time that he really proves himself.
Dec. 29
San Antonio Spurs at Houston Rockets
Texas is the most interesting, competitive state in the league right now (with California a close second).
The battle for Texas glory will be an ongoing story all year, and all three teams have a chance to come out on top.
This first head-to-head showdown will be the first of many chances to see some great intra-state battles.