Beyond the Top 25 - A College Hoops Weekly
by Taylor Jordan - Strike Point Sports - 12/22/2011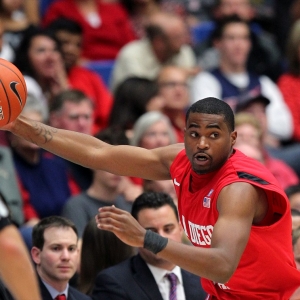 Two weeks ago it was Indiana on the outside of the Top 25 looking in. That was until the unranked Hoosiers sprung an impressive upset and knocked off top-ranked Kentucky in their home gym. The Hoosiers are unranked no longer.
Last week several more teams just outside the Top 25 made further splashes to make their cases for the national rankings. UNLV defeated a ranked Illini team over the weekend, and now it is the Runnin' Rebels who find themselves with a nice number next to their school's name.
And while I cannot fathom a logistical reason for their reentry, Harvard is back in the Top 25 despite not playing any games this past week. That is odd to say the least.
This new weekly article is going to pinpoint some of the programs that are on the cusp of the national rankings, the teams that you often see below the Top 25, notably labeled "others receiving votes." I feel like this is a breeding ground for value in college basketball betting. Some of the teams there are just under the radar and on the rise while others are still overrated and sliding, perhaps after a brief time in the Top 25.
Here is a deeper look at some of the underrated teams on the outside looking in for week seven as we go Beyond the Top 25:
San Diego State, 9-2 Straight Up (5-6 Against The Spread)
The Aztecs continue to rack up wins. But quantity is not going to outdo quality and a lack of notable victories is the reason why San Diego State is lacking its ranking. No upcoming opponent in the next month is really worth mentioning, so if others slide perhaps four or five easy wins could substitute for one marquee 'W' and get the Aztecs in the Top 25.
Texas A&M, 8-2 (1-4 ATS)
The Aggies were waxed in Gainesville over the weekend by Florida, and that certainly would have had them ranked if they could have managed a road win there. Their Big 12 schedule opens up at Top 10 Baylor, and a road win in Waco would certainly jolt Texas A&M into the national spotlight. There are still many questions about this team in my eyes. Buyer beware.
Virginia, 9-1 (6-1 ATS)
The Cavs should be ranked by now. They've been a great bet for backers, not to mention Virginia has taken care of all its notable opponents (Michigan, George Mason and recently a nice cross-country win at Oregon). A sweep of their last three games before the New Year will put them over the hump, no doubt.
California, 9-2 (6-3 ATS)
The Golden Bears, who visit Las Vegas to play the Rebels a couple days before Christmas, can do just what UNLV did last week when they knocked off Illinois: get ranked. California started the season in the Top 25 and has been hovering right around the AP rankings for much of the first two months of the college basketball calendar. Taking down UNLV in their gym and a spot in the rankings is assured.
Kansas State, 7-1 (3-2 ATS)
I still do not think much of this K-State team, but the Wildcats have won and won big to begin their schedule. Their only loss is a neutral court (an OT loss to West Virginia). Wins at Virginia Tech and against Alabama help to state their case. A Jan. 4 road game at Phog Allen to face Kansas will no doubt be the test of the season to this point.
St. Louis, 10-1 (6-2 ATS)
St. Louis, like Virginia, is another team that I think should be ranked by now. Granted, they don't jump off the television screen at you or wow with crazy athletes, but the Billikens are getting it done in the standings. They have bookend road games to finish and start the calendar year: first a New Year's Eve test at New Mexico, then another away game at Dayton. These two games will very much tell us how legit St. Louis is and their chances to take a shot at the Atlantic 10 title.
Strike Point Sports is one of the top college basketball handicapping groups in the country. They have turned a profit in four of five seasons and since Nov. 13 they have brought their backers $6,500 in winnings. You can Click Here to sign up.
---
Most Recent College Basketball Handicapping