2011 Big Ten Football Predictions and Futures Odds
by Robert Ferringo - 8/12/2011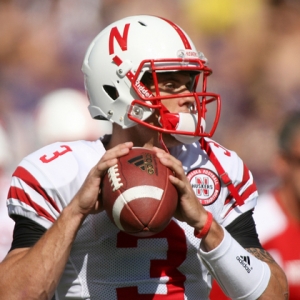 It's the dawn of a new day in the Big Ten. The new 12-team conference will welcome in a new, division-based structure and will have the conference's inaugural championship game to look forward to. However, given the disastrous offseason at Ohio State and the continued rebuilding at Michigan there is a power vacuum at the top of the Big Ten that we haven't seen in ages.
Here is a look at my 2011 Big Ten football predictions and futures odds, with the college football odds courtesy of BetOnline:
The Favorite: Wisconsin (+175)
I'm not sure that things could have broken any better for the Badgers this offseason. First, the conference realignment made them the biggest beneficiaries of the Ohio State implosion. Next, they were able to wrestle transfer quarterback Russell Wilson away from N.C. State and Auburn. Finally, the Badgers were blessed with a home game against top competitor Nebraska to start Big Ten play. The Badgers have been a second-tier program for a long time. But now that Michigan and Ohio State have fallen on hard times he door is wide open for them to become the new Big Dog in the Big Ten. Wisconsin's running game is a steamroller and Wilson represents their best quarterback in a decade. But if Wisconsin wants a piece of the BCS they will have to earn it by going through Lansing, Columbus and then a potential rematch with Nebraska.
The Challenger: Nebraska (+150)
The Huskers couldn't have picked a better time to break into the Big Ten. The Huskers are a big, physical team along the lines so they should fit right in with these other Big Ten programs. However, a tremendous edge for Nebraska is that they are used to dealing with the speed and skill of incredible Big 12 offenses. They won't have to deal with any of that in their new league. The Huskers are not as experienced as last year's 10-win group. But if Taylor Martinez matures (he started as a true freshman) and if some of the young starters on offense find their footing quickly then this team could dominate its new home. Nebraska hosts Ohio State and Michigan State. But they will be baptized into the Big Ten with a trip to Madison. I believe they will lose that game, but that they will knock off the Badgers in a rematch in the first-ever conference championship game.
The Dark Horse: Ohio State (+500)
At this point you shouldn't need me to rehash the debacle that has been Ohio State's offseason. The bottom line is that they lost Jim Tressel, they lost Terrelle Pryor, and they lost their stranglehold on the Big Ten after winning six straight league titles. However, despite the negative karma surrounding this group there is still talent. And the upperclassmen on this team have known nothing but winning since they stepped on campus. This team is full of blue chip prospects and they have been the best bet in college football over the last decade (70-42-2 against the spread). The Buckeyes do have a brutal schedule, including trips to Miami, Nebraska, Illinois and Michigan. But this team still needs to be knocked out before there can be a new king.
The X-Factor: Penn State (+400)
Penn State is a bit of an enigma this season. They severely overachieved in 2009 (11-2), and then came back to earth last year (7-6). This season they have 14 starters back, including 10 senior starters, and you know Joe Pa will get the best out of this group. But the Lions did not beat a single good team last year. And any time they matched up against a quality opponent (Alabama, Iowa, Illinois, Ohio State, Michigan State, Florida) they were manhandled, losing those six games by an average of 17.5 points per game. Penn State does have a rematch at home against Alabama. But in conference play they close the year at home against Nebraska and then on the road against Ohio State and Wisconsin. They also have some tricky games at Northwestern and against an Illinois team that they have split with over the last four years. There is talent here. But I just don't think they will be able to overcome their brutal schedule.
The Disappointment: Iowa (+1500)
The Hawkeyes have had some brilliant moments over the course of the last three seasons. That includes their Big Ten title in 2009 and accompanying Orange Bowl win. But as I look at this year's roster I see a unit that more closely resembles Kirk Ferentz's middling groups from 2005-2007. Iowa lost five of its top seven rushers, four of its top five receivers, its starting quarterback, and eight of its top 11 tacklers. This team only has nine starters back and I don't see a single impact player on offense. They do dodge Ohio State and Wisconsin this year. But some people think that makes them a contender in the Legends Division. Not I. I think that Iowa is going to struggle early and often. And even though I see six wins and a bowl game in their future I suspect this is going to be a lackluster year after a nice run for the Hawkeyes.
The Rest:
Michigan State (+800) –The Spartans are the defending co-Big Ten champs (they earned a tie with Wisconsin and Ohio State), and they have a solid core on both sides of the ball. But I expect Sparty to take a step in the wrong direction this year after catching an awful lot of breaks in 2010. State lost six of its top 11 tacklers, including heart-and-soul Greg Jones. Also, I felt like quarterback Kirk Cousins played well above himself last year and that he could be due for a regression. Michigan State is one of the few teams that have to play Ohio State, Wisconsin and Nebraska this year. Mix in road trips at Notre Dame, at Iowa and at Northwestern and I think that they are going to come back to earth after winning 11 games last season.
Michigan (+900) –The cupboard is not bare as the Brady Hoke Era begins at Michigan. Denard Robinson gives the Wolverines a special playmaker in the backfield and Michigan has 16 starters back from one of the youngest teams in college football last year. However, Hoke is installing a pro-style offense for the Wolverines and expects Robinson to work from underneath the center more often. We'll see how that goes. But the biggest questions are on defense. Michigan was No. 110 in the country last year and they just could not stop anyone, ever, at any point. Hoke and his staff does inherit a woefully undersized front seven. But things can only get better for that unit. The Michigan football schedule should lead to a fast start and some momentum. But a tough road slate in conference and regular season-ending games against Nebraska and Ohio State should feel like a brick wall for this team in November.
Northwestern (+1500) –I think that Pat Fitzgerald has done a remarkable job building up this program and that Northwestern could be a player in the Legends Division this year. They are led by All-Big Ten quarterback Dan Persa and one of the most experienced offensive lines in college football. NU finally has some talent at wideout and this offense should make a major jump in points per game. Defensively they are tough and active, and if they can make a significant improvement from last year's feeble No. 97 overall ranking then this team will be in business. If the Wildcats can get by B.C. to open the year this team is just an upset away from another eight-win regular season.
Minnesota (+10000) –New coach Jerry Kill is taking the reigns of a team that has mustered just one winning season in the last five years. The Gophers aren't devoid of talent, but they will be learning all new systems on both sides of the ball. Minnesota should get off to a 3-1 start. But after that I think that things will degenerate quickly and my prediction is that they won't win more than one game following a promising start.
Illinois (+2000) –Ron Zook always seems like he is coaching for his job, and this year is no different. The program has stagnated since a Top 20 finish and BCS berth in 2007. Illinois is just 15-22 in the last three years and barely topped .500 last year. But, as always, Zook knows how to bring in talent. I am a big fan of sophomore quarterback Nathan Scheelhaase, and I think he can be explosive. This team has skill on the offensive line and speed on defense. But they never seem to put it together. That could change this year. The Illinois football schedule only has four true road games; two of them are at Indiana and Minnesota, and another is at Purdue. All of that adds up to a golden path to a potential X-factor run in the Leaders Division. At the very least they could be a spoiler.
Purdue (+8000) – The Boilers have been kind of a hard-luck team over the course of the last several seasons. Every year they seem to be fighting through injury issues and brutal, last-second losses. But this could be the year that things click for the Boilermakers and I expect them to make their first bowl game since 2007. They have 16 returning starters and bring back 18 of their top 20 tacklers on defense. They have a bit of a QB quandary as last year's starter (Robert Marve) was lost early to injury and has returned, but his fill-in (Rob Henry) played well and showed some promise. Either one should be capable. Purdue has an easy September and I expect them to start at least 4-1 if not 5-0. Things get tougher in the middle of the year, but if they spring a couple upsets then I think that this team could win eight games and find itself in a respectable bowl. Keep an eye on this group.
Indiana (+10000) –Every conference has a gimp; in the Big Ten it's the Hoosiers. Indiana has just 11 starters back from a team that could only parlay a very favorable schedule into just five wins last year. Indiana is breaking in a rookie head coach and they have to replace their best player on both sides of the ball. Indiana also doesn't have nearly the soft schedule that they had last year and if they manage to secure four wins this year I would have to declare it a major success. I do not expect this group to be that competitive in Big Ten play this year.
2011 Big Ten Football Predictions: Predicted Order of Finish
Legends Division
1. Nebraska
2. Michigan State
3. Northwestern
4. Michigan
5. Iowa
6. Minnesota
Leaders Division
1. Wisconsin
2. Ohio State
3. Penn State
4. Illinois
5. Purdue
6. Indiana
Robert Ferringo is an NFL and college football handicapper and is coming off an exceptionally profitable 2010-11 football season (college and pro). Over the last year his clients have more than tripled their bankrolls with his predictions in all sports. He is looking forward to building on his stellar football handicapping resume again this fall and you can check him out here.