2011 Boston Red Sox Predictions and MLB Futures Odds
by Robert Ferringo - 3/23/2011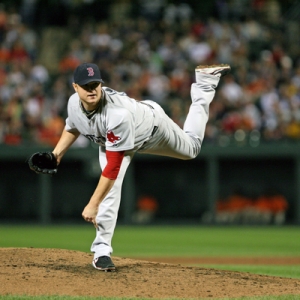 You had to know that the Red Sox weren't going to stay down for very long.
That is, if you can consider an 89-win season a "down" year.
Boston made the biggest free agent pickups of the winter season and with several players returning from injury they are now among the two or three favorites to win their third World Series title in eight years. The Red Sox are talented, experienced, and focused to bounce back from last year, when they failed to make the postseason for the first time since 2006.
And if history is any indicator they will have plenty of bounce. The last two times they failed to make the postseason was 2002 and 2006. The following years they were one game away from the World Series (2003) and then they won a title (2007). With one of the oldest rosters in the Majors it is clearly a do-or-die season for this crop of Sox.
Instant $250 Free Bonus Bet from Bovada -
CLICK HERE
Here is Doc's Sports 2011 Boston Red Sox Predictions with MLB Futures Odds:
2010 Record: 89-73
2011 Wins Over/Under: 96.0
Odds To Win 2011 AL East: 1/2
Odds To Win 2011 AL Pennant: 2/1
2011 Boston Red Sox Odds to Win World Series: 3/1
Pitching: Boston's foundation has always been its arms. Jon Lester is one of the best left-handed pitchers in the Majors and he is backed up by up-and-comer Clay Buchholz and his dizzying assortment. But Boston's ceiling this year probably (rests) on the performance of its three most accomplished postseason arms. Josh Beckett was a train wreck last year and John Lackey was a free agent bust. Finally, Jonathan Papelbon was amazingly hittable after four seasons among the best closers in the game. His ERA doubled and he blew more saves last year than the two previous combined. The Red Sox need that trio to play at the top of its game. If they do then this is the best team in baseball – period. But if they can't regain the all-star form then the Sox have some holes. John Danks gives them another option at the back end of the bullpen, but if Beckett and Lackey are just mediocre in the rotation they don't have a lot of options to fill in. That said, there are still probably at least 20 or so other teams that would kill for this staff.
Hitting: Jacoby Ellsbury. Dustin Pedroia. Carl Crawford. Kevin Youkilis. Adrian Gonzalez. David Ortiz. J.D. Drew. Any questions? Last year this team was ravaged by injuries. But now that everyone is back healthy, and with the additions of two of the best players in the game in Gonzalez and Crawford, this lineup is one of the best in baseball. One complaint could be that it is a little too heavy with left-handers. But that's finding flaws in the Mona Lisa. One legit concern, though, is the health and effectiveness of Drew and Ortiz. They are both professional hitters, but they are also both past their primes and injury prone. The other legit concern is at catcher, where overhyped and underperforming Jarrod Saltalamacchia takes over. He will likely be a bust, and it will be interesting to see how they respond. But just like with the pitching staff: this group is deep, talented, experienced and the height of professionalism.
Key Stat: The Red Sox finished No. 22 in the league in team ERA, their lowest ranking since 2006. It was also the fourth straight season in which they have gone backwards in the rankings since finishing No. 2 in the league in 2007. There is no question that Boston can hit. But their season will be determined by how well their pitching bounces back after last year.
2011 Boston Red Sox Predictions: The biggest potential problems I could find on this team are Beckett, Lackey, Papelbon, Drew and Ortiz. Yeah, when that's the case you know you are the best team in baseball. I think that it would be a significant upset if the Red Sox didn't win the division. And right now it's probably World Series or bust for this group in the eyes of fans and analysts. It is hard to argue against that. You have to predict that this team will win the A.L. West with the Yankees and Rays somewhat rebuilding. A bounce back after all of the injury issues that they endured last year was expected. But then bringing in two of the best players in baseball (Crawford and Gonzalez) and putting them in one of the best hitters' parks in baseball
2011 MLB Season Win Totals Predictions: 'Under' 97.5. This is one that I wouldn't touch. You have to play it 'under' just because you need to fade the wave of support that is screaming for them to go 'over'. It is essentially the same thing as we have with Philadelphia in the N.L. However, I do think that this team is supremely talented and should end up between 94 and 100 wins.
Robert Ferringo is a professional sports handicapper for Doc's Sports. He is considered one of the top MLB cappers in the country and has turned a profit in four of the last five years on the diamond with his baseball picks. He closed 2010 with $6,000 in earnings over the last four months and is looking forward to a great upcoming season against the MLB odds. Click here for more information on his MLB picks.