Can Animal Kingdom win the Triple Crown?
by Trevor Whenham - 5/11/2011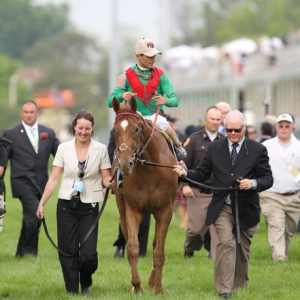 I am not exaggerating when I say that there is pretty much nothing in the world I want more than a Triple Crown winner. I'm totally obsessed. I was just barely out of diapers in 1978 when Affirmed last won the Triple Crown, and my heart has been broken more times than I want to count since then. As soon as the Kentucky Derby ends each year I focus entirely on whether the winner of that race can finally get it done. The last few years have been a disappointment -- I had almost no faith that Super Saver or Mine That Bird could replicate their performance once more -- never mind twice more. So, is this year any different? Is Animal Kingdom the one to bring me peace? History tells us probably not, but the chances are much better than they have been the last two years.
There are three things you have to consider when evaluating whether a Derby winner is going to be able to extend his win streak for two more races -- was his Derby win legitimate? Who does he have to beat to win the Triple Crown? Does he have the physical tools to keep winning? Let's look at those three in turn:
Was Animal Kingdom's Kentucky Derby win legitimate?
In a word, yes. Very legitimate, in fact. There are three good reasons for that. First, he didn't benefit from a particularly strange pace. The leaders set out at a decent speed, but it wasn't suicidal by any means. An overly fast pace can lead to strange things happening that can distort results, but this one was completely honest. Second, it was a very clean race. In a lot of years there have been some serious traffic issues that have impacted some horses and made it impossible for them to run their best. This year no horse encountered significant traffic to knock them off their game. That means that every horse was at least theoretically capable of running like they wanted to run, and Animal Kingdom was able to beat them all convincingly. Finally, he finished the race in style. The surest sign of a horse that doesn't measure up is one who was very slow in the last quarter mile. If the winner was slow at the end then that means that every other horse in the race was, too, and he didn't win so much as survive slightly better than the other fading horses. Animal Kingdom finished the race in good time. More significantly, when it looked briefly like he could be fading a quick reminder from his jockey had him surging again. He could have held up to more of a challenge than he faced, and he wasn't just the beneficiary of strange circumstances.
Who does he have to beat in the Triple Crown?
This is not a very strong crop of three year olds, so that is certainly a check in Animal Kingdom's column. There are no more than five horses from the Kentucky Derby moving on to the Preakness. Of those, Dialed In appears to be the biggest threat, though his need for the right trip in order for him to shine was made very clear in the Derby. Nehro proved to be the second best horse in the Derby, but he is likely headed to the Belmont instead of the Preakness. Animal Kingdom was clearly the best against the Kentucky Derby field once, so he can beat them again. There will be several horses joining the Derby runners in the Preakness -- as many as nine. There are some decent horses in that group, but frankly none that made the Derby worse with their absence from that race. There are exceptions -- Bernardini comes to mind -- but for the most part horses that join the Triple Crown chase at the Preakness are doing so because they weren't good enough or accomplished enough to make the Derby field. Some years the Preakness field includes some obviously scary horses that are going to make a Triple Crown -- or at least a shot at a Triple Crown at the Belmont -- unlikely. That's not the case this year.
Does he look like a Triple Crown winner?
There are obviously a lot of facets to this question -- some that are positive, and others that aren't. First, the negatives. The Derby was just his fifth career race, so he is historically short of experience compared to Triple Crown threats -- though he does have one more career race than Derby and Preakness winner Big Brown did heading into the Preakness. The Derby was his first career dirt race. Though he handled it well, it still is not certain that he is going to prove consistent on dirt. The shortest gap between his races has been 23 days, so the short turnaround between these races is going to be an unprecedented challenge for him, and we can't know how well he will bounce back. Now the good news. He is bred to run forever, so the Preakness distance won't be an issue since it is shorter than the Derby, and the marathon of the Belmont shouldn't be an issue, either. Trainer Graham Motion is based in Maryland and consistently does very well there, so he will be very comfortable at Pimlico. Finally, this is physically a very impressive horse who looks and works like a winner.