College Basketball Handicapping: Teams That Could Struggle In Conference
by Trevor Whenham - 12/29/2011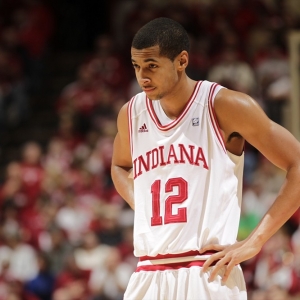 As we turn the corner from nonconference play to the conference season in college basketball we start to deal with massive expectations for some teams. Teams have played enough games that they can have a pretty impressive record amassed if they have gotten off to a good start.
Those gaudy records lead people to believe that those teams are going to dominate when conference play starts. That's not always the case, though. Sometimes those teams just can't maintain their level of play in the heart of the season.
Here are four teams that have gotten off to very solid starts who should take a step or two back the rest of the way in the regular season. I'm not suggesting that they are going to go through fatal collapses, or that their postseason dreams are dead. They just aren't going to finish as strong as they have started out.
Indiana Hoosiers
I picked the teams to go on this list Wednesday morning when the Hoosiers were undefeated. Their loss Wednesday night just shows that they belong on this list.
I'm not taking away from their nonconference performance at all — they won all 12 games, and capped it with a stunning win over No. 1 Kentucky. Outside of the Wildcats, though, it wasn't the most impressive schedule that I have seen.
They played only two road games and one at a neutral site, and Kentucky was the only ranked team — or even close to a ranked team.
Things get real for the Hoosiers now with the start of the Big Ten season. That conference is ridiculously deep and tough this year, and Indiana is not among the first level of teams.
They already lost to Michigan State, and their next two opponents — Ohio State and Michigan — are also ranked. In January they play Michigan and a tough Minnesota team at home, and travel to Ohio State and Wisconsin.
This is a young and talented team, and they are definitely moving in the right direction. However, they are inevitably going to fall back to earth a bit in the coming weeks.
I don't expect them to stay ranked for a long time, but they should still be a tournament team, and will be more impressive next year.
Louisville Cardinals
Like Indiana, I picked Louisville for this list before they lost last night. The loss to Georgetown shows the issues this team has, though. They have been the masters of late comebacks and narrow wins all season, but playing their best opponent of the year last night they just couldn't pull it off.
This is an immensely talented team, but they are young and inexperienced, and it shows by their lack of maturity and urgency early on in games.
The Big East isn't quite as tough this year as it has been, but it is still an incredibly brutal group. Before Louisville can deal with that, though, they have to travel to play at Kentucky on New Year's Eve.
The conference schedule is tough, and features two games against current No. 1 Syracuse.
This team will be ready and dangerous by tournament time — they are a Rick Pitino team, after all — but they won't head into the dance as the No. 1 seed that their current ranking would suggest.
Northwestern Wildcats
It is all but impossible to believe that the Wildcats have never managed to play in the NCAA Tournament. After a 10-2 start in nonconference play, though, the hype and hope are flowing that this could finally be the year.
While it may be, and I hope it is for their sake, I can't be that confident.
They have played three ranked teams this season — Baylor, Creighton, and Ohio State to open conference play. Not only did they lose all three games, but they weren't even competitive. Ohio State crushed the life out of them en route to a 33-point win.
That was just the start of a really tough Big Ten schedule that could be too much of a test for this team. The Big Ten plays tough, relentless basketball, and Northwestern is absolutely brutal at rebounding and playing physically.
This team has a lot to prove in my eyes despite the nice record.
Baylor Bears
The Bears are one of just four undefeated teams left standing, and they are led by future lottery pick Perry Jones and a very good frontcourt.
While the team is unquestionably impressive, their last two wins have raised serious questions about their ability to remain unbeaten for long. They needed overtime to squeak past West Virginia at home, then needed a late implosion from Renardo Sidney — fortunately something that is easy to rely on — to narrowly beat Mississippi State at home.
Before they survived those two teams they have played a few interesting squads — BYU, St. Mary's, and San Diego State — but it hadn't been a particularly challenging schedule, and they hadn't really proved anything other than that they could win the games they are supposed to.
The Big 12 is solid this year, and with trips to Kansas State and Kansas and a home game against Missouri in the first three weeks of January there are inevitably going to be some bumps ahead.
This is a very good team, but not nearly the team that their record suggests.
---
Most Recent College Basketball Handicapping