College Basketball Picks: Betting Teams to Avoid
by Trevor Whenham - 1/20/2011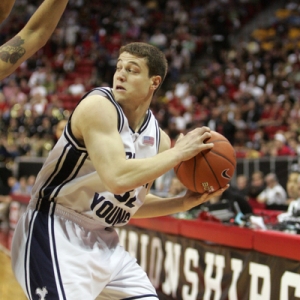 College basketball media, and therefore the betting public, are seduced by big names -- high profile teams, ranked mid-majors, and players sure to be heading to the NBA. Those stories may be the most compelling ones for casual fans, but those teams are often not nearly as kind to bettors as you might think they would be based on the amount of attention they could get. Here's a look at eight teams that are not nearly living up to their reputations this year from a betting perspective. Avoid these teams with your college basketball picks at all costs.
Memphis (3-11 ATS) - The Tigers have an unfortunate distinction on their side right now -- they are the least profitable team with a winning record in the entire country. As you can see, they aren't even close. What has happened here is very interesting. Despite the loss of John Calipari and his pipeline of brilliant point guards, the team was decent last year, and has been okay this year as well. They haven't been good enough for bettors, though - they were just 10-16 ATS last year against the college basketball lines. It's almost as if the betting public hasn't noticed that Calipari left and they still expect that kind of performance out of the squad.
Xavier (4-10-1 ATS) - The Musketeers have been one of the big tournament mid-major darlings the last few years. They aren't quite performing at the same level, but they are still a solid team with strong tournament aspirations again. The difference between this year and last, though, is how they have treated bettors -- they were a very nice 19-10 ATS last year. They have rounded into form recently, but between Nov. 22 and Jan. 6 they were a hideous 0-7-1 ATS.
Michigan State (6-11 ATS) - The Spartans were viewed as a very elite team heading into the season. They have been a big disappointment so far -- though they are showing signs of rediscovering their form. It seems to have taken the betting public a while to accept that this team had issues -- the team keeps getting more credit from the lines than they seem to deserve.
Kansas State (4-9 ATS) - Jacob Pullen is a very legitimate player, and this team came into the season viewed as a Big 12 heavyweight. They have had some trouble recently -- they are just 4-5 in their last nine. Their problems have extended to the betting side of things as well -- they are just 1-7 ATS in their last eight. It seems as if the public hasn't quite come to terms with the team's struggles yet.
Syracuse (7-10 ATS) - It took the Orange 19 games to record their first loss, and that winning streak was as impressive as it sounds. They have won some tough games, but they haven't been kind to bettors. They are actually doing better recently -- they are 6-5 ATS in their last 11. It was the 1-5 ATS start that was particularly hard on the people that backed them.
BYU (6-9 ATS) - The Cougars are perhaps the second most impressive team so far in the ridiculously deep Mountain West conference. It's not a wonder that the betting public likes these guys -- they have a gaudy record, and Jimmer Fredette is an amazing player who really made a name for himself in the tournament last year. Despite their success and their offense, though, they just can't seem to find any momentum on the betting side of things.
North Carolina (6-9 ATS) - The Tar Heels are as public as a team can be. They weren't coming off a great year, but they had the most hyped freshman in the country in Harrison Barnes and a lot was expected from them. They have been far from terrible, but they haven't lived up to the hype, either. Barnes has been a huge disappointment, and the Tar Heels seem to still be another year away from prime time. The public is always going to throw money at this team, so they need to be much better than they are right now to cover spreads consistently.
UCLA (7-9-1 ATS) - The Bruins don't entirely belong on this list because no one really expected them to amount to much this year. I put them on here, though, because I can't help but wonder what the heck is going on in Westwood every time I see them play or look at their record. I understand that teams go through ups and downs, but I have no idea how a guy who has had as much success as Ben Howland has had playing in a conference as weak as the Bruins play in can be so overwhelmingly bad for as long as they have been.
Strike Point Sports has shown a profit for college basketball picks in 64 of the last 87 weeks stretching back a few years and his college basketball handicapping has yielded the biggest play of the season, and it is coming this Saturday. That is the day he will have his 8-Unit College Basketball Game of the Year, and this is the strongest single selection he will put out all season long.
---
Most Recent College Basketball Handicapping