College Basketball Picks: North Carolina vs. Michigan State Odds and Predictions
by Alan Matthews - 11/11/2011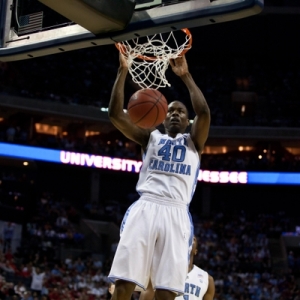 Welcome to the first college basketball game preview of the 2011-12 season, which technically tipped off on Monday but really does Friday with around 125 games and nearly every Top 25 team in action. And that includes the odds-on favorite to win the national title and preseason No. 1 North Carolina Tar Heels playing unranked Michigan State in the inaugural Carrier Classic aboard the USS Carl Vinson aircraft carrier parked in San Diego Harbor.
It's an incredibly unique idea to play aboard this ship and a great way to honor the military on Veterans Day. Almost all of the 7,000 or so in attendance will be active military personnel, including our Commander in Chief, President Obama. The teams will both wear camouflage uniforms as well.
With the Navy facing huge budget cuts, officials are using this game to spotlight the Navy and its aircraft carriers to the more than 3 million viewers expected to watch the game on ESPN – it might boost potential recruiting not only for Michigan State and UNC but also for the Navy in terms of younger viewers watching interested in joining the armed forces.
The USS Carl Vinson just so happened to be the ship the carried Osama bin Laden's body to its burial at sea.
And because it is Veterans Day, here is a little history: The ship is named after former U.S. Rep. Carl Vinson, a Georgia Democrat considered the father of the two-ocean Navy because of his success in pushing through bills that greatly expanded and modernized the Navy's warship fleet during his time in Congress from 1914 to 1965. He was chair of the House Armed Services Committee when Congress authorized the procurement of the first nuclear-powered aircraft carriers starting with the USS Enterprise in the late 1950s. With 11 carriers, the U.S. Navy has more than the rest of the navies on the planet combined.
North Carolina vs. Michigan State Betting Storylines
OK, let's get to hoops. The Heels should be the preseason No. 1 because they welcome back all five starters from last year's ACC regular-season champions and Elite Eight team. This should sound familiar to diehard college hoops fans. The last time North Carolina was preseason No. 1 with five starters returning was 2008-09 and that club beat, ironically, Michigan State handily in the National Championship Game -- the Heels also beat Sparty badly in the regular season that season (both games were in Detroit).
UNC will have a massive size and talent advantage in the frontcourt with starters Harrison Barnes, the preseason National Player of the Year favorite, John Henson and Tyler Zeller. Those three all spurned the NBA draft to come back this year despite being first-round locks.
Sparty lost its best player in point guard Kalin Lucas, as well as two of its best frontcourt players in Delvon Roe (was supposed to return but retired due to chronic knee problems) and Garrick Sherman (transferred). Tom Izzo is counting on guys like Derrick Nix and Adriean Payne (combined 17.2 mpg, 5.2 ppg, 4.2 rpg) to make giant leaps this season. And freshman forward Branden Dawson could get major minutes right away.
MSU's two starters back are guard Keith Appling and versatile point-forward Draymond Green – they are the only two players on the roster to average at least 20 minutes a game last season.
To win this one, MSU will have to dominate in the backcourt with Appling and shooting guard Brandon Wood (a transfer from Valparaiso who averaged 16.7 ppg last year). I would argue the only position MSU has an advantage is at shooting guard. Green can hit the three and play point guard, but the Spartans probably will need his bulk against the huge Heels down low.
Admittedly last season was a down year for MSU, but the Spartans didn't play the tough competition well. Sparty was handled pretty easily by teams like Duke, Syracuse and Texas. The Spartans' only wins away from East Lansing vs. teams ranked at the time last year were very early in the year in Hawaii vs. Washington and in the Big Ten tournament against a Purdue team that was headed downward. And this team isn't as good as last year's, at least not yet. UNC's is probably better and the Heels were spectacular last season once Kendall Marshall took over at the point.
For what it's worth, UNC is 5-0 against Michigan State all-time under Roy Williams and the closest Sparty has come was seven points in the last meeting, Dec. 1, 2009 at Chapel Hill in the ACC/Big Ten Challenge. Carolina has won six season openers in a row. MSU has won 33 of its past 34 openers, with the last loss coming in 2005. But top programs rarely open against each other like this.
North Carolina vs. Michigan State Betting Odds and Trends
UNC opened as a 10.5-point favorite with the total at 136 on college basketball odds. I don't really think trends are very relevant considering it's the first game of the season and there's always a ton of roster turnover in college hoops (although not so much for UNC), but here are a few: Sparty was 0-4 ATS in its final four nonconference games last year. The Heels covered only one of their final seven games a year ago. MSU is 0-5 ATS in past five meetings.
College Basketball Picks: North Carolina vs. Michigan State Betting Predictions
I have to address the total first here because how often can you say the weather might be a factor at a basketball game? It looks like temps will be low-60s at tipoff (4 p.m. local time) with a slight breeze and chance of rain.
A second basketball court was built in the hangar deck in case of rain. Michigan State is 3-17 all-time against teams ranked No. 1 in The AP Top 25 and that will be 3-18 by Friday night.
Take the Heels and, because of the unusual circumstances, the 'under'.
---
Most Recent College Basketball Handicapping