College Basketball Rankings: The Mid-Majors
by Trevor Whenham - 1/12/2011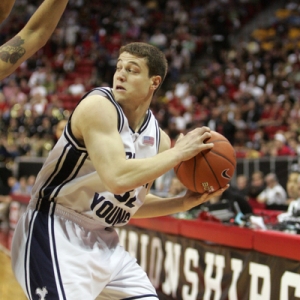 Last week I ranked the major conferences in college basketball, so it only makes sense that I rank the best of the rest this week. Before we look at the top mid-majors in the country, though, let's quickly review the majors -- the Big East and Big Ten were neck and neck at the top, with the Big 12 close behind and then a big gap down to the ACC, the SEC, and the truly awful Pac-10.
1. Mountain West - Not only is the Mountain West the best mid-major conference in the country, but they are better than at least three of the major conferences. San Diego State is absolutely flying behind Steve Fisher, and is firmly entrenched in the Top 10. BYU is a very scary team that is just outside the Top 10 as well. UNLV has cooled off a bit, but they are still another tournament bound team that no one would want to play. New Mexico could join them in March with a strong close, and the bottom half of this league is stronger than it has been recently, too. It's a shame that the Mountain West is going through so many changes in the next couple of years, because there is no doubt in my mind that they deserved much more credit in basketball and especially football than they ever got.
2. Conference USA - I'd make the point that these guys would fall ahead of the Pac-10 in my overall rankings, but that doesn't mean much because all five of the teams on this list would. Yes, the Pac-10 is that bad this year. The conference has taken a couple of hits recently -- Memphis was beaten by Tennessee, and Central Florida lost. I'm not too worried in either case, though. Memphis is an extremely well-coached team that has only fallen back a bit since losing John Calipari. They know how to compete in March, and they will be dangerous. Central Florida has been a very pleasant surprise this year thanks in part to the play of Michael Jordan's son Marcus. Their loss at Houston was far from ideal, but they have a week between games, and it is the kind of experience that good teams can learn from.
3. Atlantic 10 - I love A-10 basketball. This is a deep league full of teams that know how to play, can recruit, and always make things interesting. They aren't as good as they have been the last couple of years, but they are still a very nice group that will be well represented in March Madness. Temple, at No. 19, is the only ranked team in the group. Though they deserve that attention they are not the only good team here. Xavier is as feisty as ever, and has overcome some early bumps. Richmond, Dayton, and Rhode Island are also tough. League play will cause casualties as it always does in the A-10, but there will still be more than one team from the A-10 fans to cheer for in March. This is a league that shows up for more than just the first round, too.
4. CAA - If the CAA is better than the Pac-10 then the Pac-10 has some real issues. That's not a knock on the CAA at all -- I really respect this league. It's just a statement on how far the Pac-10 has fallen. I mean, it's not really too much to expect UCLA to be better than Drexel, is it? I digress. The group that has given us more than a few thrilling tournament moments in recent years -- with George Mason being at the top of that list -- is putting together another very nice year. Old Dominion is probably the class of the group, and has the best shot of playing their way to a ranking. James Madison, George Mason, Drexel, and George Mason have all had noteworthy moments this year as well, and all have tournament potential if they get hot. This is quite likely a multiple-bid conference this year, and one that will be well prepared for March because of the intensity of their conference schedule.
5. Horizon League - Butler was a bit of a disappointment early on this year. It would be a mistake to rule them out entirely, though. Matt Howard is one of the better college players in the country, and he is leading his team back to respectability this year in a hurry. They will have a solid record by the end of the year, and will be the team no one wants to play in March. They were seen as the only force in this group coming into the year, but Cleveland State and Valparaiso are both surprisingly strong, and could make things interesting down the stretch.
---
Most Recent College Basketball Handicapping