College Football Handicapping: Top 10 Strengths and Weaknesses
by Trevor Whenham - 9/1/2011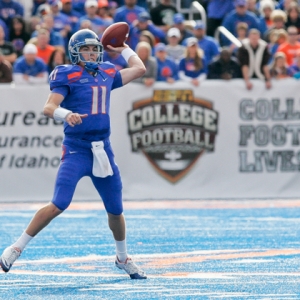 With the college football season finally starting tonight it's a very good time to take a closer look at the top-ranked teams. This is a fascinating time to look at the highest-ranked teams because there will be so much change from now to the end of the year. Last year two of the Top 5 preseason teams wound up unranked, and Auburn was only ranked 22nd before the season started. Given the questions virtually every team in the country has surrounding them this year it's almost certain that there will be that kind of disarray this year as well.
Here's a look at the biggest strengths and weaknesses of the Top 10 teams in the preseason AP poll – knowing more about these teams will help with college football handicapping:
No. 1 Oklahoma
Strength - Landry Jones. The QB is the real deal, and the early leader for most Heisman Trophy predictions because of the numbers he will post and how good his team could be. He's very talented and he has a loaded, experienced team around him.
Weakness - Offensive coordinator Kevin Wilson was extremely good, and he landed himself the top job at Indiana this year. Now they are going with the dreaded co-coordinators, and neither one has coordinator experience. They have a lot to work with, but I don't love the arrangement.
No. 2 Alabama
Strength - A rallying point. Nick Saban is a master motivator, and the horrific tornado that struck Tuscaloosa in the spring will give him a whole lot to rally this team around. Combine that with all the talent and this team could be special.
Weakness - The quarterback position. They came into the fall with a race for the starting job, and unfortunately they didn't have someone step up to unquestionably grab the job. They are going to play teams with much better quarterback play than they have.
No. 3 Oregon
Strength - LaMichael James. The guy can run. He was a Heisman finalist last year, and he has the team and the schedule to earn another trip to New York this year.
Weakness - Distractions. Chip Kelly is a heck of a coach, but he doesn't run a very clean program. There are discipline issues again with the team, and the NCAA violations that could become more of an issue as the season goes on. This team has big ambitions, but the distractions could be a real problem.
No. 4 LSU
Strength - Speed. This team is fast. Really, really fast. That's going to be tough for teams to face, and it will create opportunities for them.
Weakness - The LSU Tigers football schedule. They open against Oregon. They travel to Mississippi State and West Virginia in consecutive weeks. They play at Alabama. They close against Arkansas. If this team goes undefeated then they deserve everything they get.
No. 5 Boise State
Strength - Kellen Moore. He's a QB who just wins, and he is a ton of fun to watch. He has all sorts of talent around him, too. He has to deal with a new OC after Bryan Harsin headed to Texas, but they promoted from within so it should be relatively seamless.
Weakness - The Boise State Broncos football schedule. There is no room for error here. If they don't win at Georgia in the opening game then their season will be over before it starts. The rest of the schedule is pretty straight forward with two obvious exceptions — they play two tough games in a row when they host TCU then travel to San Diego State.
No. 6 Florida State
Strength - Talent. These guys are deep and talented this year. Jimbo Fisher still has to prove that he can coach up to his reputation, but he sure can recruit.
Weakness – QB E.J. Manuel. The success of this team relies on the ability of Manuel to step up and play well at quarterback. I'm skeptical. He has played in some big games, but he has 10 interceptions and just six touchdowns, so he has a lot of work to do before he is up to Top 10-caliber.
No. 7 Stanford
Strength - Andrew Luck, obviously. Having the best QB in the country is never a bad thing.
Weakness - Change. Jim Harbaugh was an extremely good coach. Now he's gone. They promoted from within, but Harbaugh raided the staff and took the cream with him. There is a whole lot of pressure on a new staff to get things working quickly. It won't be easy.
No. 8 Texas A&M
Strength - Running game. They are deep and they are talented. They have a nice offensive line as well. This team is going to be able to pile up the yards on the ground, and that will only help QB Ryan Tannehill do his job effectively.
Weakness — Expectations. The Aggies are a very popular pick as an upstart squad this year — I have read about how they have arrived a dozen times in the last month. That's a lot of pressure for a team that really hasn't done anything of note in years. I'm not convinced they will handle that pressure at all — and they play a lot of games that could trip them up.
No. 9 Oklahoma State
Strength - Justin Blackmon. The defending Big 12 offensive player of the year is a special receiver, and he is going to pile up a ton of yards if Brandon Weeden can replicate his impressive season of last year.
Weakness - Dana Holgorsen. The former offensive coordinator was an offensive genius. Now he's the head coach at West Virginia. That's a big loss for this team. New coordinator Todd Monken has never been a coordinator before, and he has spent the last four years in the NFL as a receiver coach for the Jaguars. He has a steep learning curve ahead of him.
No. 10 Nebraska
Strength - Taylor Martinez. While things haven't always been smooth and his relationship with his coach is volatile, the quarterback has Heisman-caliber skills and a good deal of talent around him.
Weakness - The conference change. Nebraska is penciled in by a lot of people as the conference champs in their first year. I am skeptical. The Big Ten is a tough, brutally physical conference, and Nebraska starts their time in the new conference with a tough schedule — trips to Wisconsin, Penn State and Michigan, and home games against Ohio State, Michigan State, and Iowa. The team will be adjusting to new things all year, and facing hostile environments and motivated opponents.