College Football Odds: Top Games of the Season
by Trevor Whenham - 8/2/2011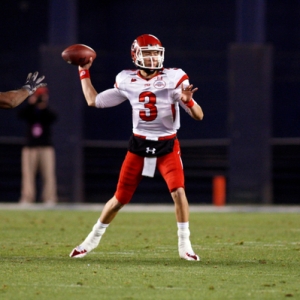 Sportsbooks are releasing lines for college football games earlier and earlier these days. 5Dimes already has lines listed for key games to be played on every weekend of the upcoming season — even though the start of the season is still a month away. There are all sorts of dangers in these college football odds for bettors who are more emotional than analytical given all of the unknowns involved in the bets. For astute college football handicappers, though, there can be real value to be had. If the lines that are currently posted seem likely to change significantly by game time based on your view of the teams and how their seasons will go then you may be able to get a significantly better price now than you will at game time. It's a risky approach, but the potential reward could outweigh the risk in some cases.
Here are seven of the more interesting college football lines that are currently available:
BYU (-6) vs. Utah (Sept. 17) - The Holy War is one of the truly great rivalries in college football because of the intensity and the total hatred involved. BYU is being touted by some as a BCS buster this year, but they are going to be seriously tested early on. They open the season with games at Ole Miss and Texas before this game. Both games could be challenging, and there is a chance that the Cougars could be exposed.
I am more optimistic about Utah than some. We'll have a good sense of where they are at by the time this game kicks off because the Utes play USC the week before. That could be a serious confidence-building game. If BYU shows any cracks and Utah looks strong then this line could tighten by game time and this price will be nice to have if you like the Utes.
Oklahoma (-8) vs. Texas (Oct. 8) - I am impressed by the Sooners this year, but it's reasonable to be skeptical of the mostly highly-hyped of teams each year because of the difficulty of living up to massive expectations.
Before this game the Sooners have to play at Florida State, so there is a chance that they could lose or at least get exposed — both of which could impact the spread here.
Texas has to improve dramatically from last year to be competitive here, but they have made some dramatic changes, and added experience in key positions should help. If Texas can beat BYU at home early on then they could gain real momentum and this line could fall to the other side of the key number of seven.
Michigan (+2) at Northwestern (Oc. 8) - I'm bullish on Michigan, and I think they are going to be better than they are perceived to be — especially at this point in the season. I am not nearly as optimistic about Northwestern.
I expect the improved strength of Michigan to make them favorites by the time this game kicks off, so there is value here.
Wisconsin (-2) at Ohio State (Oct. 29) - If the Badgers can find consistency at quarterback early on then they have a chance to be the class of the Big Ten.
Given all they have had to deal with this offseason, it's hard to be optimistic about the Buckeyes.
If you believe that Russell Wilson can step in and be an immediate factor then you have to believe that the Badgers will be favored by at least a field goal by kickoff. That makes this one a bargain.
Boise State (-14.5) vs. TCU (Nov.12) - I believe in Boise State and expect big things from them. This number is particularly pessimistic about TCU, though, and I am not sure that I am quite as pessimistic. Andy Dalton is gone and that's a big blow, but Casey Pachall is an impressive player who carries high hopes on his shoulders as a replacement.
I expect Boise State to win this one, but if Pachall and the other young key starters can mature quickly then they should be able to keep it closer than this score indicates.
The sentiment seems to be that this is a reloading year for TCU before they head to the Big East, but Gary Patterson and company certainly don't seem to be sharing that view. They have a couple of chances to make a statement on their schedule before this game, and several games to work out the kinks as well, so there is a good chance that they will drop this line to under two touchdowns by kickoff.
Florida State (-2) at Florida (Nov.26) - Florida State comes into the season carrying high hopes and expectations. Florida comes in after having made a whole lot of changes. Their success is uncertain — especially given the state of their QB play.
If Florida State plays to potential and Florida struggles then this line will be significantly wider than it is now by kickoff. If you believe in the Seminoles then you'll be thrilled to take this line and have the field goal on your side.