2011 Florida Gators Football Predictions and BCS Futures Odds
by Alan Matthews - 6/20/2011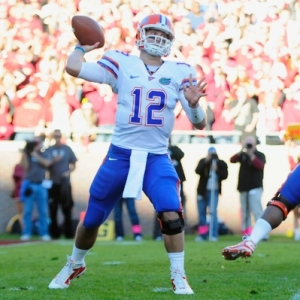 Depending on your perspective, the beauty or aggravation of being a college football fan and bettor is rather encapsulated in the Florida Gators. About this time two years ago, the Gators were being looked at as a potential dynasty. They were coming off their second national title under Urban Meyer and had practically their entire team coming back for 2009, including Gator legend Tim Tebow, who was among the favorites to win a second Heisman Trophy.
And those Gators nearly did return to the national title game, instead having to settle for a Sugar Bowl berth against an overmatched Cincinnati after UF lost in the SEC Championship Game to eventual national champ Alabama and its Heisman winner, Mark Ingram.
So fast forward to this offseason. The Gators looked very mortal last year, especially with a Tebow-less offense. And now Florida comes off an 8-5 season, including a 4-4 mark in the SEC that saw South Carolina take the East Division away. Oh, and Meyer is now in a TV booth after retiring for real this time – he could be on the sideline in Columbus, Ohio, next season. The 2011 Gators not only aren't the best team in their own division, they are probably only the third-best team in their state.
Coach – Will Muschamp has to fill Meyer's very big shoes. Muschamp comes to Gainesville from Texas, where he was defensive coordinator since 2008. The Longhorns liked him enough to name him Mack Brown's successor, but apparently Muschamp didn't want to wait that long. The former Gainesville resident finally got his first head coaching job after 16 years as an assistant.
Muschamp is considered a tireless recruiter and has previous experience in the SEC, playing four years as a safety at Georgia in the early 1990s. He was also defensive coordinator at Auburn and LSU. In eight seasons as a defensive coordinator, Muschamp's teams have allowed fewer than 100 rushing yards per game. In the previous three seasons, Texas ranks No. 1 with 119 sacks for 949 yards lost. During the five years Muschamp worked as an SEC defensive coordinator, his defenses ranked among the nation's top 10 in total defense each year.
So you can perhaps see why the Gators say he was the only guy they interviewed. But it still surprised some that he landed one of the Top 5 jobs in the country without head coaching experience.
Offense – This unit was a massive disappointment last year, especially former five-star quarterback recruit John Brantley. Heading into last season, many thought Brantley would have better passing numbers than Tebow ever did because Brantley was considered the picture-perfect pocket passer. But Brantley clearly wasn't a fit in Meyer's spread offense.
New UF offensive coordinator Charlie Weis has installed a pro-style offense that has worked well in the NFL and at Notre Dame, where both of his starting quarterbacks – Brady Quinn and Jimmy Clausen – put up great numbers as Heisman candidates.
Brantley ended up sharing the position with two other players for the last half of the season, but Muschamp says he is the clear-cut starter heading to the fall despite a wretched Spring Game. Brantley is one of six offensive starters back, but the line loses four starters. The strength should be at running back. Chris Rainey missed five games because of suspension last year and only had 366 yards, but he averaged 7.2 yards per carry. He will be featured in Weis' offense in a Percy Harvin-type role. Rainey and Jeff Demps have to be the fastest pair of backs in the nation.
Defense – Having Muschamp should help the fact that only four starters are back. This unit took a big hit when its best player, cornerback Janoris Jenkins, was dismissed from the team. He might have been a first-round NFL Draft pick, but he decided to return before running into some legal trouble. None of Florida's current corners can truly replace his ability to completely take one side of the field away.
The secondary looks like the weak part of the defense to start the season because that unit also lost safety Ahmad Black, who did everything for the secondary by making 108 tackles with five picks and 11 tackles for loss in 2010. Jelani Jenkins may be the key to the defense, because he's got the talent to be an All-SEC player as a linebacker. And big things are expected of 2010 top defensive end recruit Ronald Powell.
2011 Florida Gators Football Predictions – Florida should enter an Oct. 1 home showdown with Alabama at 4-0 considering UF has Florida Atlantic, UAB and Tennessee at home and then visits a Kentucky team the Gators have owned for years. But following that Bama game comes a crushing four games out of five on the road stretch: at LSU, Auburn, Georgia and South Carolina. UF might not be favored in any of those. And Florida State is much better than past years and could come into Gainesville and win this season in the regular-season finale.
The Gators are 15/1 on Bodog to win the national title, according to BCS futures odds. That's not going to happen. Look for a regular-season record of 7-5 and a third-place finish in the SEC East.
Doc's Sports is set to embark on our 40th year of handicapping college football. Doc is coming off a profitable season with his college football picks, including winning his Big Ten and College Football Games of the Year. Doc spends the hours during the week studying the college football odds and releases 6-8 college football plays per week including top plays (6-8 unit selections). Doc is ready to start the first week of September and our Magnificent 7 Packages gives you every college football selection that we make through the BCS Championship Game in January of 2012. Jump on board now with one of the best college football handicappers in the business.