Horses That are Real Preakness Stakes Contenders
by Robert Ferringo - 5/18/2011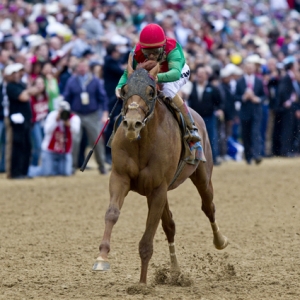 The Preakness is not only the shortest of the three Triple Crown horses races, but also it routinely posts one of the smallest fields. With a maximum of 14 mounts this mile-and-a-quarter race is perhaps the most wide-open, lightning fast, no-holds-barred of any of the three Triple Crown runs.
The Preakness States, the second leg of the Triple Crown horse races, will be run at 6 p.m. on Saturday, May 21. The Preakness will be run at Pimlico Race Course in Baltimore.
This year there is a full field of 14 horses ready to run for the Black-Eyed Susans. However, just because there are 14 names on the board that doesn't really mean that there are 14 horses that are Preakness Stakes contenders.
Five of the horses in the Preakness field are basically filler horses: King Congie, Isn't He Perfect, Mr. Commons, Norman Asbjornson and Dance City are all just along for the ride. Concealed Identity is a horse that has won two straight at Pimlico, albeit against far weaker competition, and Sway Away, a mount that couldn't crack the seemingly 500-horse Kentucky Derby field, are capable of pulling a major upset. But like those other horses, Concealed Identity and Sway Away have to be considered significant long shots.
So that is seven horses right off the top that only the most ambitious gambler would back. However, that still leaves seven horses that can win the Preakness without really surprising me. I still feel that within those seven top Preakness contenders there are still two distinct "classes": the dark horses that could win but would still be considered an upset and the favorites that will be taking the heavy action on Saturday.
Here is a list of the top Preakness contenders:
Horses That Can Win The Preakness – Dark Horses
Flashpoint – This mount has only run in three races, but he won two of them. He has also posted the highest Beyer Speed Rating of any horse that will be running at Pimlico, producing a 102 at Gulfstream. That said, this horse finished just fourth in the Florida Derby, eight lengths behind Dialed In. Also, Flashpoint has switched trainers in the last month, going from Rick Dutrow Jr. to Wes Ward. This may be a high-risk, high-reward wager come Saturday.
Astrology – Much like Animal Kingdom, all this horse does is find the money. In seven races he has never finished less than third and in his last four races he has finished in the top two. Granted, all four of those races were Grade-II or below. But the horse has flashed some speed and hails from the same stable that produced 2007 Preakness winner Curlin and 2009 winner Rachel Alexandra.
Shackleford – This will be Shackleford's third race since April 3, so fatigue could potentially be a factor. However, this is the race that Shackleford's front-running style is best suited for. He led from the gate into the deep stretch at the Kentucky Derby before grudgingly giving way and finishing just fourth. Prior to that he finished second in the Florida Derby in a similar fashion, leading from the gate until being edged by a nose by Dialed In at the wire. Obviously this mount has the speed to run with the big boys. At this point it is just about what Shackleford has left in the tank.
Midnight Interlude – This horse won the Santa Anita Derby, so clearly ihe can perform on the big stage. And Interlude went off as the fourth favorite at the Kentucky Derby so clearly he is getting respect from the oddsmakers. But he also finished just 16th at Churchill Downs and the trainers said that the horse "lost interest". There are two ways to look at that. On one hand that means Midnight Interlude has plenty left in his tank. On the other, do you want your money on an aloof favorite?
Horses That Can Win The Preakness – Favorites
Animal Kingdom – This is a horse that should need no introduction. And right now this horse continues to look stronger and stronger as the Preakness field gets weaker and weaker. I expect that Animal Kingdom will be a heavy favorite – perhaps no greater than 2-to-1 – and that there won't be a ton of value on this horse unless you're willing to let it ride. Animal Kingdom has now won back-to-back races and three of four outright. This colt has never finished lower than second in any of his five races and should be in the thick of things again.
Dialed In – The Kentucky Derby's biggest disappointment is an obvious spoiler as one of the main horses that can win the Preakness. Dialed in has won three of four races and has run in the top two in four of its last five runs. However, the only race that he was out of the top two was that poor eighth-place finish at Churchill Downs. But that could be good news: the Kentucky Derby favorite has won the Preakness in three of the last four years (Lookin at Lucky, Big Brown and Curlin).
Mucho Macho Man – Consistency and style are both working in Mucho Macho Man's favor heading into the Preakness. This colt has finished in the top three in eight of his nine career races, including a third-place run in both the Kentucky and Louisiana Derbys against top competition. MMA is a stalker, and with a smaller field at Pimlico he should be able to work itself into a great position around the first turn. But this may be a horse that is good but not good enough. He has been in the money in eight of nine races, but has only won two of them.
Robert Ferringo is coming off a big Kentucky Derby winner with Animal Kingdom and has now managed a winner in at least one of the Triple Crown races in four of the last five years. He will have Preakness picks and this has been his best race, as he has picked the winner in three of four years. Sign up for his Preakness picks for just $20 and see if he can match last year's performance when he tallied Derby and Preakness winners!