How to Bet on College Football Bowl Games
by Nicholas Tolomeo - 12/10/2011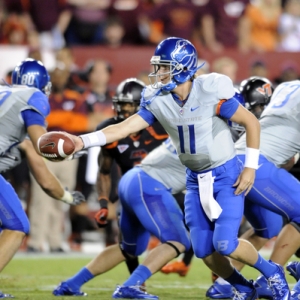 The College Football bowl season provides a number of challenges and opportunities for sports bettors but also unique factors for college football handicappers to consider.
The long layoff, potential suspension of players, differing motivation, neutral fields, warmer weather, coaching rumors, live movements, and traveling fan bases, among other things, are all factors that need to be taken in equation that generally do not come up during the college football regular season.
Here are a few things to keep in mind when looking to bet on college football bowl games and a few tips to help boost your profit this holiday season.
Who is coaching the team?
Once the college football regular season concludes in early December, it is open season on head coaches. Coaches can be fired and hired away with no consideration given to the upcoming bowl game.
Often times when a coach decides to leave the school for a better job or if he got fired, he is still permitted to coach in the bowl game. But sometimes interim head coaches are thrust into the role of head coach in the bowl.
Who is playing in the game?
December means bowl games as well as college finals.
Sometime before the bowl game coaches are given a list of players who are academically ineligible because of grades and cannot play in the bowl game. And then there are the players who get in trouble while on the road and get sent home from the bowl. Keep an eye for suspensions and dismissals.
Long Layoff
Every team playing in a college football bowl game has to deal with at least a two-week layoff and it is often four weeks to more than a month between games for some teams.
Both teams have to deal with the rust that can come with 30 days with no games, but perennial bowl teams generally excel in this phase of bowl preparation. Not only have many of the players on repeat bowl-bound teams been through the situation before, but coaches have a practice and travel schedule they generally stick to each year.
Another thing that goes with the long layoff is line moves. Sides and totals can look drastically different from Dec. 5 to New Year's Day. Locking in a line early or waiting to take a game, are both calculated risks. Savvy handicappers can more often than not accurately predict bowl game line moves.
Weather
Most bowl games are either played in a dome or in warm weather climate, but not all of them are. There are cold-weather games and bowl games in baseball parks, where field conditions can be an issue. Weather is more likely to affect the total than the side.
Neutral sites
Bowl games are played at neutral sites with rare exceptions, like when Boise State played in the Humanitarian Bowl on its home field. Some teams just played in conference championships at neutral sites, while it could be a first for other teams.
Past conference performance
Bowl tie-ins with conferences are generally unchanged year to year, and looking back over the past decade can reveal some trends in how conferences fare in certain bowl games against other conferences. Some matchups are even, others are one-sided.
Motivation
All things considered and looking at the big picture, motivation is single handily the biggest factor in handicapping bowl games aside from the talent on the teams themselves.
Aside from the BCS National Championship Game and most of the BCS bowl games, many teams motivation can be questioned.
When attempting to gauge motivation be aware of the team's preseason ranking (are they overachieving or underachieving), performance in their last game and last few games (coming off a heart-breaking loss or long winning streak), what bowl game if any they played in last year (were they in the Rose Bowl this time last year and now in the Kraft Fight Hunger Bowl), coaching situation (are they playing for a lame duck coach), and the opponent (is a ACC team going against a MAC team).
Vegas Sports Informer is one of the best college football handicappers of bowl games in the nation. He will have college football picks in all 35 of the bowl games this season, including his Bowl Game of the Year, an 8-unit pick (the strongest offered at Doc's Sports). He is looking for his third winning bowl season in the last four years! Click Here for more info.