2011 Kentucky Derby Contenders Early Look
by Trevor Whenham - 4/19/2011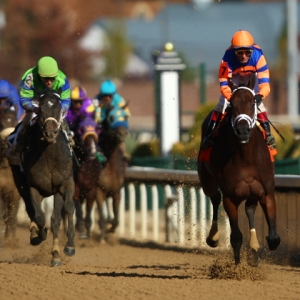 Want two words to describe the Kentucky Derby trail this year? That's easy — horrible mess. I've been a diehard fan of the Kentucky Derby -- my favorite sporting event — for decades now. In all of that time I have never seen a field of Kentucky Derby contenders this uncertain, undistinguished, and underwhelming as what we have this year. Which horse is the best in the country? Hard to know — none of them have stepped up to the challenge. Who is going to be the favorite in the race? Could be anyone — though it's certain to not be a heavy favorite. Who's going to win? Your guess is as good as mine. A dart board is as good of a tool as any to sort through this field.
If you haven't been following the Derby trail closely up to this point, then here's a guide to what we have seen and what we have to look forward to.
Disappointing superstars — There were two horses in this class that were seen by many as significantly better than everyone else. Uncle Mo, trained by Todd Pletcher, was the two year old champion last year and had looked impossibly dominant in his foundation races. He was looked at as a special horse. The Factor, Bob Baffert's top runner, was the other star of the class — behind Uncle Mo, but not far. Neither one could have been more disappointing in their last prep race.
Uncle Mo was sent to the Wood Memorial at Aqueduct for his last prep - a highly-regarded race even if it hasn't produced a Derby winner since Fusaichi Pegasus in 2000. It was not a strong field at all, so the overwhelming favorite was expected to put on a show. Up to the top of the stretch it looked like that was just what was going to happen. He had the lead, he was clear, and he was locked in. Then he slammed into a wall. He was passed not once but twice and looked totally incapable of handling the distance of this race, never mind the longer Derby distance.
The excuses have been flying hot and heavy — first it was a slight injury suffered early in the race, and then a gastrointestinal virus. Those excuses seem plausible, but not significant enough to explain what happened, and not enough to make it easy to trust this horse again. In one two-minute race Uncle Mo went from likely very heavy Derby favorite to total, headache-inducing mystery.
The Factor's performance was even more mystifying. His last prep was the Arkansas Derby, the race that produced megastars like Curlin and Smarty Jones in the past. The field was big, but not deep, and The Factor was expected to run a big race and establish himself as the solid Kentucky Derby favorite. Not so much. The Factor was never a factor in the race. He chased the pace through the early portion of the race without looking like a threat, showed no spark or explosion in the stretch, and finished a very dull seventh. The excuse was a flipped palate -- the default excuse any time a big horse runs a dud of a race for no clear reason. It was ugly, and now it's far from certain that the horse will head to Louisville.
Longshot winners — When the stars haven't been performing there are obviously going to be some surprise winners of big prep races. This year has been ridiculous on that front, though. Toby's Corner doesn't seem like a serious underdog in the Wood Memorial at 9/1, but when you consider that he was the second choice in the field behind Uncle Mo you realize how much of an upset his win was. Midnight Interlude, an unheralded runner making his stakes debut in Santa Anita Derby, won the race at 14/1. Brilliant Speed paid 19/1 to win the Blue Grass Stakes. Archarcharch paid 25/1 in his stunning win over The Factor in the Arkansas Derby. The only constant in this prep season has been surprise. The only real example of a highly-regarded horse doing what he was supposed to do was Dialed In during the Florida Derby, but that field was small and unimpressive, so even that win doesn't leave us with a good deal of optimism about the horse. Dialed In, trained by Nick Zito, is likely to be the Derby favorite, but he won't be an overwhelming or particularly inspiring one.
Field size - When there is no clear favorite and a seeming absence of class, every owner and trainer with a four-legged three year old is going to imagine they have a chance to win on the first Saturday in May - and they probably do. Needless to say, then, the field is going to be a full 20 horses for the biggest of races. The uncertainty has also caused some horses that wouldn't likely be pointed to the Derby in normal circumstances to be considered. Master of Hounds, for example, is a potential European invader — the first since 2002. The large field of questionable horses means that this race is going to be one of the biggest handicapping challenges we have seen in years.