2011 Kentucky Derby Trainers
by Trevor Whenham - 5/4/2011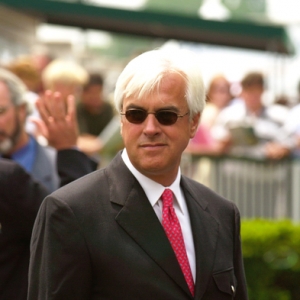 The Kentucky Derby is all about the horses, but you can't help but get captivated by the human stars. Few people in any sport work as hard or as long as horse trainers do, and few have to endure the incredible frustrations and crushing lows of the sport in search of the all-too-rare highs. Some trainers make you laugh every time they open their mouths, and others just make you want to punch them in the teeth. A high percentage of trainers are characters, though, and all have good stories that led them to where they are. Here are six of the more interesting trainers stories in the 2011 Kentucky Derby field:
Nick Zito — Zito is a living legend, and one of the elder statesmen of the sport these days. He has won the Derby twice — in 1991 with Strike the Gold, and three years later with Go For Gin. He's 17 years removed from his last Derby win, but he's still very relevant — he won the Belmont in 2004 and 2008, and started five horses for five different owners in the Derby in 2005. His horse Dialed In will be one of the two favorites this year and gives him a very good chance of another win — and a chance to break a Derby slump that has to be haunting him.
Bob Baffert — If I had a horse and money was no object I would want Baffert to train it. He has a magic touch, and he has been very successful in Triple Crown races — four different times he has won two Triple Crown races in the same year. He's been red hot this year, though bad luck has robbed his stable of its two best Derby hopefuls this year. He's here with surprise Santa Anita Derby winner Midnight Interlude. He'll be looking to find some better luck at Churchill this year after frustrating near misses the last two years with Lookin' at Lucky — who went on to win the Preakness — and Pioneerof The Nile.
Todd Pletcher — Pletcher is the New York Yankees of trainers. He has a massive stable and tons of rich owners, and every year he is loaded with dozens of top-level Derby prospects. If you aren't a fan, he is, like the Yankees, really easy to hate. His futility in this race was legendary — he had failed to win with 24 straight starters, including several elite horses that were heavily bet. He broke his slump last year with Super Saver,, though, so now he's looking for two in a row. His stable isn't as deep this year as some years, but he still has two dangerous runners. Uncle Mo, the two year old champion last year, would have been the prohibitive favorite in this race if it weren't for a lousy showing in the Wood Memorial and a gastrointestinal problem discovered at the time. Stay Thirsty will be a longshot, but as a member of the first crop of the great Preakness winner Bernardini he has the breeding to menace.
Jinks Fires — Fires comes from a true racing family. The 70 year old has been training for an eternity, though he is making his Derby debut with Archarcharch here. His brother Earlie is a retired hall of fame jockey who won 6,470 races in a quietly brilliant career. Jinks' son-in-law is Jon Court, one of the most respected jockeys in the country. Court, 50, will be making his Derby debut on this horse. This is a story worth cheering for.
Graham Motion — Born in England, Motion has spent his career training in the U.S. — mostly in Maryland. He's had a few bright moments — like training the great turf horse Better Talk Now and winning the Breeders' Cup Filly and Mare Turf last year. He's been in the Derby twice before, and both times have been disastrous. He's red hot this year, though, so he hopes for more this time around. His chances took a blow when Wood Memorial winner Toby's Corner, the better of his two entrants, came up lame and was pulled out on Tuesday. He's still left with the intriguing Animal Kingdom, though. That horse is well bred and can run forever, but there is a unique problem — not only has he never run on dirt, but he had never even worked on it before this past weekend. He looked good, though, so he became an interesting longshot.
Aidan O'Brien — This Irish trainer is interesting to watch because it doesn't entirely make sense why he is here. He's the private trainer for Ballydoyle, a massive racing operation in Ireland owned by John Magnier, perhaps the biggest and most influential breeder and buyer of thoroughbreds in the world. This year O'Brien has made the decision to send Master of Hounds over from Ballydoyle to give the Derby a try. The horse was a disappointing sixth as the favorite in the Juvenile Turf at the Breeders' Cup last year, and hasn't run since a second-place showing on the synthetic surface in Dubai in the UAE Derby during Dubai World Cup week. He has never run on dirt before, and only arrived in Kentucky on Tuesday, so it seems like a poorly thought out plan, but O'Brien trains as well as anyone and Magnier can certainly afford the adventure. Instead of bringing a jockey over with him O'Brien did the smart thing and signed up the brilliant Garrett Gomez, so at least the horse will be in good hands.