2011 Los Angeles Dodgers Predictions and MLB Futures Odds
by Robert Ferringo - 3/24/2011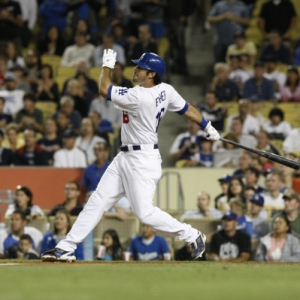 It can't get much worse for the Los Angeles Dodgers.
Can it?
It was bad enough that last year they had to endure an ugly ownership struggle, a failed experience with Manny Ramirez (who didn't see that coming?), several injuries, and an overall underachieving year. But the cherry on top was the fact that their hated rivals, San Francisco, won the World Series title that Dodgers fans so desperately wanted.
This year could mark a real turning point for the Los Angeles Dodgers. Several key players may be reaching the end of the line while their young core is quickly reaching a situation where either they will step up and carry this team into a new era or they will remain tantalizing, but ultimately unfulfilling, Potential Guys.
Get a FREE 50% Signup Bonus at Bookmaker Sportsbook - Click Here
This team can compete. But as opposed to the last two seasons they enter April a bit under the radar and without much in the way of expectations out West. I know that description sounds a little like the 2010 Giants, and I'm sure the Dodgers are hoping that the story ends up with the same ending.
Here are Doc's Sports 2011 Los Angeles Dodgers Predictions and MLB Futures Odds:
2010 Record: 80-82
2011 Wins Over/Under: 82.0
Odds To Win 2011 NL West: 6.2/1
Odds To Win 2011 NL Pennant: 15/1
2011 Los Angeles Dodgers Odds to Win World Series: 30/1
Pitching: Every year it seems like the Dodgers just grab guys off the scrap heap and coax solid seasons out of them. Whether it is a reclamation starter or some retread having a great year in the bullpen the Dodgers always seem to manage excellent pitching thanks to pitching coach Rick Honeycutt. Their 3.90 ERA is the lowest in baseball since he took over that spot in 2006. Clay Kershaw has blossomed into an elite left-handed starter. But if the Dodgers are going to compete they need Chad Billingsley to revert back to his 2007 and 2008 form (28-15, 3.23 ERA) as opposed to the inconsistent, sloppy pitcher they have seen the last two years (24-22, 3.80). Behind that pair is a group of proven veterans that may not overwhelm you (or West hitters) but are guys with track records of success. Ted Lilly, Hiroki Kuroda and Jon Garland are each capable of making 30 or more starts this year and giving the Dodgers a lot of quality innings. The bullpen, always a strength, has some question marks after Jon Broxton's pathetic second half in 2010. If he doesn't regain his elite stature then L.A. will be weak on the back end. And in this division – where so many games are decided in the last two or three innings – that is a major, major problem. The setup men have a nice blend of youth, experience and talent. But I don't know that anyone else on the roster is ready to step up if Broxton slides down.
Hitting: Two years ago the front office went out and got Manny Ramirez to anchor the Dodgers lineup until young studs Andre Ethier, James Loney and Matt Kemp were ready to carry the team. Manny is gone, so it is time for that trio to step up. All three had relatively down years in 2010, with promise in one area (Kemp's 28 home runs or Ethier's All Star appearance) dampened by disappointment in another (Kemp's .249 average and Ethier's injury-depressed second half). Loney hit under .270 and this team needs all three of these pistons firing if they are going to complete. Rafael Furcal is the other X-Factor for this team (see below) and they desperately need him to stay healthy and provide consistent leadoff production. They overpaid for Juan Uribe, but with Casey Blake aging and already breaking down a bit in Spring Training he provides valuable insurance. Beyond that the Dodgers have a thin bench and a bunch of stopgap players and not much depth. So, as I mentioned, their season is going to live and die on the production of their three young stars. It is time for them to grow up and produce with the big boys.
Key Stat: The Dodgers have a solid .542 winning percentage (304-257) when Furcal is in the lineup and are just .500 (125-124) when he is out. Furcal is lethal against lefties and is a spark at the top of the order. But he's played more than 100 games just one time in the last three years.
2011 Los Angeles Dodgers Predictions: New manager Don Mattingly takes over for one of the greats, Joe Torre. And that shift signals a bit of a new era for the Dodgers. However, they still have the same core and it is all up to the usual suspects – Furcal, Ethier, Loney, Kemp, Billingsley, Broxton, and Kershaw – to make or break this team. I think that the Dodgers will be more focused heading into this season and I think that they could be a very good value bet. Things always get crazy out West and if the stars align there is no reason that they couldn't catch fire and make some noise. The key guys are the youngsters, but there is also a lot of pressure on veterans like Lilly, Blake, Uribe, and Kuroda. Those guys have all been successful in recent years. And they have each been busts in recent years. So the bottom line is that there is potential with this team and my prediction is that for a one- or two-month stretch this year they will put together a run equal to the best teams in the National League. But they need that run to be in the first half of the year. Because if they are scuffling around the trade deadline I predict they will start selling parts and building for the future rather than look to make another Manny-type splash (Albert Pujols, anyone?) to gear up for a stretch run.
2011 Los Angeles Dodgers MLB Season Win Totals Predictions: 'Under' 83.5. This is really a tough bet to make. I do think that the Dodgers will be a better, more consistent team than the one that we saw last year. I think if you line them up in a three-game series against any of the teams in the West they are as talented and as dangerous as anyone. But the season isn't a three-game series. And I am not convinced that the young guns, in the pitching staff and on the field, are enough to carry this team to an 86- or 88-win season. Also, the ownership feud between the McCourts continues to drag on. And if this team wants to be a real threat to return to the postseason they are going to have to add another big bat and, potentially, another difference making arm. It remains to be seen whether or not ownership will be in a position to do what is needed.
Robert Ferringo is a professional sports handicapper for Doc's Sports. He is considered one of the top MLB cappers in the country and has turned a profit in four of the last five years on the diamond with his baseball picks. He closed 2010 with $6,000 in earnings over the last four months and is looking forward to a great upcoming season against the MLB odds. Click here for more information on his MLB picks.