NBA All-Star Slam Dunk Contest Odds and Predictions
by Nicholas Tolomeo - 2/18/2011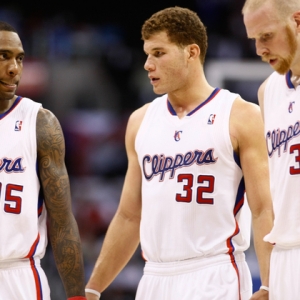 The much hyped and heralded Slam Dunk Contest is undeniably the highlight of the NBA all-star week. Much like baseball's Home Run Derby, the NBA Slam Dunk Contest generates more attention, hype and usually controversy than the All-Star Game itself.
This year the main attraction is Los Angeles Clippers forward Blake Griffin, the high-flying double-double machine and runaway Rookie of the Year. Some are calling this Griffin vs. the field. Most casual NBA fans probably do not recognize the other three contestants next to Griffin. Here is a quick rundown of the other contenders who will challenge all 6-10, 251 pounds of Griffin on Saturday in his home arena, the Staples Center, at 8 p.m. EST. We will also offer odds and predictions for this betting prop.
DeMar DeRozan, Toronto guard (6-7, 220), Serge Ibaka, Oklahoma City forward/center (6-10, 235) and JaVale McGee, Washington center (7-0, 252).
On Sportsbook.com Griffin is the obvious favorite at –250 with DeRozan listed at +300, McGee at +700 and Ibaka at +800.
Betting on the NBA all-star dunk contest is one of the few bets you can actually play a part in, as fan text messaging determines the final round winner. It might be cool to play a hand in the end result, but it also means that thousands of people across the country are deciding the fate of your wager via text message.
Not only does Griffin's power, strength, explosiveness and hops give him an advantage, but the text message factor helps him immensely as well. I can't imagine that many people going out of their way to text for DeRozan, Ibaka or McGee.
If this was not a popularity contest, the favorite would likely be DeRozan. He has experience and the best size when it comes to elevating and maneuvering in the air. DeRozan took part in the dunk contest last year. He had the highest score in the first round overall with a 92 and was the only contestant to score a perfect 50, but he lost via text message (51 percent to 49 percent) to tiny Nate Robinson in the finals.
Most agree that DeRozan was robbed of that title. There may be some sentiment to give him a makeup call this year, especially with the competition taking place in his backyard (DeRozan is from Compton and a USC alum). Contestants have typically gotten better in their second dunk contests. Just look at examples like Nate Robinson and Dwight Howard. And despite its relative NBA obscurity, Toronto is best known for its performance in dunk contests. The Raptors sent 2000 winner Vince Carter to the contest along with finalists Tracy McGrady, Jamario Moon and DeRozan last year.
There is absolutely no value laying –250 in a recreational contest decided by judges and text messages. But there is plenty of value with DeRozan at +300.