NBA Picks: Hawks at Bulls Game 2 Odds and Predictions
by Alan Matthews - 5/4/2011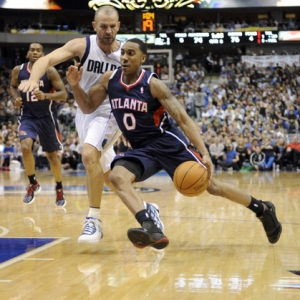 Few would have given the Atlanta Hawks much of a chance in their Eastern Conference semifinal series against the Chicago Bulls regardless, but when Hawks guard Kirk Hinrich, the former Bull, was likely ruled out for the series this sure looked like a sweep waiting to happen. Hinrich is one of the best perimeter defenders in the league and a guy that Bulls star Derrick Rose has said gives him as much defensive trouble as anyone. After all, they did practice against each other for two years.
Now, the stat line from Atlanta's Game 1 103-95 upset win will show that Joe Johnson was the star. And he was brilliant, scoring 34 points and hitting 12-of-18 shots, including all five three-point attempts. But the guy who got the game ball afterward was backup point guard Jeff Teague. He had played in only 70 games this season, with 12 appearances for less than five minutes and nine others for less than 10 minutes. But he started for the injured Hinrich and played tremendous defense on Rose and was on the floor for a team-high 45 minutes with 10 points, five assists and just one turnover.
Rose, who was officially named NBA MVP on Tuesday, had 24 points and 10 assists but didn't attempt one single free throw for the first time since Dec. 15 and was just 11-for-27 from the field.
Hawks at Bulls Betting Story Lines
If you watched Game 1 you saw Rose out on the court in the final seconds for some reason despite the fact the game was most certainly over. And naturally he turned the same ankle he tweaked in the Pacers series. But Rose participated in the entire Chicago Bulls' practice Tuesday and coach Tom Thibodeau said Rose had no lingering effects.

"He came in and didn't have any swelling," Thibodeau said. "He said he was fine and went through everything. So that was encouraging."
Rose said he plans on attacking much more in Game 2. Thibodeau also said Carlos Boozer went the entire practice and the turf toe in his right big toe is improving. Boozer wasn't a huge factor in Game 1 with 14 points and eight boards.
The Bulls will certainly turn up the heat on defense after allowing Atlanta to shoot a blistering 51 percent from the field (40-for-78), making 7-of-13 three-point shots against a Bulls team that led the NBA in field-goal defense (43 percent) during the regular season.
And the Hawks tend to lose focus in the wake of success. After defeating Orlando by 10 points in the series opener two weeks ago, the Hawks quickly fell into a double-digit deficit in Game 2 and lost by six. During the regular season, the Hawks were 6-18 against teams that won at least 50 games and three of those victories were against Orlando. When last they'd faced Chicago, they trailed by 47 points at home.
Chicago better win here because only three higher-seeded teams have come back to win a best-of-seven playoff series after losing the first two games on their home court. The Bulls didn't lose consecutive games at home during the regular season.
Hawks at Bulls Betting Odds and Key Trends
The Bulls have opened as 8.5-point favorites with the total at 179.5 on NBA odds.
Atlanta is 7-1 ATS in its past eight after a win.
Chicago is 2-8 ATS in its past 10 at home. The Bulls are just 1-8 ATS in their past nine at home vs. teams with a losing road record (which Atlanta had in the regular season).
The 'under' is 5-1 in Atlanta's past six games.
The 'over' is 8-3 in Chicago's past eight vs. a team with a winning record.
The 'over' is 5-1 in the past six in Chicago
.
Atlanta is 8-3 ATS in the past 11 meetings.
NBA Picks: Hawks at Bulls Predictions
Atlanta had actually given the Bulls fits for the past few years until Chicago took two of three during the regular season in lopsided fashion. So maybe Game 1 isn't a fluke. Some teams just give others matchup problems. I watched a few interviews with Rose on Tuesday and it's clear is he going to be very motivated for this game. And Joe Johnson won't be that deadly again. No doubt in my mind that Chicago wins, but 8.5 points seems like way too many – unless the disinterested Hawks show up. But maybe they have figured things out. So take Atlanta and the points and the 'over'.
Allen Eastman has been dominating the NBA odds lately and his NBA picks have tallied an 12-5 run for the NBA Playoffs. His NBA handicapping is considered amongst the top in the nation and he has another strong card coming for Wednesday. Click Here to buy a one-day package for only $29.