NCAA Football Odds and Predictions: Big 12 Player Props
by Alan Matthews - 8/30/2011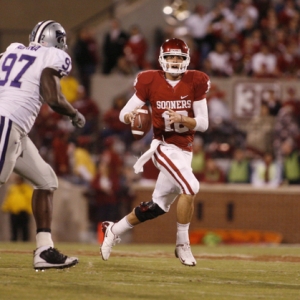 We continue our look at some NCAA football conference player props offered by Bodog with the Big 12 today – a conference of 10 teams (at least for one more year until Texas A&M bolts to the SEC) and now without a regular-season ending title game. Actually, that fact probably helps the elite of the Big 12 because three times a team has been booted from national title contention because of an upset loss in the Big 12 title game.
This clearly isn't your father's Big 12 any longer. In that I mean no longer is it the wishbone, run-it-down-your gut Barry Switzer/Tom Osborne Big 12. You could make an argument that the Big 12 is now the most pass-happy BCS conference in the land. Seriously, name me more than one marquee/Heisman candidate "passing" QB in the SEC other than Georgia's Aaron Murray. Big Ten? There's some great dual-threats there like Michigan's Denard Robinson and Nebraska's Taylor Martinez, but Michigan State's Kirk Cousins or one-year starter Russell Wilson of Wisconsin are your best pure throwers. The Pac-12 has USC's Matt Barkley and Heisman Trophy favorite Andrew Luck of Stanford, and that's about it. The Big East? Geno Smith, Zach Collaros maybe. ACC? Perhaps Maryland's Danny O'Brien becomes a star.
I would argue that the Big 12 has the best lot of QBs in the nation, led by Oklahoma's Landry Jones (my Heisman Trophy prediction), OSU's Brandon Weeden and Baylor's Robert Griffin. With that said, let's start with the Big 12 QB props offered at Bodog: most passing yards and passing TDs this season. Jones, Weeden and Griffin are the only three offered, with Jones the big favorite in both props at -300 for yards passing and -200 for touchdown passes. It's hard to bet against Jones after he passed for 4,718 yards with 38 touchdowns last season. Griffin is a great dual threat himself, but really only Weeden has a shot to have better numbers than Jones. Last year Weeden threw for 4,277 yards and 34 touchdowns. Some wonder if the loss of offensive coordinator Dana Holgorsen will lower Weeden's number some. However. You have to go Jones here.
As for the guys who catch the balls, the Big 12 is unquestionably home to the two best receivers in the nation in Oklahoma's Ryan Broyles and OSU's Justin Blackmon. Those two are the big favorites in the receiving yards and receiving touchdown props, with Broyles at 7/4 in both and Blackmon, a likely Top 5 pick in next year's NFL Draft (Broyles is too short, so likely a second or third rounder), at 2/1 in both. I'm not even going to mention the other players available in this prop because one of these guys will certainly lead the conference in yards and TDs. And I like Blackmon in both because OU has more weapons. You could argue that means opposing defenses could thus focus more on Blackmon than Broyles, but Blackmon is just a beast. He finished last season with 111 catches for 1,782 yards (a national-leading 148.5 yards per game) and 20 touchdowns, both ahead of Broyles. Go with Blackmon.
Finally, on the running back props there are six options for most rushing yards and TDs: Texas A&M's Cyrus Gray, Missouri's Henry Josey, Kansas' James Sims, OSU's Joseph Randle, Texas' Malcolm Brown and Oklahoma's Roy Finch. Now, Gray and Finch are the two biggest names here and two of the favorites in each prop, but each will share carries and play in a pass-heavy offense. Brown looks like a future star, but he also will have to share carries and isn't even the starter (Fozzy Whittaker). Sims had a nice freshman season with 742 yards and nine TDs last year, but he also is likely to share carries. Ditto with Josey and Randle. Based purely on value, I would go with Sims for TDs at 7/1 and Finch for yards at 13/4.