NFL Survivor Pool Picks and Advice: Week 3
by Mett Severance - 9/22/2011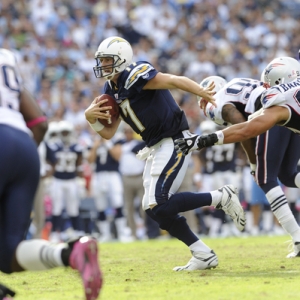 Not sure if it's because the lockout robbed teams of OTAs, workouts, minicamps and the like, but the season has been pretty chalk so far in terms of lacking big upsets thus far.
Certainly it appears that offenses are ahead of defenses as there have been the most touchdowns scored through two weeks in NFL history, and quarterbacks are putting up a record amount of 300-yard games – not to mention Tom Brady and Cam Newton throwing for at least 400 yards in each game so far. Newton is the first player ever to start with back-to-back 400-yard games, and Brady is on pace for nearly 7,500 yards.
Last week the only game I would say were minor surprises were the Titans beating the Ravens rather easily and the Falcons rallying past the Eagles once Michael Vick went out injured. But both Baltimore and Philly were on the road, so I doubt anyone in your survivor pool chose either club.
I went with the Pittsburgh Steelers, who no doubt were a popular pick in your league considering the Steelers were the biggest favorites on the board vs. the Seahawks. They made Seattle look like a JV team in pitching their first shutout since 2008 and holding the Seahawks, who look like the NFC's worst team, to 164 total yards.
So that's New England and Pittsburgh off the board so far. On to Week 3 of our NFL survivor pool picks.
Worth Considering
Ravens at Rams: This is only if Steven Jackson doesn't play for St. Louis. If he doesn't, everything would seem to point to Baltimore, especially with the Rams on a short week.
Steelers at Colts: Indy looks simply lost without Peyton Manning, and the Steelers, off that dominating effort against an equally bad Seattle offense (as in equal to Indy's), seem like a lock. But I already used them.
Chiefs at Chargers: I told you it was worth taking a look at the Lions over the Chiefs last week and Detroit blasted KC, 48-3. The Chiefs look like the NFL's worst team in being outscored a combined 99-10 so far, the largest margin of defeat through two weeks by any reigning division champion in history. And did I mention that K.C. lost Pro Bowl running back Jamaal Charles for the season?
Too Even To Bother
49ers at Bengals: San Francisco had no right losing last week to Dallas and could be 2-0. Of course, if it weren't for Ted Ginn Jr. the Niners would possibly be 0-2. The Bengals have been a little better than I thought they would be. But these clubs are about the same.
Broncos at Titans: Two blah teams. I'd expect a Titans victory but wouldn't exactly surprise me if Denver won.
Texans at Saints: This should be the highest-scoring game of the week. Houston could easily go into New Orleans and win, although that would be tougher if Arian Foster doesn't play.
Jaguars at Panthers: If the Jags were at about 25 other teams this week I probably would pick against them. But not here because maybe Blaine Gabbert is the real deal. Of course, this is the Rookie Bowl with Gabbert vs. Newton.
Jets at Raiders: Oakland's Darren McFadden is now a Top 5 running back and Oakland should be 2-0 if not for blowing a 21-3 lead last week vs. Buffalo. I actually think the Raiders win this one, but they are 3.5-point dogs.
Packers at Bears: Chicago will play much better this week because the Bears will emphasize the run to save Jay Cutler's life. And the Bears seem to know how to defend against Aaron Rodgers. But Pack are still road favorites.
Cardinals at Seahawks: You might be tempted to pile on Seattle and take the Cardinals, but the Seahawks are going to win at least 5-6 games this season, and probably the majority of them at home. Plus this is their home opener.
Falcons at Buccaneers: I honestly don't know what to make of either team yet.
Redskins at Cowboys: Tony Romo is going to try and play, and apparently DeAngelo Hall is going to try and bash him in those ribs. If Romo was healthy I'd put this in the "worth considering" section because I'm still not a believer in the Redskins.
Stay Far, Far Away
Lions at Vikings: Yes, the Lions look terrific so far. Yes, the Vikings have blown two 17-point halftime leads and Donovan McNabb looks washed up. But Minnesota has won 13 straight at home in this series and Adrian Peterson usually tears up the Lions.
Dolphins at Browns: Some of you might be tempted to use Cleveland this week because you would expect it would be a freebie – i.e. you entered the season thinking you'd never use the Browns. But I actually think Miami is glad to be away from home, where the Fins have lost nine of their past 10. They might win here.
Patriots at Bills: As mentioned above, I have already used New England. The Pats have won 15 in a row over Buffalo, but I am on the Ryan Fitzpatrick bandwagon. It wouldn't surprise me at all to see the Bills pull the upset here.
Giants at Eagles: The Giants haven't looked very good, and it's hard to see Philly dropping two in a row with all that talent. But we may not know about Michael Vick's status until game day. I'm not confident in Mike Kafka.
And The Pick Is ….
I used Pittsburgh and Baltimore is on the road, so the Chargers have to be the pick this week, even though everyone will take them. So that's San Diego, New England and Pittsburgh off the board. Hate to use three heavyweights so early, but it's all about advancing.
Doc's Sports has earned three straight winning weeks for football picks. We have picked up +24 units already this season and $100 bettors are up nearly $2,000 already. We are also a perfect 4-0 with our last four free picks so be sure to sign up for a package or at least some by and check out our free football betting picks each week.