NHL Predictions: Stanley Cup Futures Odds
by Trevor Whenham - 3/24/2011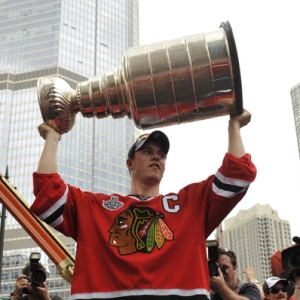 We're into the stretch drive of the NHL regular season. Teams that have playoff positions secured are looking to get into postseason form, and those that want a spot but don't have one secured yet are either desperately fighting for one, or wilting under the pressure. This time before the playoffs start, when casual hockey bettors start to pay more attention to the sport, is a good time to take another look at Stanley Cup futures to see if we can find any NHL predictions worth betting on (odds are from BetUS):
Detroit Red Wings (+700) - You can obviously never count out the Red Wings given the playoff success they have had. The more I watch them, though, the more I think that this just isn't their year. They are undeniably an older team, and they are looking their age. They aren't as sharp as they should be, and I am not entirely convinced that they are capable of stepping their game up once the playoffs start. I think this price represents their reputation and past far better than it assesses their chances this year.
San Jose Sharks (+800) - Trusting the Sharks at any time in the playoffs is a very dangerous proposition -- no team can falter under pressure like these guys. That being said, I love how they are playing right now. They have clearly shifted into a higher gear, and they seem focused on the playoffs more than they have in other years. The team knows that the window is closing for their core group, and that they are capable right now. I like them a lot better than Detroit at their slightly better price.
Washington Capitals (+500) - There is something very strange going on with this team. They are clearly talented, but they have never really shifted into gear this year. Now they have given Alexander Ovechkin time off to get ready for the playoffs despite proclaiming that he is healthy -- obviously a lie. I have liked this team the last couple of years and been burned. This year I just am not interested -- especially at this ridiculous price. This team just isn't tough enough to warrant the risk.
Philadelphia Flyers (+550) - The Flyers are, in my eyes, the clear class of the Eastern Conference. They proved last year that they can perform in the playoffs -- at least against their conference. If you like the East then I guess you have to like this price. I just can't justify taking a team from the East when the West is so much better and deeper this year. You could go with the logic that the Flyers could have an easy trip to the Finals compared to the West team that will be beaten up by playing great teams along the way, but that's just not enough in my eyes.
Boston Bruins (+900) - This is an intriguing option in the East. Decent teams can be carried a long way in the playoffs by a hot goalie -- just look at Montreal last year. Boston is much better than Montreal was, and Tim Thomas is as good as any goalie on the planet right now, so they could certainly make some noise if they get things rolling. At +1200 or so I would be all over this team, but at this price I'm only just tempted.
Chicago Blackhawks (+1600) - I keep thinking that this is the best price on the board, but I am not totally convinced I am right. I am fully aware that this is not the team that won the Cup last year. The young core of superstar-level talent is the same, though, and they are seasoned both by the Cup run and the Olympics. They have struggled to maintain consistency, but they have definitely improved as the season has gone along, and I am confident that there is still another gear left to find. I would be all over them at this price if I felt better about their goaltending, but I just don't yet trust that they have what it takes to go all the way. Of course, I had the same concerns at this time last year and they were just fine. I'll talk myself into and out of backing this team several times before the playoffs start.
Vancouver Canucks (+300) - I think Vancouver is the best team in the league, and I don't even think it's that close right now. The problem, though, is that the price is ridiculously low for any team given how hard winning in the Stanley Cup Playoffs is. I would be more comfortable backing them if they had been more consistently impressive in the playoffs, but they rival the Sharks for being disappointing when the pressure is on. My instinct here is clearly to pass on them at this price. The only problem with that is that I really do think they are going to win, so if I pass on them and look elsewhere I am setting myself up for a loss. If only they were at +500.
Longshots - You'll notice that I haven't discussed any longshots here outside of perhaps the Blackhawks. There's a good reason for that -- I just don't see one breaking through. The gap between the elite teams and the rest is pronounced this year, and there isn't a team that stands out to me. I could make an argument for the Kings (+1400) in the West or the Lightning (+1800) in the East, but neither is a serious longshot, and both struggle with consistency far too much to make that argument anything more than half-hearted. I just don't see a team beyond the seven I mentioned really posing a serious threat.