Predictions for Where Jim Harbaugh Will Coach Next
by Trevor Whenham - 1/5/2011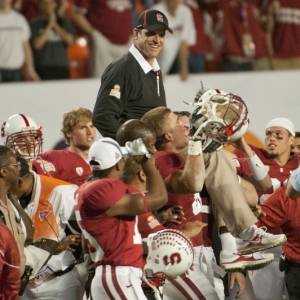 Everyone loves a good coaching circus, and the one surrounding Stanford's Jim Harbaugh is as good as any we have seen in a long while. Harbaugh is, to put it mildly, a hot commodity. If you watched the Orange Bowl on Monday night you have a good sense of why.
In the first half his team looked solid, but they were in very tough against Virginia Tech. The Hokies went into the half down by one, but seemed to have a slight edge overall. Harbaugh made one of the better adjustments you'll ever see by a coach at the half, though, and the Cardinal came out in the second half with guns blazing.
They scored 27 unanswered points in the second half, and a Tech secondary that had shut down the Stanford passing game in the first half was absolutely destroyed in the second half -- three of the touchdowns were on long passing plays. It was a wildly impressive showing that made both Harbaugh and QB Andrew Luck richer than they were already going to be.
Harbaugh hasn't confirmed that he wants to leave Stanford, but it's not hard to see why he would. He can clearly win there, and his incoming recruiting class is excellent. I've been to a game at Stanford, though, and the problem is obvious -- it's a beautiful new stadium they play in, but it's small (compared to the football temples at major programs), and a lot of people come dressed as empty seats.
Stanford played a prime time home game against a ranked Arizona team this year and the place was still way emptier than it should have been. It's more like a morgue than a stadium sound-wise, too. Harbaugh can build something great at Stanford, but it isn't likely to create the hysteria that other programs have, and that is a missing piece.
Stanford obviously wants to have Harbaugh back, and they will throw lots of money at him to keep him. I still think he is leaving, though staying wouldn't be as big of a surprise as it seemed a few days ago. If he decides to leave, though, there are two choices -- Michigan, his alma mater, or the NFL. In the NFL San Francisco and Denver are definitely interested, Carolina is a factor, especially because they have the No. 1 pick and could take Luck, and the word is that Miami shouldn't be ruled out. Let's look at each option:
Michigan
Pro: He would get to play in the biggest stadium in the country and for one of the most national and rabid fanbases. Denard Robinson is a Heisman Trophy-caliber QB. Coaching at an alma mater is always a big draw for a coach. Michigan's fans are starved for success after three ugly years, and would be wildly supportive. Money would not be an issue, and the facilities are newly upgraded and top notch.
Con: The team is a mess right now. Defense and special teams are both incomprehensibly awful. The offense is much better, but doesn't have a lot of pieces similar to what Harbaugh seems to prefer. That means starting over. Michigan's fans are fickle, too -- Rodriguez has never been given a full chance to shine.
Denver
Pro: Strong franchise in winnable division. It's the NFL. Like with any NFL job he would have a chance to coach against his brother John -- the head man at Baltimore.
Con: Tim Tebow is a big risk right now as the QB, and could be a coach killer. John Elway is new to management, so we don't know how good he is going to be. Harbaugh will never be as popular in Denver as Elway, so he would lose big fights.
San Francisco
Pro: He could keep living where he is -- something his wife and newborn child are reportedly in favor of. The team doesn't have a GM yet, so someone could be brought in who Harbaugh would like to work with. Division is very soft.
Con: The franchise has a long recent history of disappointment, and doesn't have a QB on board. Ownership is terrible.
Miami
Pro: Owner with creativity and deep pockets. Some pieces in place.
Con. Brutal division. Fickle fan support.
Carolina
Pro: Chance to work with Luck.
Con: Awful owner. Empty cupboards. Lousy fan support. Unlikely to be willing to pay what he wants.
Bottom line - Reports on Tuesday morning indicated that Michigan had fallen out of favor, and that it was either Stanford or the NFL. I'm not buying it.
First, there has been a whole lot of conflicting information throughout the process, and nothing is meaningful until Harbaugh says it is. More importantly, though, Harbaugh still has a job and Michigan still has a coach (or at least they did until Tuesday afternoon), so he's going to be very careful about saying anything about that situation until at least one of those things change. Michigan can empty the vault for Harbaugh, and he can be a coaching legend if he succeeds at Michigan -- something that Stanford can't offer him to nearly the same extent.
If he stays in college I still believe it will be Michigan. I also still believe he will stay in college. None of the NFL jobs available are hugely attractive, and he's a young guy so he'll still have a chance to go to the NFL after spending time at Michigan if he still wants to. If he doesn't take the Michigan job now then he might never get the chance again. There's also the CBA issue in the NFL. Why would a guy want to get involved in a league that might not play next year -- and which might look very different even if it does. All in all, Michigan has the most to offer, and the most upside.