2011 Syracuse Orange Football Predictions and Big East Odds
by Robert Ferringo - 7/29/2011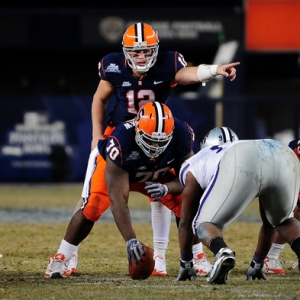 The Glory Days aren't back to the Carrier Dome. Yet. But every sunrise brings the Syracuse football team one day closer than they were yesterday.
It wasn't long ago that eight wins and a bowl win over a BCS school were the standard fare for Syracuse fans. But after four long, cold years at the depths of the college football outhouse, last year's 8-5 mark and Pinstripe Bowl win over Kansas State felt like order was being restored for one of the proudest, most accomplished college programs in the Northeast.
Sure, maybe I'm willing to ignore the fact that Syracuse made it to a bowl game because Akron, Maine and Colgate were on the schedule. But SU still won four Big East road games – including wins at West Virginia and Cincinnati – and was the better team in their Pinstripe Bowl win over Kansas State.
This year we'll find out if last season was a mirage due to an obscenely easy schedule or if the Orange really are building momentum en route to a return to the top of the Big East. Here is Doc's Sports 2011 Syracuse Orange college football preview and predictions:
Coaching
Doug Marrone is heading into his third year rebuilding this proud program. He is still picking up the pieces from the complete and utter disaster left behind by the atrocious Greg Robinson. And Marrone has done things the right way, rebuilding this team with a focus on defense, running the ball, and grinding things out with a toughness that you can't always teach.
Marrone called his own plays last year and was one of the more conservative OCs in the nation. He's handed over the reigns to quarterbacks coach Nate Hackett, but I don't expect the Orange to get much more daring. Scott Shafer continues to lead the defense.
Offense
To say that Syracuse put up modest offensive numbers in 2010 would be an understatement. They finished No. 93 in the country in scoring, No. 91 in passing and No. 97 in total offense. Syracuse scored 20 points or less in eight of its 13 games and they averaged less than 17 points in Big East games.
However, they actually won three games in which they didn't notch more than 19 points. And while the offense wasn't loaded with playmakers, their statistics were definitely more representative of the Syracuse scheme than of the actual talent. The Orange were just about winning games. And in several games that meant the Orange simply needed to control the ball, grind the clock, play the field position game, not turn the ball over, and let the defense do the heavy lifting. In most instances they managed to do just that.
But this year the Orange's offense needs to take the next step. Junior Ryan Nassib is back to lead the offense and he will need to show an ability to make winning plays this year and not simply avoid making losing ones. Nassib will play behind a veteran offensive line, and all told the Orange have eight of 11 starters (and two other guys with starting experience) back from last year.
The skill positions are stocked with experience, with the starting receivers, tailback and tight end comprised of four seniors and a junior. Syracuse has its five top receivers back and last year's backup running back, Antwon Bailey, has all-conference potential. Syracuse will definitely miss workhorse Delone Carter. But they will rely on experience in lieu of top-end talent.

Defense
Quietly dominant would be the best way to describe the 2010 Syracuse defense. They were in the Top 10 nationally in pass defense and total defense and they were No. 17 in points allowed while giving up 19.3 per game. They nearly singlehandedly won Syracuse three games (and that doesn't even count their performance at Cincinnati) and were the foundation of this team.
But the Orange lost a load of seniors off last year's group, which Marrone had essentially built from scratch. They lost two defensive tackles, two linebackers and two corners, and we'll find out how well the Orange have been recruiting because the new pieces are all pretty young.
The positive are that this team should still be able to rush the passer with ends Chandler Jones and Mikhail Marinovich poised for a big year. And the pass defense should be OK with three-year starter Phil Thomas holding it down at free safety. But they only have five of their top 12 tacklers back and as experienced as they are on offense they are the exact opposite on this side of the ball.
2011 Syracuse Orange Football Schedule Analysis
The Orange have an important game to open the season. They host Wake Forest, and after a season in which Syracuse went 0-4 against D-I opponents at home last year getting off to a fast start in the Dome is imperative. A win in that game and it is very possible that Syracuse will be 5-1 and coming off a bye week when they host West Virginia on Oct. 21.
The marquee game of the nonconference slate is a trip to Los Angeles to take on USC. Even though the Trojans are in decline they are still a significant step up in class for the Orange. And over the course of the last 18 years Syracuse is 0-3 on the West Coast with their losses coming by an average of nearly 20 points per game.
Syracuse should handle Rhode Island, Toledo and Rutgers at home, as well as Tulane on the road. That would lead them into the Big East schedule, starting with that Friday night marquee game against the Mountaineers. After that the Orange head to Louisville to play in a series that has favored the road team and the underdog lately. A trip to Storrs – where the Orange have gotten rocked recently – and a home game against South Florida await before another bye.
The fact that Syracuse's football schedule has two bye weeks to prepare for Big East home games is a huge edge. Their final Dome game is against Cincinnati before the season finale at Pittsburgh. It would be ambitious to suggest that the game with Pitt could be for the Big East championship. But stranger things have happened in this conference.
2011 Syracuse Orange BCS and Big East Odds
WagerWeb has Syracuse listed as a 12-to-1 longshot to win the Big East Championship. Bodog Sportsbook has Syracuse included in "The Field" at 20-to-1 to win the National Championship. On their own the odds of them winning it all would have to be around 100-to-1.
2011 Syracuse Orange Football Predictions
As a diehard Syracuse fan I trust Doug Marrone completely. It's obvious that he knows what he's doing and I love the attitude and philosophy – run the ball, play great defense, and outwork and out-tough your opponents – which he has brought back to the Carrier Dome. Over the last two years he essentially built the roster out of twigs and spit and the Orange have managed to win more games in the last two seasons (12) than in the previous four combined (10).
As a college football handicapper there is just no way that I can ignore Syracuse's cupcake schedule last year. Sure, they played great on the road and were an excessively live dog, winning four games outright as underdogs. But last year the Orange had a solid confluence of factors – veteran team, easy schedule, down year in the conference, etc. – conspire for their successful season. Hey, after dealing with one of the most precipitous falls from grace of any program in the last 15 years I think that the Orange were due some breaks. But generally momentum doesn't carry over from one season to another and Syracuse will have to start fresh again this year.
The Orange are working their way back. And while their opener is critical to their bowl aspirations this year that game at USC is crucial to regaining a toehold in the national consciousness. Syracuse once again has a pretty easy early season schedule (although not as comically bad as last year's). And since you really never can tell what is going on in the Big East from year-to-year there really is no reason not to think that Syracuse can compete for the league's BCS berth.
This year the Orange don't have the experience on defense to take The Next Step. However, the offense should be much more explosive (which should help them handle the weaker teams) and Marrone will have them competitive. Syracuse is a couple seasons away from being all the way "back". But they are headed in the right direction.
Robert Ferringo is a professional football handicapper and is coming off an exceptionally profitable 2010-11 football betting season (college and pro). Over the last year his football picks clients have more than tripled their bankrolls with his predictions in all sports. He is looking forward to building on his stellar football handicapping resume again this fall and you can check him out here.