Weekly CFB Mid-Major Betting Report: Rice Owls Week 5
by Aaron Smith - 9/29/2011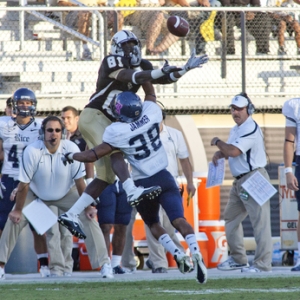 We're back with another installment of the mid-major report. Before the season, the Rice Owls were picked at a random to be the mid-major team of choice that I will follow all season long. I'll be analyzing all the numbers from every game, following players and staff members on Twitter, and using reports from Rice beat writers to help gain an edge on the books.
The goal of this report is to show the average bettor how specialization can be a profitable sports betting strategy. At the end of each report, I'll be making a selection on the Rice game for the upcoming weekend. We will be using Doc's Sports Unit Betting System for every pick, which will help readers follow along and track the results of these college football picks.
Last Week's Game
Rice got an up-close look at just how talented Robert Griffin III is in last week's loss. It's hard to imagine a quarterback having a better game than Griffin did against the Owls last weekend. He completed 29-of-33 pass attempts and threw for five touchdowns and no interceptions. Coach David Bailiff called Griffin's improvement over the past year "frightening." Baylor's offense rolled up a ridiculous 673 yards of total offense in their 56-31 win over Rice. My prediction was on Baylor -20.5, so last week's pick was a winner.
What happened to the Rice defense that was much improved over the course of the first couple weeks of the season? It seems that Rice just ran into the buzz saw which is the Baylor Bears offense.
Baylor is second in the country in total offense so far this year. They are averaging 594 yards of total offense per contest. The Bears put up 367 yards of passing offense last week. They also managed to run for 306 yards. Rice defensive end Scott Solomon said after the game that the blame belonged to the defensive line, which did not put enough pressure on Griffin.
The offense was effective in spurts, but a costly interception return for a touchdown in the third quarter really sealed the team's fate.
Notes of Interest
--In this week's press conference, Coach Bailiff said he was most disappointed by the mistakes his team made during last week's game. He spoke in-depth about the fumble in the red zone and the interception that was returned for a touchdown. Bailiff believes that Rice isn't far away from winning games against top competition, but he says they must stop committing so many penalties and setting back any progress.
--MK Bower of FoxSportsHouston has an interesting article up this week about the Owls tailback by committee approach. While Sam McGuffie and Jeremy Eddington were seen as the primary ball carriers before the season, it has been Turner Peterson and Tyler Smith who have performed best in 2011. Bower points out that Bailiff has been extremely non-committal regarding the tailback rotation in the coming weeks.
-Chuck Pool of RiceOwls.com mentioned on his Twitter account this week that Brett Favre will be doing color commentary for the Rice game against Southern Mississippi this weekend.
Betting Trends
--Rice is 0-6 ATS in their last six road games.
--The 'over' is 37-14 in the Owls last 51 road games.
--Southern Mississippi is 4-10 ATS in their last 14 October games.
Rice vs. Southern Mississippi College Football Odds
Southern Mississippi opened as 14.5-point home favorites in this one, according to college football odds. The line has edged toward the Golden Eagles over the course of the past couple days. Most books now have Southern Mississippi favored by 15.5 points. The posted total opened at 60 points, but it has been bet down to 58.
Rice vs. Southern Mississippi College Football Picks
Southern Mississippi is coming off an impressive road win over Virginia. I'm confident that Rice has the talent to score points on the Golden Eagles.
At the same time, I think Southern Mississippi will be able to move the ball consistently against the Rice defense. Austin Davis is a fourth-year senior quarterback who knows the Golden Eagles offense well. Davis has plenty of weapons surrounding him, and the Rice defense may have lost some confidence after last week's poor showing against Baylor.
Taylor McHargue continues to improve at the quarterback spot, which makes the Owls offense much more dangerous. I don't see any value on a side in this one, but I do like this one to go 'over' the posted total. Next week's report will feature a review of this game and a pick on the Owls matchup with the Memphis Tigers.
The Pick is 2 Units on Rice/Southern Mississippi 'over' 58 (-110)
Rice Weekly Picks Season Total: 2 Wins and 1 Loss (+$390)
If you like our Rice football feature, you will love Doc's Sports expert football picks. We have picked up +50 units thus far on the young season with our NFL and college football handicapping and $100 bettors have earned more than $4,000 already this season. We have a big card for this weekend that features our 7-Unit College Football Game of the Year. Click Here for more info.