Beyond the Top 25 - A College Hoops Weekly
by Taylor Jordan - Strike Point Sports - 2/8/2012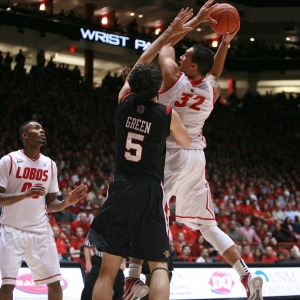 It's the first full week of February, and when talking college basketball that means one thing for me: Bracket Buster Saturday. For my enjoyment, this one particular weekend in mid-February has arguably the best offerings in college basketball (pre-March Madness, of course). You get a handful of the best mid-major on mid-major matchups, while still getting your fix of top matchups from all the big leagues around the country.
This year includes 13 games to be shown on ESPN's family of networks, and the best of the bunch is on Friday, Feb. 17 and Saturday, Feb. 18. No clash is better than undefeated and No. 7 Murray State hosting red-hot No. 13 St. Mary's, which is easily the most intriguing of this year's mid-major card.
In all, 71 teams from 16 conferences will take part in this showcase. Other notable games include: VCU vs. Northern Iowa, Cleveland State vs. Drexel and Creighton vs. Long Beach State.
Now to this week's view of those missing Top 25 cut. Here is a deeper look at the teams on the outside looking in for Week 14:
Iowa State, 17-7 (12-8 ATS)
Iowa State has done well to hold up their end of the bargain, as we did ours to promote them as a team worthy of the national rankings. The Cyclones followed up their Jan. 31 home upset of Kansas with another Ames victory over Kansas State, as well as a road win in Norman, Oklahoma, over the Sooners. They've covered five of six after falling on Tuesday in a tough on at Oklahoma State. But they have two more big games with Texas teams (A&M and Baylor) on the horizon in what are quickly becoming must-wins.
Notre Dame, 15-8 (7-8-2 ATS)
Raise your hand if you thought the Irish's season was all but over after they lost Tim Abromaitis for the year? Once everyone puts their hands down, I can admit for everyone that we were wrong. Notre Dame has been a pleasant surprise. Winners of four straight (including 4-0 ATS), the Irish have positioned themselves in the top quarter of the Big East standings. With no ranked opponents up in the next fortnight, let's see if the success can continue for South Bend's own.
Gonzaga, 18-4 (9-12-1 ATS)
This one is simple. Gonzaga gets back into the Top 25 with a home win against St. Mary's on Thursday. The Zags were woeful in the first meeting against the Gaels. And more than likely they lost a chance at the regular season WCC title with a second conference loss to BYU last Thursday. But, still, a victory in this game and Mark Few should get his squad back to familiar surroundings.
New Mexico, 19-4 (14-6 ATS)
The Lobos have had a great deal of success this season, both in the standings and at the counter for backers. New Mexico has rallied off four straight wins, covering all four to boot, after its consecutive losses to San Diego State and UNLV back in mid-January. Steve Alford's team now hosts an underrated Wyoming team before a road date at San Diego State on Feb. 15. They then get back to Albuquerque to face UNLV on the 18th of the month. These three results will make or break their immediate chances of making the rankings in February.
Nevada, 19-4 (13-6 ATS)
A home loss to Idaho last week likely put the Wolf Pack's ranked dreams on hold for a while. They are still holding strong at 19-4, so there's no need to hang their heads, especially with four of the team's next five WAC games being away from Reno. Sprinkle in a tough Bracket Buster matchup at Iona, and Nevada still can make up lost ground by running the table the next several weeks and getting back into consideration.
Southern Miss, 20-3 (11-8 ATS)
Oddly enough, the last team on this week's list is the only team who has reached the 20-win plateau this season. The Golden Eagles are a big hit in C-USA this year, currently leading the conference pack in first place. Nine of the last 10 games have been wins, notably the last two. Southern Mississippi bested league notables Central Florida and Memphis, so USM calls the shots in the conference as of now. The next week for them looks like this: at UAB, home to Central Florida and then another home game against Tulsa.
Strike Point Sports is one of the top college basketball handicapping groups in the country. Since Nov. 13 they have brought their backers a stunning $12,000 in winnings and they are 12-3-1 on plays rated 5.0 or higher. This week they are releasing a 5-Unit College Basketball Game of the Week and are just smoking hot right now. You can click here to sign up.
---
Most Recent College Basketball Handicapping