2012 Big 12 Football Predictions and Futures Odds
by Robert Ferringo - 7/31/2012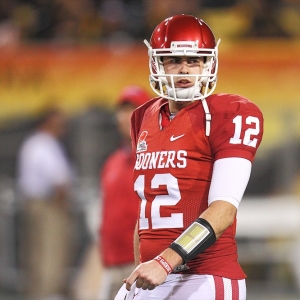 The Big 12, both collectively and individually, is having a bit of an identity crisis.
Oklahoma is trying to keep from becoming the August National Champions for about the fifth year in a row. (In the NFL we call this the San Diego Chargers Effect.)
Texas is trying to avoid the 8-4 record that would officially relegate them to also-ran status.
Oklahoma State is trying to replace an all-league quarterback and an NFL first-round pick at receiver – again.
Texas Tech is still trying to figure out who they are in the post-Mike Leach era and get over the fact that Craig James may have killed the Red Raiders program.
Newcomers West Virginia and TCU are trying to figure out where the hell they are playing.
Baylor is trying to figure out what to do now that Robert Griffin III's socks are in D.C.
And Kansas is trying to figure out how to play five-on-five.
This season is the dawn of a new day for the Big 12. About 18 months ago this was the league in the best position to challenge the long-term dominance of the SEC. Now the Big 12 is sans title game and is trying to pick up the pieces after being left without a chair when the music stopped during the recent conference realignment.
Here is a look at my 2012 Big 12 football predictions and futures odds, with the college football odds courtesy of Bovada:
The Favorite: Oklahoma (+120)
Stop me if you've heard this one, but Oklahoma is once again the Big 12 favorite and on the shortlist of national title contenders. It is tough to knock a program that has won 12 games twice in the last four years and five times over a 10-year span. But OU lost five games in 2009 and three last season. And despite routinely being a preseason National Championship favorite the Sooners haven't hoisted the hardware since 2000.
The Sooners face massively inflated lines from the oddsmakers and are a difficult team to make any money wagering on. I don't trust Landry Jones to make plays when his team is behind, but he has a lot of weapons and scoring rarely seems to be the issue.
OU's defense should be even better than the bunch that finished No. 1 in the league in points allowed and No. 31 nationally. They have 15 starters back, two bye weeks, and one of the best offensive lines in the nation. But they need to beat Texas in the Red River Rivalry on Oct. 8. If they do that then they will make it into late November as a Top 3 team.
The Challenger: Texas (+500)
The Longhorns defense should be able to bludgeon opponents into submission this year.
The biggest issue is that they still have huge questions under center and neither David Ash nor Case McCoy has really separated themselves in the quarterback battle to earn the trust of the team. Also, the Longhorns don't have that Heisman-caliber running back to rely on like they have so often over the last 15 years.
What they do have is 15 starters back and a lot of high-end talent. But with only four senior starters it might be another year before Texas is back among the nation's elite.
After losing just 12 games between 2003 and 2009 the Longhorns have gone just 13-12 over the last two years. They may need to settle for a return to a place among the Big 12 elite before they have any national title hopes.
The Dark Horse: West Virginia (+500)
There are 15 starters back and Dana Holgersen has had a full year to implement his offense. Remember: this program had a messy coaching snafu last summer and Holgersen was trying to do everything on the fly in 2011. Now he has an absolutely ridiculous six three-year starters on offense, including a quarterback, two receivers and three linemen that are uber-experienced.
The Mountaineers will have to adjust to Big 12 venues and style of play. But they should also be unstoppable in Morgantown and have a chance to make a huge statement on Nov. 17 when they host OU.
The Mountaineers need to get things figured out on defense – quickly. But if they do this team could shock its new conference.
The X-Factor: Kansas State (+1900)
I have no idea what to make of this team. Last year was bizarre, as they were one of the best bets in the sport while going 10-2 straight up with six outright underdog wins. K-State's only losses were to Top 10 staples Oklahoma, Oklahoma State and Arkansas.
They have 14 returning starters, including quality quarterback Collin Klein and a bevy of skill players. Bill Snyder is a master. And they are one of the toughest, most physical teams in the Big 12.
That is a lot in the "pros" column. But I can't shake the feeling that so much of what they accomplished last year was a fluke or just dumb luck. Can they really do it again even though they won't sneak up on anyone?
The Disappointment: Oklahoma State (+800)
It was stunning how this team replaced Zac Robinson and Dez Bryant with Brandon Weeden and Justin Blackmon. But I don't see that type of talent on this team and I don't see how they can replace last year's leaders.
The Cowboys only have four players back on offense and are looking at a freshmen starter under center.
Eight starters are back on defense. But if OSU wasn't creating turnovers last year (which they did at a ridiculous rate) the stop-unit was actually pretty awful.
They have a soft open to the year and should be 5-1 at the midway point. But their closing kick comes against TCU, at Kansas State, West Virginia, Texas Tech, at rival Oklahoma and at Baylor.
After winning nine or more games four straight seasons and going 23-3 the last two years I would think that a 7-5 or 8-4 regular season would be a major disappointment for a team that was fractions of points away from a slot in the national title game last year.
The Rest:
TCU (+900)
The Horned Frogs are finally going to be asked to play big boy football week-in and week-out.
TCU's athletes overwhelmed the Mountain West. But a lot of their players are going to be just regular dudes on the Big 12 talent spectrum. We will see how this group adjusts.
Fortunately for TCU, the Horned Frogs boast a lot of quality at the quarterback and running back positions. But with just 11 starters back (only five on defense) I think it is going to be a tough adjustment for this bunch. And it wouldn't stun me if they finish the league season with five straight losses.
Baylor (+5000)
The Bears will have a lot of bills to pay without RGIII. The Bears seemingly came out of nowhere to win 10 gams last year behind Heisman winner Griffin. Baylor lost him and several other NFL Draft picks and now they will face a lot of conference rivals hell-bent on revenge.
Baylor welcomes back 11 of their 13 top tacklers and 17 of their top 20. But these same guys could stop anyone last year (No. 116 nationally) and I don't know how much better they will be.
Nick Florence gives them some hope at QB. But a brutal road schedule and a lack of depth should be their undoing.
Texas Tech (+2900)
It is time for Tommy Tuberville to put up or shut up. He has 17 returning starters and a very good QB in Seth Doege. They have 12 potential senior starters, including four in the secondary, and this all from the team that actually beat Oklahoma in Norman last year.
But Iowa State, Texas and Baylor demolished the same group by a combined score of 69-159. So who is this team?
Tech plays a cupcake nonconference slate and only has four conference road games. If they don't win at least eight games and their bowl I think Tuberville could get the boot.
Iowa State (+8000)
The Cyclones have gone to five bowls in 10 years and are always a little better than people expect. Five of their six wins last year came by four points or less or in OT.
They will need to keep that late-game luck pouring if they want to go back to another bowl game. And if they end up catching points Nov. 17 at Kansas then Iowa State will be an underdog in their final nine games.
Kansas (+16000)
Charlie Weis is going to do his thing and we're going to find out once and for all if this guy really knows what he is doing or not (though he gets a pass for this year).
Kansas does have 14 returning starters and they welcome senior Dayne Crist in as a transfer from Notre Dame. This group was playing much better late last season. But the fact is that the roster is spotty at best and there isn't much high-end talent to work with here.
Kansas could actually start out 3-1 and that may give them some confidence. But six of their last nine are on the road.
I think their ceiling is to double last year's two wins with four Ws this year. But the real yardstick for progress will be if the Jayhawks can limit some of the horrific blowouts they have suffered lately.
2012 Big 12 Conference Predictions: Predicted Order of Finish
1. Oklahoma
2. West Virginia
3. Texas
4. Kansas State
5. Oklahoma State
6. Texas Tech
7. TCU
8. Baylor
9. Iowa State
10. Kansas
Robert Ferringo is a professional college football handicapper and has posted back-to-back profitable seasons (college and pro). Robert has turned a profit in three of four football seasons and over the last nine months his clients have earned nearly $10,000 in profit with his football selections. He is looking forward to building on his stellar football handicapping resume again this fall and you can check him out here. Also, you can also get $60 worth of free Robert Ferringo member picks (no salesman, no credit card, no obligation!) by clicking here for more info.