College Basketball Handicapping: Personnel Subtractions
by Robert Ferringo - 1/25/2012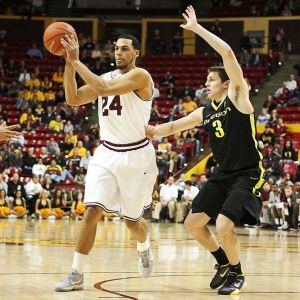 Two weeks ago the Syracuse men's basketball team was a godless killing machine. They were the No. 1 team in the country and were decimating opponents with a roster that went 10-deep and with an attack that sent wave after wave of skilled players pounding against their opponents.
Then on Saturday it was announced that sophomore center Fab Melo would miss Syracuse's next two games – at least – while some academic issues were cleared up.
Syracuse promptly went out and played its worst game of the season, losing 67-58 in an ugly affair. They couldn't rebound, didn't defend, and their offense was a disorganized mess. But most importantly, the team didn't play with the same confidence that it had expressed all season.
In college basketball, one player can make all the difference.
Injuries, suspensions and eligibility issues can decimate a season quickly. Personnel subtractions are an important factor in handicapping sports. But I feel like the sport that they have the biggest impact is in college basketball.
In college basketball there are five players on the court and maybe another two or three that come off the bench and contribute. In the NFL there are as many as 40 guys that see the field every Sunday. In college football that number is closer to 50. In baseball there are anywhere from 10-15 guys that impact the game each day.
Even in NBA basketball the loss of one player is mitigated by the fact that the "next guy up" is a professional. And with the exception of the all star-caliber players there are very few guys in the league that can't be readily replaced.
But in college basketball the drop-off from a starter to the ninth or 10th man on a bench is tremendous. And since we're dealing with 18-, 19- and 20-year-old kids (unless you play at BYU where everyone is 30) the chemistry and mental impact that losing a starter or a key player has is significant.
Since there are 345 teams in NCAA Div. I men's college basketball it can be daunting to keep up with the roster of every team. But as a college basketball handicapper it is my job to know who turned an ankle, who isn't keeping up their grades, and whose knee isn't holding up as well as it should. The loss of one player on any given team can severely alter a squads earning potential when we're talking about college basketball odds. And, conversely, the return of a player to the court can lead to some great opportunities to beat the books on the court.
Here are a few key personnel issues that teams are dealing with at the moment that are and will have a big impact on their respective teams:
Trent Lockett (Arizona State) –Lockett left ASU's game against Oregon State on Jan. 14 and didn't play in either of ASU's road games last weekend. According to reports he is questionable for this week's games against Washington on Thursday and Washington State on Saturday. Lockett is the end-all, be-all on this team, especially since Keala King left two weeks ago. Lockett is the team's de facto point guard, leading scorer, and go-to guy. Without him the Sun Devils lost to Utah, which is the worst team in any BCS conference in the country.
John Benson (Dayton) –Their No. 2 scorer and rebounder blew out his knee against Ole Miss on Dec. 30. But this has been the rare situation where a team has rallied without a key player, and the Flyers are playing their best basketball of the year. Dayton has won five of six without Benson (both straight up and against the spread) and they have wins over St. Louis, Temple and Xavier in that span. Even so, as the season wears on Benson's size will be missed.
Johnny O'Bryant (LSU) – The highly-touted freshman forward is out with a broken hand. He had started most of the year for the surprising Tigers and his loss dealt a blow to their interior depth. As a result, LSU is just 2-3 SU and ATS to start SEC play. They expect O'Bryant back sometime in early February.
Terrance Hill (Morehead State) – He was the team's leading scorer at 13.3 points per game before his season ended (knee) just after the first of the year. But Morehead has avoided a tailspin, going 4-3 straight up and 3-3 against the spread without their best player. But this team – which won the OVC last year – should struggle through February.
Dexter Strickland (North Carolina) –The Tar Heels lost this junior starter over the weekend to an ACL tear. He is the team's best outside shooter, best perimeter defender and second-best ball handler. UNC does have the benefit of having McDonald's All Americans to fill in his minutes. But for a team with national title dreams his loss will come back to haunt them in March.
Chris Jones and Jordan Williams (North Texas) – The top two guards and No. 2 and No. 3 scorers on the team, respectively, have been declared academically ineligible for the Mean Green. That now means that North Texas is playing without four of its top eight scorers. Somehow this team managed to take down Sun Belt West leader Denver over the weekend without the starting backcourt. But as conference play continues to grind their absence is going to cripple this team's chances of making a run in the league.
Kendall Timmons (Tulane) –Timmons blew out his Achilles on Jan. 7 against Southern Miss and is out for the year. He was leading the Green Wave in scoring, was second in rebounding, and first in blocks. He is by far the team's best and most experienced player. But while Tulane is 1-2 SU without him they have beat the number in two of those three games.
Here are a few other news and notes regarding some key injuries that may have flown under the radar:
Devon Moore (James Madison) – Moore is out with an injured wrist and that has been another kick in the groin for a Madison team that was supposed to be a threat for the league title. But they are now playing without their top three returning scorers from last year's team because Julius Wells and Rayshawn Goins are also on the shelf.
Arsalan Kazemi (Rice) – The No. 3 rebounder in the country (yes, the country) had an MRI on his knee last week. It showed no structural damage, but Kazemi didn't play in Rice's 23-point home loss to Tulsa on Saturday. No timetable has been given for his return.
Khris Middleton (Texas A&M) – He missed the Kansas game with a knee injury and could be out anywhere from 1-3 weeks. A&M is still without forward Kourtney Roberson as well, meaning they are down two of their three top returning scorers.
Aaron Fuller (USC) – USC has been one of the most beat-up teams in the country but they had been competitive. Without their No. 1 rebounder and No. 2 scorer I don't see that trend continuing.
Josh Watkins (Utah) – Utah was a disaster without its leading scorer. But he was kicked of the team last week and I guess it can only get worse for this pathetic group.
Garrett Stutz (Wichita State) – Stutz is the mammoth big man on this excellent Shockers team. He missed Saturday's win and hasn't been practicing with a bad back. His status is uncertain for Wednesday's game with Evansville.
---
Most Recent College Basketball Handicapping