College Basketball Handicapping: Ranking the Conferences
by Trevor Whenham - 1/6/2012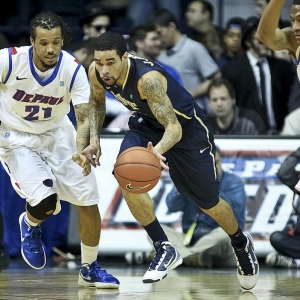 The conference season is in full swing in college basketball. We still don't have a full sense of how good a lot of teams are, but we know a lot more than we did a month ago. This is a good time to take a step back and look at conference strength. Here is my ranking of the strength of the six major conferences from top to bottom to help you with your college basketball handicapping:
(1.) Big Ten - The Big Ten doesn't have the top-end talent in the polls — Ohio State is highest ranked at sixth. What the conference has, though, is incredible depth. There are five conference teams ranked in the Top 18, and several more solid teams on the verge of a ranking. Indiana has been a big surprise this year. Michigan State got off to a horrible start but has been unbeatable since. Ohio State is the real deal. Michigan and Wisconsin have some issues but are tough and only getting better. Purdue, Illinois and Northwestern are solid teams, and despite some injury issues Minnesota can be overlooked. In short, this is a conference that is going to be exceptionally well represented in the tournament. Their biggest challenge now is not to beat each other up and weaken their case too much in conference play.
2. Big 12 - The Big 12 could be even higher than they are, but they are such a small conference this year, and their bottom half is weak. The top half is more than impressive, though. There are only three unbeaten major conference teams, and two come from the Big 12 — Baylor and Missouri. As impressive as they have been, though, they may not even be the two best teams in the country. That distinction probably belongs to one of the two teams from Kansas, with Kansas getting the nod for depth and talent. The Jayhawks will need to shine to impress in conference play to maintain this ranking for the conference. Missouri is almost certain to fall a long way from where they are — they are really short of depth and they have played a brutally easy schedule up to this point.
3. Big East - It seems strange to not see the Big East at the top, but this conference just isn't as good as they have been in the past. Syracuse is the real deal — the only undefeated team while facing a tough schedule. I really don't feel like they are a national champion in waiting, though. Beyond that there are some teams that are good but obviously flawed. Louisville was exposed after a hot start. Seton Hall lacks talent. UConn and Georgetown need to prove that they are for real, and that they need to be as respected in March as their ranking would suggest. Pitt has been terrible in recent weeks, and has some serious problems to overcome. West Virginia, Marquette, and Cincinnati are way too hard to trust despite a strong record to start the year. Beyond that the bottom half of the conference is terrible. Last year was a remarkable year for the Big East, but they just haven't carried that forward this year.
4. SEC - You could probably flip a coin here between the ACC and the SEC, but I have given the SEC the nod here. My main reason? Depth. Kentucky is obviously an absolute lock for the tournament — and my pick to win it at this point. Beyond that they have four teams that are likely to be in if they keep doing what they have been doing. Florida has been solid, and you can forgive losses to Ohio State and Syracuse. They have a loss to Rutgers that is far harder to digest, but if they prove that was a fluke then they are a factor. Alabama, Mississippi State, and Vanderbilt are likely going to dance if they keep it up, too. The wheels look like they have fallen off Mississippi, but LSU has a look at a spot as well.
5. ACC - the top of the ACC is as good as always, though both North Carolina and Duke are showing more cracks than they were expected to coming into the season. Their problem, though, is that the conference quickly gets less impressive after those two. Virginia is the only other team likely in my NCAA Tournament field projections right now, and I really have a hard time believing that their 13-1 record reflects reality or anything close to it. Beyond that it just isn't an impressive conference. Virginia Tech is the best of the rest by a fairly wide margin, and by now we all know that they aren't a team that can earn a tournament spot.
6. Pac-12 - The Pac-12 is impossibly bad. Just brutal. There are no teams that are a lock to make the tournament, and none that are even making a strong case that they should be there. The teams with decent records have played brutal schedules, and the teams that played decent schedules got crushed. It is quite possible that the league could end up with just one tournament bid. Horrific. Not only are they by far the worst major conference, but they rank behind the Mountain West, the A-10, the Missouri Valley, and perhaps even the C-USA as well. This used to be a very good basketball conference, but they sure aren't right now.
---
Most Recent College Basketball Handicapping