College Football Handicapping: Best Revenge Games for 2012
by Robert Ferringo - 7/18/2012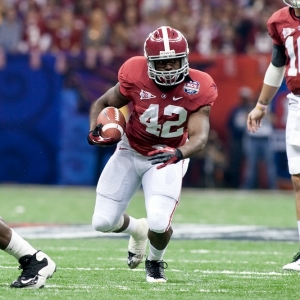 Revenge is one of the best motivational angles that any college football handicapper can wager on. The added focus, the added energy, the added electricity from the crowd, and the added WANT can give a team a massive boost. And those intangibles, when accurately anticipated by someone betting on college football, can lead to a major profit on the gridiron.
Here is a look at the Top 10 College Football Revenge Games for the 2012 season, with the college football odds from select games posted courtesy of 5Dimes Sportsbook:
10. TCU at Baylor (Saturday, Oct. 13)
Last year's season opener between this Texas twosome was one of the wildest games of the season, with Baylor holding on, 50-48, to snap TCU's 25-game winning streak. Baylor was up 47-23 with six minutes left in the third quarter, but the Horned Frogs actually stormed back to take a 48-47 lead with four minutes to play. Robert Griffin led Baylor down the field for a game-winning field goal. Now these two are conference rivals (again; they used to be in the SWC together) in the new-look Big 12.
9. Arizona State at Missouri (Saturday, Sept. 15)
This is a rematch of one of the better nonconference games from last year and is a rare nonconference revenge spot. The Tigers traveled into the desert and were ambushed early by the host Sun Devils. But this one turned into a back-and-forth affair with both teams tied in the second (10-10), third (16-16) and fourth (30-30) quarters. Arizona State eventually won in OT on their first possession. But Missouri, now a member of the SEC, will get to host ASU this season at the end of a three-game home stand to open the year.
8. Arkansas (-3.5) at Texas A&M (Saturday, Sept. 29)
Like TCU and Baylor, these two played a great nonconference game last year but now find themselves reunited as league rivals. (And like BU and TCU, these teams used to be in the SWC as well.) Arkansas has beaten A&M three straight years in the "Southwest Classic" at Cowboys Stadium. This will be the first meeting in College Station in 20 years and the Aggies have triple revenge for those three defeats. Last year's was a heartbreaker, with A&M blowing an 18-point halftime lead and Arkansas scoring with less than two minutes to play for a 42-38 victory. Heading into this season A&M is 0-7 in its last seven games against SEC opponents.
7. Oklahoma at Texas Tech (Saturday, Oct. 6)
If you beat Oklahoma one year you best be ready for a reckoning the next. Tech held on for a stunning 41-38 win last year over the Sooners. That they beat OU is not unprecedented. But that they won in Norman is pretty eye-popping. The Tech upset (they were 28-point underdogs) snapped a 39-game home winning streak for Oklahoma and was just their third loss in 78 home games. That was the beginning of the end for OU, which ended up losing three of its last six Big 12 games to miss out on both the league and national titles. I'm sure they won't forget.
6. Nebraska (+4.5) at Ohio State (Saturday, Oct. 6)
The Buckeyes, who were struggling through last year's brutal 6-7 season, had a shot to spring a marquee upset in their first trip to Lincoln. They led the No. 14 Huskers 27-6 midway through the third quarter before Nebraska just steamrolled them over the final 20 minutes. The 34-27 final marked one of the biggest comebacks in Nebraska's illustrious history and I'm sure that the Buckeyes won't be very forgiving when the Huskers make the trek to Columbus this year.
5. Michigan (+2.5) at Notre Dame (Saturday, Sept. 22)
This game is also on the list of the best nonconference games in college football this year. These two rivals played a classic contest last year in Ann Arbor, with Michigan scoring with just two seconds to play for a thrilling 35-31 win. These two teams scored 21 points in the last 75 seconds – two touchdowns for Michigan, one for Notre Dame – in a wild, back-and-forth affair. Notre Dame had dominated the first three quarters, leading 24-7, before blowing it in the final stanza. The last three meetings have been thrillers, decided by a total of just 12 points, and seven of the last eight meetings have ended in an upset.
4. Iowa State at Oklahoma State (Saturday, Oct. 20)
Oklahoma State fans are still smarting from their snub from the BCS last year. The Cowboys felt they should have taken Alabama's spot in the national title game, but a double-overtime loss to lowly, unranked Iowa State was the main thing that kept OSU out of the championship. The Cowboys were upset on national television despite being listed as 27-point favorites. That game was played just one day after the OSU women's basketball coach and three other people were killed in a plane crash and made for a brutal 48 hours all around for the Cowboys. They can't ever fully settle the score. But they will try.
3. Michigan State (+5) at Wisconsin (Saturday, Oct. 27)
These two teams met twice last year and slugged through two classic Big Ten battles. The first went Sparty's way thanks to a stunning 44-yard Hail Mary touchdown on the game's final play. But Wisconsin got some measure of revenge, holding on for a 42-39 win in the first ever Big Ten Championship Game. Wisconsin scored with less than four minutes to play to take the lead. But it was a roughing the kicker penalty in the final minute – negating what would have been a first-and-goal for MSU inside the Wisconsin five-yard line – that really sealed the deal. This year's meeting in Madison could be the first of two more tight tussles this year.
2. Oklahoma State (+9.5) at Oklahoma (Saturday, Nov. 24)
This game could be considered as one of the best conference games of the 2012 season as well as one of the best rivalry games in college football this year. Last year Oklahoma State absolutely embarrassed their archrivals, 44-10, in the annual Bedlam Series. That win snapped eight straight losses to the Sooners and also clinched the Big 12 Championship for Oklahoma State. OU was a total no-show in that game. But something tells me that they are going to have it on their minds when these two match up again right after Thanksgiving.
1. Alabama (+3) at LSU (Saturday, Nov. 3)
This game is pretty self-explanatory. Alabama absolutely dominated LSU in the National Championship Game, winning 21-0 in a rematch of the most boring, most disgusting "Game of the Year" that I can ever remember. The big question going into the national title game was whether or not Alabama deserved to be playing in the championship (the answer was "no"). But that turned out to be incidental; the Crimson Tide won their second title in two years and humbled LSU in the process. I don't think there will be nearly the hype going into this Nov. 3 meeting (after two ugly games, does anyone even really want to watch these two play again?) but it is still a crucial contest in the SEC West. This is going to be a night game in Baton Rouge and the eyes of the college football world will once again bet set squarely on these two rivals. And if LSU wants to avenge last year's title loss they will first need to beat 'Bama.
Honorable Mention: Clemson at Maryland (Saturday, Nov. 10); Wisconsin at Nebraska (Saturday, Sept. 29); Oregon at USC (Saturday, Nov. 3)
Robert Ferringo is a professional football handicapper and has posted back-to-back profitable seasons (college and pro). Robert has turned a profit in three of four football seasons and over the last 12 months his clients have more than tripled their bankrolls with his predictions in all sports. He is looking forward to building on his stellar football handicapping resume again this fall and you can check him out here.