College Football Handicapping: Huge Game for South Carolina
by Trevor Whenham - 10/12/2012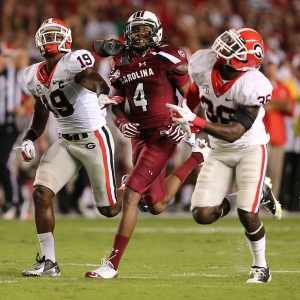 The South Carolina Gamecocks are playing the most important game in the history of their football program on Saturday at LSU. Given that they have been around since 1892, that's quite the statement. However, it is unquestionably true.
The team is currently ranked third in the country and played last week against Georgia like they absolutely deserve that ranking — or higher. Now they have to prove that on the road against the team that came into the season ranked No. 1 in the country. LSU lost to Florida last week and hasn't looked nearly as sharp as expected all year. However, they are still a deep, talented team that USC has to show that they can get through. If they can win this one then a trip to Florida next week is the last huge hurdle between them and a date with destiny.
While South Carolina has not played a game this important, they have had success in big games in recent years. Most notably, they upset top-ranked Alabama in 2010. Different this time around, though, are the expectations. This has long been a team that could be dangerous, but which couldn't operate at the highest levels. Now bettors have to figure out whether they really are an elite team, or if they are just teasing us before returning to the familiar role we are used to. Here are five factors to consider when trying to judge whether this team is a real BCS National Championship Contender:
Defense
True to form, the success of a team in the SEC is being built around very good defensive play. There is a lot that they are doing well, but the leading reason they totally smothered the Bulldogs — and everyone else they have played — is their defensive line.
Jadeveon Clowney is an absolute freak, and it is a testament to how good this line is that he doesn't even stand out significantly above the rest of the line. They are as close to unblockable as a defensive line can be.
When a line can be that disruptive it throws off everything that the offense wants to do. They can't run, they can't take time in the pocket, and they certainly can't throw deep with any consistency. All they can do is scramble for their lives and hope for the best.
Georgia's Aaron Murray is a solid QB, but against South Carolina he was just 11-of-31 and was constantly scrambling for his life. The Bulldogs previously dominant running game — three 50+ yard touchdowns against Tennessee alone — was hopeless as well. Georgia managed just 224 total yards — their lowest total in six years. South Carolina dominated a good Georgia team thanks to their defensive line about as much as it is possible for one team to dominate another — especially when the dominated team is ranked in the Top 5 before the game.
Until a team can find a way to contain this defensive line, the Gamecocks are going to be very tough to beat. Florida stands a decent chance of doing so — far more than LSU does in my eyes.
Offense
Steve Spurrier's focus on this team has been on building from the trenches out, and it is paying off offensively almost as much as it is on defense. This is a very good offensive line. It is protecting Connor Shaw, and it's allowing him the time he needs to find his receivers and do damage. It's allowing Marcus Lattimore to return to form after his injury as well.
Again, it's the line that is the key to the success on this side of the ball, and the line that an opponent will have to disrupt if they want to win.
Coaching
One thing Steve Spurrier isn't going to be heading into Tiger Stadium is intimidated. This will be his eighth trip to the stadium to play LSU, and he has won five of the previous seven. Overall he is 11-3 against the Tigers. Only one of those 14 games has come with the Gamecocks, though, and LSU won soundly in Baton Rouge in 2007.
You shouldn't need that strong record against a very good LSU program to tell you that Spurrier is an exceptional coach. Something is different this year, though. Since he returned to the college ranks from the NFL it seemed like Spurrier was taking the path of least resistance. He was still coaching reasonably well, but it's as if he knew he wasn't at an elite program so he didn't need to work quite as hard. His killer instinct burned a few shades darker, and he was just a shadow of what he had been at his best in Florida.
This year, though, the old legend seems to be back. It's almost as if he realizes that his window for a return to glory is shrinking rapidly, and that this may be his last best chance to add to his trophy case. With Spurrier on the sidelines the last few years South Carolina has probably been better than they otherwise would have been. With the refocused Spurrier in charge they are downright dangerous — as LSU knows too well.
Schedule
This three-game stretch is an absolutely brutal test. After beating Georgia at home and traveling to LSU they will have to play at a quite-likely undefeated Florida.
The good news, at least, is after that it gets easier.
Tennessee, Arkansas and Wofford loom before a trip to Clemson to cap the season. If the Gamecocks were to go undefeated it would be incredibly impressive because they are in a battle with Florida for the toughest schedule among potentially undefeated teams. If they do manage to win the next two games, then the Tennessee game would be the one that would concern me. After three brutal games, including two on the road, they would be returning home to what seems to be a significantly easier opponent. The Volunteers will be fired up, though, and they have some talent. It is a classic letdown scenario. Of course, there are two huge games to worry about before that.
Public perception
A very interesting thing is happening here — likely due to the massacre of Georgia. LSU is a public team playing at home, yet the public is strongly in support of USC — about two-thirds of bets have been on them. That's a strong endorsement of a program that doesn't have a history of being a public favorite.
Given that, if they do win their next two you can be sure the public will be all over them. That enthusiasm could lead to value betting against them. They have covered their last five spreads, though, so the value hasn't been bet out of them yet.