2014 BCS National Championship Contenders
by Trevor Whenham - 11/5/2013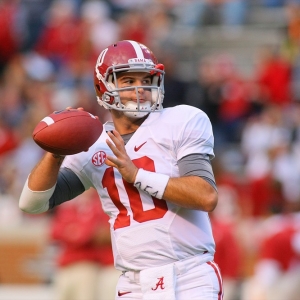 There is still about a third of the regular season left to play in college football, and conference championship games as well. Barring a whole lot of upsets and unexpected excitement, though, we are down to six teams with a realistic chance at appearing in the final National Championship game of the BCS era. One controls their own destiny, two are in good position if they keep doing what they are doing, two need a whole lot of help, and we can't yet evaluate how good the chances of the final team are. Here's how the 2014 BCS National Championship contenders break down (odds to win the BCS National Championship are from Bovada):
Alabama (7/4): Win and they are in — it's as simple as that. They have done everything asked of them up to this point, and with a home game against LSU, a road game at Auburn, and a likely SEC Championship game matchup against Missouri or South Carolina, they will have plenty more opportunities to prove themselves worthy. They will not get passed if they win. What they absolutely cannot afford, though, is the November misstep that they have made a bit of a habit of lately. They have overcome those stumbles in the past, but the way things are shaping up right now, it could be very difficult for them to make the Championship Game with a loss. If that loss came to Auburn, and the Tigers hadn't lost before that point, then the Tide wouldn't even make the SEC Championship Game, and that would really hurt. I'd bet against the Tide at this price but more because I am bored by their dominance than because I really think they will falter.
Oregon (11/5): The Ducks are likely in the second-best position right now, but they have no margin for error. They need to run the table. That could be challenging, but it is more than manageable. Really, their season comes down in many ways to Thursday night at Stanford. Win that one and they face Utah, Arizona, Oregon State and probably Arizona State in the Pac-12 Championship Game — which would be played at Oregon. If the Ducks win out, we are very likely to get another opportunity to see Oregon in the title game.
Florida State (9/4): The Seminoles need to win out, but if Alabama and Oregon do the same, that may very well not be enough. They lack an opportunity to make another statement. Their biggest regular season test remaining is at Florida, and the Gators are lousy this year. The ACC Championship Game is shaping up to be a rematch against Miami, and no one needs to see that again. Florida State probably needs help from Alabama or Oregon, but if they win out and one of the top two doesn't then it is very unlikely that Florida State would be left on the outside looking in.
Ohio State (9/1): Is there anyone who lives more than 100 miles from Columbus who wants to see Ohio State in the title game? Not many. This is an unbeaten team that is likely to remain that way, but their conference is absolutely brutal, a nonconference schedule with Cal as the toughest opponent doesn't prove anything, and the team just hasn't done anything to capture the imagination. At a minimum they need two of the top three to lose. The other two teams on this list could potentially pass the Buckeyes as well, so they need some more losses as well. In other words, barring an incredible amount of chaos we are not going to see Urban Meyer in another BCS Championship Game. At this point their best hope is that Michigan State's dominating defense holds up through the rest of the season, because beating up on it in the Big Ten Championship Game could be the only real statement they make all year.
Baylor (12/1): It's almost as if Baylor has played a seven-game preseason leading up to a five-game regular season starting this week. They have basically played no one, but they have crushed them. In their next five they face Oklahoma, Texas Tech, Oklahoma State, Texas Tech and Texas. That's ugly. If they can somehow survive that gauntlet, though, they will have had plenty of opportunities to make a statement. It could be enough to get them past the Buckeyes, but they would still need two of the top three to falter. Hard to see it all coming together for the Bears, though is there anything more thrilling than thinking of a possible Baylor-Oregon shootout for all the marbles? The total would be set at about 150, and I'd still take the "over".
Stanford (40/1): The Cardinal are the only one-loss team with a legitimate shot right now, but that could all come crashing down on Thursday. They absolutely need to beat Oregon. Then they need to beat up on USC and Notre Dame and then crush Arizona State in the Pac-12 Championship. Then they need all kinds of help. They could potentially get ahead of an unbeaten Ohio State, but Florida State and Alabama would be untouchable without a loss. Still, their chances are better than any other one-loss team. In fact, Auburn (50/1) is the only other one with anything more than a very faint glimmer of hope at this point, and Stanford's chances are far better.
Doc's Sports wants you to try out one of their expert college football handicappers, and they are now offering new clients a free $60 in credit that they can use for any handicapper on Doc's Advisory Board. This takes less than two minutes to sign up, and there is no credit card needed and no salesmen to deal with. Get your free college football picks now.
Read more articles by Trevor Whenham